Nightclub operator GAEE has launched a legal battle against the health department in an attempt to lift the 10pm curfew on bars, pubs and restaurants.
Amid criticism of the curfew, GEAE, which runs the notorious Haven Club at the center of London's gay nightlife scene, had written to Health Secretary Matt Hank advising it was preparing to take legal action.
Lawyer Simpson Miller, speaking on behalf of the GAE, questioned the rationale behind the "voluntary decision" to impose a 10pm curfew, saying the ban had drowned sales and left many businesses for fear of not surviving the winter.
Simpson Miller said the government had not provided any evidence to support the ban, which "appears to lack any clear logical or scientific basis".
Critics say the system is not only detrimental to the hospitality sector, but may in fact be defensive, due to crowds on the streets or at home after ten o'clock at night, or crowded public transport at the same time.
The Department of Health and Social Care (DHSC) has requested GEAI to provide any evidence for the effectiveness of the measurement by 4pm on Tuesday.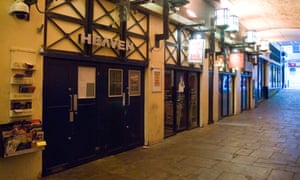 A spokesman for the DHSC said: "In recent weeks, people have been serving alcohol at hospitality venues, advising a significant increase in the rate of infection after a social infection, so we have taken immediate steps to reduce the infection rate and save lives.
"Closing ten o'clock at night allows people to continue socially and reduces the risk of failing socially at a distance."
GAY chief executive Jeremy Joseph said the curfew was "absolutely meaningless."
"It simply came to our notice then. Due to overcrowded roads and unsafe public transport, they are in a safe place with stagnant spaces, "he added.
"The government is directly blaming the sector for this move, consistently treating the night-time economy as a scapegoat when, in reality, we have many years of experience in protecting our customers, and have spent enough time and effort to ensure that. Our places are covid safe.
"Lots. Matt Hancock and Boris Johnson are accountable."
Organizer. Zombie aficionado. Wannabe reader. Passionate writer. Twitter lover. Music scholar. Web expert.