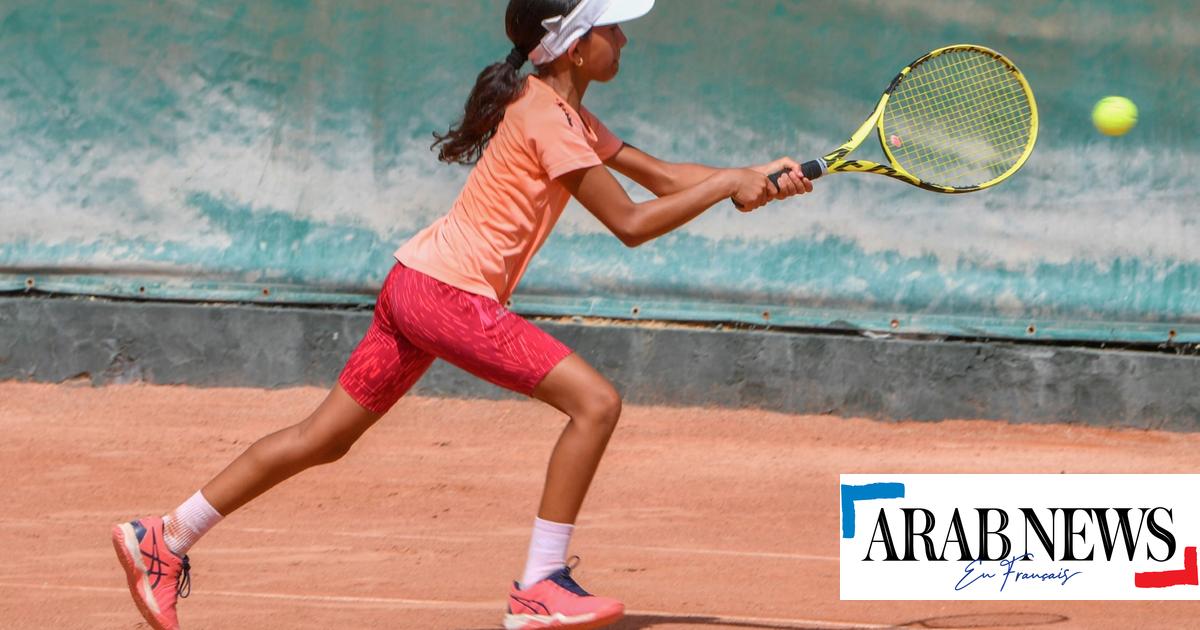 Tunis: "All like ons Jabeur", younger Tunisians gathered at the "Tennis Club de Tunis" on Saturday to emulate their models and dream of one day playing at Wimbledon, where the world No. 6 will be in contention for his first tie on Saturday. is in Grand Slam victory.
In the Alain Savary district, near the city center, a tournament is underway on dozens of courts of the "Tennis Club of Tunis", which was the first club created in the country.
On clay courts, sometimes sheltered from the scorching sun by tall trees, Lina, Yasmine and Emna hit the little yellow ball with gusto. His family, mostly from the Tunisian middle class, came to encourage him.
Ibtisem Treimech, the mother of a budding champion, confirms her enthusiasm for Jabeur: "When they see Ons Jabeur compete in two Grand Slams twice in a row and become a finalist, children and parents are inspired and the latter encourage their children to practice the sport even more," she told AFP.
Altogether girls and boys play 8 matches.
"Becoming Like Ons Jabeur"
"I want to be able to be like Ons Jabeur and compete in Grand Slam tournaments like Wimbledon and Roland Garros," Ibtisem's 9-year-old daughter Lena Cheadle bravely told AFP.
A national icon in Tunisia, the player has sparked unprecedented enthusiasm for tennis over the past three years in a country where football is generally considered king. Especially in little girls.
Yasmin Ben Mabrouk, a 9-year-old girl, has no doubts about her talent: "I think I will be a very great tennis player like Ons Jabeur and take part in very great matches."
Not far from there, 10-year-old Emna Bartagisse also thinks she can "be better than Ons Jabeur".
Proud that she reiterates her desire to be a "100% Tunisian product", all of Tunisia's aspiring champions admire Jabeur's dynamic game, which includes drop shots and climbing the net, and her sense of camaraderie.
His tenacity and his ability to recover from a series of wrist and calf injuries, which saw him miss part of the 2022/2023 season, is also commendable.
Ahead of Saturday's final against Czech Marketa Vondrousova, the player explained that she "learned to be very patient and to accept whatever happened (to her) with regard to injuries".
Coming from a middle-class family in the suburbs of Sousse, a seaside resort in the Middle East, Ons Jabeur is close to his fans and spends long hours signing autographs and taking selfies at the end of each match.
The 29-year-old has quickly become a national pride in Tunisia, becoming the first Arab player to qualify for a Grand Slam quarter-final since burst onto the screens at the Australian Open in January 2020.
More recently, he was also nicknamed the "Minister of Happiness" for his ability to boost the morale of a country in the grip of a severe economic and political crisis, as President Kais Saied took full powers in the summer of 2021 after a coup. were seized. ,
Organizer. Zombie aficionado. Wannabe reader. Passionate writer. Twitter lover. Music scholar. Web expert.