15:38
Thank you for getting stuck on tonight's liveblog, you put Hill's Lead and My Salsa Hip Action in my Waltz. I'll be back tomorrow evening at 2.25 for results, so join me! HX
15:37
So it's IT for dance, and open to the vote! Motsi came to Zuma and thought it was an amazing event. Time for a recovery!
My votes are going to Bill and OT, Clara and Aljaz and Ranveer and Giovanni tonight, because I think they might get in trouble. It's hard to call two people down tonight, there are a lot of couples floating around in the middle. If I had to guess, I would tell Max and Diane and JJ and Amy to stop dancing. Any progress?
15:33
Scores: 9,10,10 – 29 for Clara and Aljaz. I like it but the decades have made no money now, haven't they?
15:31
Craig doesn't want to see it again until the final. Shirley thought it was an incredible transformation, and she especially liked Clara's 'Foot of Death'. Anton had a great night and Clara moved to the top one by one.
15:30
The Clare Gold Muppet Pleasure is oddly fantastic, and I love finger waves. Also what is it about Aljaz in a waist quota? Guys I need to warm up, like the lovely swivel and great energy and its indifferent madness from the somewhat hot warm clare here. Somewhat unrealistic in places but time to kneel towards the end, but a great way to end the show.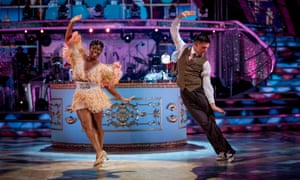 Updated

15:27
And finally it's Clara and Aljaz! This week they're dancing Charleston to Julie Andrews' "Baby Face" dancing from a completely modern Millie soundtrack, so theoretically it could be used in Musical Week, Movie Week or all the irrelevant weeks now.
15:25
Score: 8,8,9 – Jamie and Karen # Total 25 for Aincosfaranvir
15:24
Anton thought it was fictional, and for some reason pronounced it as 'saram-ba'. It was amazing too (DRINK). It made Craig happy too and was great. Shirley thought it was one of the better sambas to watch strictly. Did they see a dance different from mine? Am I getting worse in my old age? I will see it again later.
Updated

15:22
For vague reasons, Jamie and Karen both wear the same outfit, which looks like someone asked Keith Haring to draw Matador. Jamie is undoubtedly one of the reformers this year, but it's quite constipating for Samba. There's a lot of pointing and grinding here, but I'm afraid it wasn't a party for which I would buy tickets.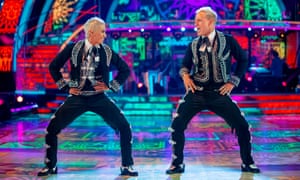 Updated

15:19
Two left! Then it's Jamie and Karen! This week they're dancing samba to Gypsy Kings '"Bamboleo", and if you've listened to Scott Mills' show on Radio 1, you'll know it's a song that only plays on Wednesdays. I don't make rules. However this is another strictly samba standard. Try to say a Bailey later.
Tv ninja. Lifelong analyst. Award-winning music evangelist. Professional beer buff. Incurable zombie specialist.