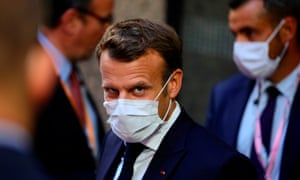 Good morning, and welcome to our rolling coverage of the world economy, the financial markets, the eurozone and business.
After months of lockdown, a weekend in Brussels sounds like luxury. But I fear European leaders haven't enjoyed their sojourn in the Belgian capital, after days of sometimes bitter arguing over their €750bn Covid-19 rescue package.
The European Summit, which began on Friday morning, temporarily broke up up around dawn today without having reached a deal. Leaders are due back at 3pm BST, for yet another push.
As suspected, the so-called 'frugal four' of Austria, Denmark, the Netherlands and Sweden fought the plan, unhappy about extending €500bn of grants to Southern EU members who are suffering the worst economic pain from the coronavirus.
They pushed for grants (funded by borrowing on the capital markets) to be cut to €350bn, plus €350bn of loans. They also want rebates to their EU budget contributions to sweeten the pill.
Painstaking diplomatic wrangling failed to bring the two sides together — yet. But a compromise is on the table — to cut the grants for struggling countries such as Spain and Italy to €390bn.
Even it that was agreed, leaders need to agree how to police the policy — what should a country pledge in return for a grant, and how is that enforced? Dutch PM Mark Rutte caused infuriation by demanding a national veto on how the cash would be spent. There's also the small matter of agreeing a new seven-year EU budget.
Rutte struck an optimistic tone as he exited the summit this morning, telling reporters that negotiations were 'back on track'.
Our Brussels bureau chief Daniel Boffey reports that leaders were challenged to show some much-needed unity:



At a late evening dinner, the European council president, Charles Michel, who is chairing the summit, asked the leaders whether they were "capable of building European unity and trust. Or, through a tear, will we present the face of a weak Europe, undermined by mistrust?"

Dutch prime Minister Mark Rutte said on Monday EU leaders were making progress but warned discussions could still fall apart. "At times it didn't look good last night, but I feel that on the whole we are making progress," Rutte told reporters in Brussels.
This has lifted the euro — with traders anticipating that (in the best European traditions), a seemingly intractable crisis will be resolved in the end.
The single currency has jumped by a third of a cent this morning to $1.146, its highest level since March, and not far from an 18-month peak.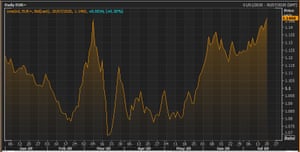 Stephen Innes of AxiCorp reckons the euro has further to climb, if leader can back a compromise.



As for the EU summit, the market seems to prefer that a deal is not rushed through for the sake of appearances An agreement delay – perhaps until later in the summer – is preferable to markets than a weak agreement.
Otherwise, it could be a quietish day in the markets, as the summer lull looms. Investors will have Covid-19 vaccines on their mind, with Oxford publishing details of their trials today.
The agenda
9am BST: European Central Bank vice-president Luis de Guindos speaks about Covid-19's economic impact
3.30pm BST: Treasury Committee session with Bank of England policymakers Andy Haldane, Silvana Tenreyro and Jonathan Hall
Organizer. Zombie aficionado. Wannabe reader. Passionate writer. Twitter lover. Music scholar. Web expert.