21:16
On Louis Armstrong Stadium, Coco Gauff has arrived. She faces 31st seed Anastasia Sevastova, an extremely talented former top 15 player who loves this tournament reached the US Open semi-final in 2018. Sevastova breaks in the opening game for a *1-0 lead.
21:12
Daria Kasatkina just hit her first winner of the day about 38 minutes into her match on court 15. Kasatkina is a 23 year-old former top 10 player who was tipped to be one of the best young players of her generation just a few years ago. Instead, the Russian is in the midst of a deep slump, currently ranked 70th and simply struggling to win matches. She is now down 6-1 *3-1 to Marta Kostyuk, who herself is an 18 year old talent who has struggled after the initial breakthrough a couple of years ago. This sport is hard.
Updated

21:04
Alexander Zverev is looking good so far as he moves up 2 sets to 1 on Kevin Anderson, the score 7-6 5-7 6-3. The German hit 14 winners to Anderson's 7. Despite having the most notorious second serve in the game right now, only one double fault. So far, so good.
21:01
Stefanos Tsitsipas is clearly not messing about in New York this year. Fresh off his semi-final run at the Western & Southern Open, he rolls through Albert Ramos-Vinolas 6-2 6-1 6-1 in 98 minutes. One of the players who should have big hopes of a deep run.
20:55
A reminder: seeded players and former US Open champions have been allocated corporate suites around Arthur Ashe stadium as their own personal rooms. An Andy Murray sighting: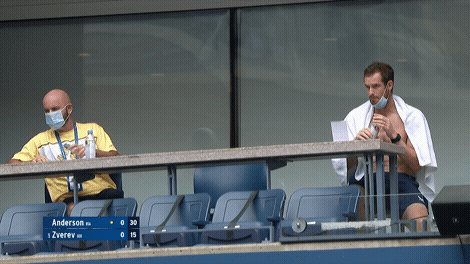 Updated

20:52
A fun fact about Denis Shapovalov: he moonlights a rapper. I can't say that I have yet found the strength to watch it myself, but here is his newest single Night Train for those who have:
20:50
Denis Shapovalov, who burst onto the scene three years ago at the US Open with a much hyped run to the fourth round, moves on with a good 6-4 4-6 6-3 6-2 win over Sebastian Korda. The Canadian had been playing very well before the break and it sure will be interesting to see how far he can go on these slick courts.
20:39
Alexander Zverev is under immense pressure on Ashe, but he saves multiple break points to retain his serve and move up 7-6 5-7 2-1* against Kevin Anderson. Denis Shapovalov is nearing victory – he leads 6-4 4-6 6-3 *4-1 over Sebastian Korda.
20:28
Kristina Mladenovic's opponent, Hailey Baptiste:
20:26
That was a very nice glass of red wine, but now I am back and just in time to witness what could be a long one on Arthur Ashe Stadium as 2017 US Open finalist Kevin Anderson levels Alexander Zverev at one set all, 6-7 7-5.
Elsewhere, Denis Shapovalov leads youngster Sebastian Korda 6-4 4-6 6-3 *2-1.
20:11
Cam Norrie beats Diego Schwartzman 6-3 6-4 2-6 1-6 5-7
What a comeback! From losing the first two sets, Norrie has managed to beat the ailing Argentine. The final set was pretty low quality but the Briton will not mind having battled his way to victory. Norrie gets three match points but loses the first two. He holds his nerve in the end as ninth Schwarztman uses his last ounce of energy to tamely hit the ball into the net.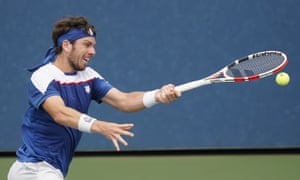 Updated

20:06
Norrie is making the most of his opponent's physical limitations at the moment, brushing him aside to love, an incredible feat considering how dire his service games have been. 6-3 6-4 2-6 1-6 *5-6
20:04
Norrie hits the ball into the net to gift match point and the Briton lets out an almighty scream. He makes amends by taking the game to deuce, helped by Schwartzman looking dead on his feet. The Argentine is swinging from the hip and avoiding all leg movement, resulting in him gifting Norrie advantage but he quickly brings it back to deuce. Norrie gets another shot and takes the break. 6-3 6-4 2-6 1-6 5-5*
19:58
The game goes to deuce, which is about the best Norrie can hope for off his own serve at the moment. Schwartzman saves a game point as Norrie finds the net. Then the Argentine goes down after losing the next point, he gets up, only to see Norrie smash a winner from the net. 6-3 6-4 2-6 1-6 *5-4
19:51
The physio does his work and it pays off for Schwartzman who manages to hold his serve, a rare thing in this match. Now just needs one more game to progress. 6-3 6-4 2-6 1-6 5-3*
19:45
Schwartzman has called for the physio, just to add to the drama.
19:43
Another service game from Norrie which he will want to forget as Schwarzman breezes to 0:40. There is no coming back from that and Argentine completes the job with a fine return. 6-3 6-4 2-6 1-6 *4-3
19:40
Norrie seems happier to receive the serve at the moment, easing to 0:30. Sadly, he then misses the target a couple of times by sending the ball wide. A fine rally ends with Schwartzman sprinting to the net to tap one over but he slips and sends his shot well wide. Break point No 50 of the match is won by Norrie as he takes the game. What a silly match this is. 6-3 6-4 2-6 1-6 3-3*
19:35
A bad game for Norrie who is broken by Schwartzman to take the lead in the final set. Norrie's serve is looking incredible vulnerable here and he needs to up to up his game. He survives two break points but the third does for him as he eventually thrashes one long. 6-3 6-4 2-6 1-6 *3-2
Updated

19:31
Schwartzman hits a big forehand to level things up at 30:30 and a mishit from Norrie loops long to put him a point away from the win but the Argentine then smashes a backhand into the net for even more deuce action. A long rally ends with Norrie hitting the net from the baseline to give the game to Schwartzman 6-3 6-4 2-6 1-6 2-2*
19:26
Another game goes to deuce as both men struggle to hold serve at this crucial point int he match. Schwarztman gives Norrie the advantage with a cross-court backhand which lands just out, allowing his opponent to complete the job with an ace. 6-3 6-4 2-6 1-6 *1-2
19:23
Tumaini has wandered off for a sandwich and a large glass of red (I think he has to write an article), which means I will be here for a while wishing I had a sandwich and a large glass of red. In more pressing matters, Norrie has broken straight back to level things up in the fifth. 6-3 6-4 2-6 1-6 1-1*
19:12
Cameron Norrie battled hard, but after an epic game he loses his serve to open the fifth set. In total, Norrie courageously saved six break points with three aces down the T, an unreturned lefty slider out wide, an excellent low backhand volley and a fizzing backhand down the line. But he just could not find the court at deuce and fell on the seventh. This could be the moment momentum changes. Schwartzman leads 6-3 6-4 2-6 1-6 *1-0.
19:02
Petra Kvitova marches into the second round with a 6-3 6-2 win over Irina-Camelia Begu. If she can hit the ground running on these fast courts, watch out.
19:00
If Cameron Norrie can pull this off, it would comfortably be the biggest win of her career. He has only ever beaten 3 top 20 players and none at a slam, his biggest ever victory being No 10 John Isner. At a slam and with so much on the line against No 13 Schwartzman, this would outdo them all.
18:56
That was a bit of a sad performance at the end of the fourth set from Diego Schwartzman, who threw in two double faults and then sprayed a forehand error on set points to drop his third service game of the set.
His stats in that set are appalling: 5 winners and 16 unforced errors. We're off to a decider after a really impressive recovery from Norrie. 3-6 4-6 6-2 6-1.
18:53
Goodness. This has been so emphatic from Norrie, who continues to control the baseline while limiting his errors. He is up to a 5-1* lead in the fourth set, having won 9 of the last 10 games from 2-2 in the third. Schwartzman is making so many errors right now and he looks like he is already let this set go. It looks like we are heading for a fifth set. 3-6 4-6 6-2 5-1*.
18:44
Frenchwoman Kristina Mladenovic confirms that she has been isolated from the rest of the players after being identified as a close contact of Benoit Paire: "I'm allowed to play my match, I'm literally not allowed to do anything else."
18:42
Petra Kvitova, who lost early in the Western & Southern Open but should really love these fast courts, leads Irina Begu 6-3 0-2.
Elsewhere, we have our first upset: 72-ranked Egor Gerasimov defeats 18th seed Dusan Lajovic 6-1 4-6 6-4 6-4.
Alcohol maven. Incurable pop culture specialist. Communicator. Gamer. Certified explorer.