20:14
It came from a mistake by Pogba, who was robbed by Ings 30 yards from goal. Redmond picked up the loose ball, ran into the area and lifted a superb ball to find Armstrong in space at the far post. He took it down calmly and slapped it past de Gea from close range.
20:12
11 min Armstrong deftly cushions a dropping ball on the edge of the area and hits a low shot that is comfortably saved by de Gea.
20:12
10 min: Superb save from McCarthy! Ward-Prowse allowed Bednarek's to run under his foot, and Martial nicked the ball before running through on goal, Demba Ba-style. He reached the edge of the area and tried to place a shot that was beaten away by the left hand of McCarthy.
Updated

20:10
10 min "Hi Rob," says Kishalay Banerjee. "If Sancho does come in, does he replace Greenwood? I can't see Solskjaer benching Rashford, but neither is it very fair on Greenwood. Or does he bench Martial, and move Rashford to the centre?"
He'd give them more options. As nice as this current run is, they can't keep playing the same XI, and the back up isn't great.
20:08
7 min Ings plays in the underlapping Bertrand, whose driven cross is held at the near post by de Gea.
20:07
6 min Nothing much to report. Southampton are working hard defensively and, as Gary Neville observes, are very good at squeezing the game in one area of the field when they don't have the ball.
20:04
3 min "Three players," says Digvijay Yadav, "that you think can propel United to the title."
Mane, van Dijk and Alisson. But of the realistic targets, Sancho, Upamecano and Thomas Partey. You?
Updated

20:04
2 min Pogba curls a brilliant long pass down the line to Fernandes, who is well challenge by Bednarek.
19:57
The players emerge on an overcast evening in Manchester. It will be a largely dry and cloudy night with easing winds. The odd shower may develop overnight, especially towards dawn. Feeling mild where cloudy, however skies will be clearer across Cumbria and parts Lancashire, with rural spots turning chilly. Minimum temperature 6 °C.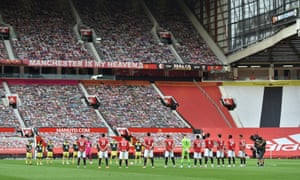 Updated

19:53
"I think Ferguson would have loved to develop Giggs into a central forward around that time," writes Womancraft Publishing. "But, although his pace was dangerous, he never became a particularly good finisher."
I never really got the impression that Ferguson wanted him to be a regular centre-forward, though he liked him in that position for centre games, particularly away from home – Deportivo in 01-02, for example, when he terrorised the best team in the Europe at the time (and then missed some great chances, which was your point).
Updated

19:51
"Thanks for the 1993 clip," says Nick Shaw. A few trite observations: 1) How knackered Pallister always looked any time the camera was on him. Is Maguire the new Pallister? 2) Cantona's vision and flair looking like a taste of a different type of football. 3) The slowness of Le Tiss compared with Giggs in that early foul. But what a talent."
That's a good point about Cantona. The first foreign player in English football who had that impact on me was Anders Limpar, though he turned out to be a half-season wonder.
19:45
Southampton have quietly had a very good season. They lost eight of their first 12, including the 9-0 against Leicester, but turned it round admirably and are now comfortable in mid-table. The win at Leicester in the return game was, for mine, the performance of the season.
19:30
"Hi Rob," says Parameswaran. "What happened in that match on 20th February 1993? Did United beat Saints?"
No, but Ryan Giggs did.
Updated

19:03
Team news
Both teams are unchanged, United for the fifth league game in a row. I'd have to check to be sure, but I think the last time that happened was also against Southampton on 20 February 1993.
Manchester United (4-2-3-1) de Gea; Wan-Bissaka, Lindelof, Maguire, Shaw; Pogba, Matic; Greenwood, Fernandes, Rashford; Martial.
Substitutes: Romero, Bailly, Mata, Pereira, Fred, James, Ighalo, McTominay, Williams.
Southampton (4-4-2) McCarthy; Walker-Peters, Stephens, Bednarek, Bertrand; Armstrong, Ward-Prowse, Romeu, Redmond; Ings, Adams.
Substitutes: Gunn, Vestergaard, Vokins, Smallbone, Hojbjerg, Danso, Ferry, Long, Obafemi.
Referee Chris Kavanagh.
Updated

17:34
Preamble
A man called Sir Alex Ferguson used to manage Manchester United. You know this, I know this, but most of all Ole Gunnar Solskjaer knows this. Ferguson's achievements will harass his successors like black dog, at least until one of them wins the league. But comparisons with Fergie's time needn't always be so odious. By achieving something for the first time since he retired, the current team can send a message that they are going in the right direction – that they are, in Paul Pogba's words, a "proper team".
In December 2018, in Solskjaer's first match as caretaker manager, United scored five in the league for the first time since Ferguson's final game. They won the next seven matches, too, before regressing towards the mean with a vengeance. The feelgood mood of yikesitisreallythatlongago has returned in the last few weeks, and if United avoid defeat tonigh they will extend their unbeaten run to 18 games. That would be their longest run since – you got it, hotshot – Ferguson's last season.
Southampton are a dangerous counter-attacking side – only Liverpool, Manchester City and Chelsea have more away points this season – so this will be a good test of United's progress. They now know they need to finish in the top four to qualify for the Champions League. Helpfully, a win tonight would put them third.
Kick off 8pm.
Updated

Alcohol maven. Incurable pop culture specialist. Communicator. Gamer. Certified explorer.