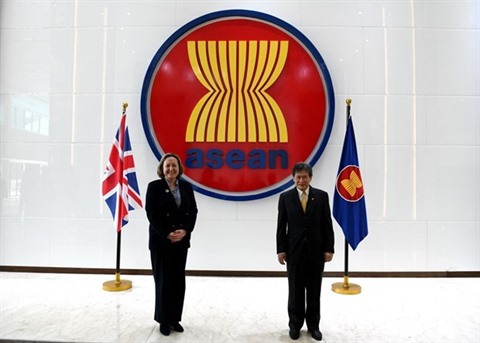 On 23 February, the Secretary-General of the Association of Southeast Asian Nations (ASEAN), Dato Lim Jock Hoi, and the British Foreign Minister for International Trade, Anne-Marie Trevelyan discussed an overview of the economic relationship between ASEAN and the United Nations. Empire.
>>Asean Economic Ministerial Consultative Meetings
>> UK granted ASEAN Dialogue Partner status
>>ASEAN and the United Kingdom cooperate in the fight against COVID-19
ASEAN Secretary-General Dato' Lim Jock Hoi and Britain's Secretary of State for International Trade, Anne-Marie Trevelyan.
Photo: ASEAN/CVN
The trade turnover between ASEAN and the UK reached over $31.8 billion in 2020.
The two sides also discussed issues of common interest, including the ASEAN Comprehensive Recovery Framework (ACRF), sustainable development and climate change, infrastructure development, digital innovation and ASEAN's centrality in the Indo-Pacific.
Both sides looked forward to the implementation of the ASEAN-UK Joint Statement on Future Economic Cooperation.
They discussed the possibilities of joint research relating to measures to promote bilateral economic cooperation, including the possibility of signing a free trade agreement or a Comprehensive Economic Partnership Agreement.
Secretary-General Dato' Lim also commended the UK's continued efforts and contributions to support the building of the ASEAN community, and stressed the importance of improving the ASEAN-UK economic partnership.
He called on the UK to take advantage of the trade and investment facilitation under the Regional Comprehensive Economic Partnership (RCEP) by increasing investment in ASEAN member states.


VNA/CVN
Organizer. Zombie aficionado. Wannabe reader. Passionate writer. Twitter lover. Music scholar. Web expert.