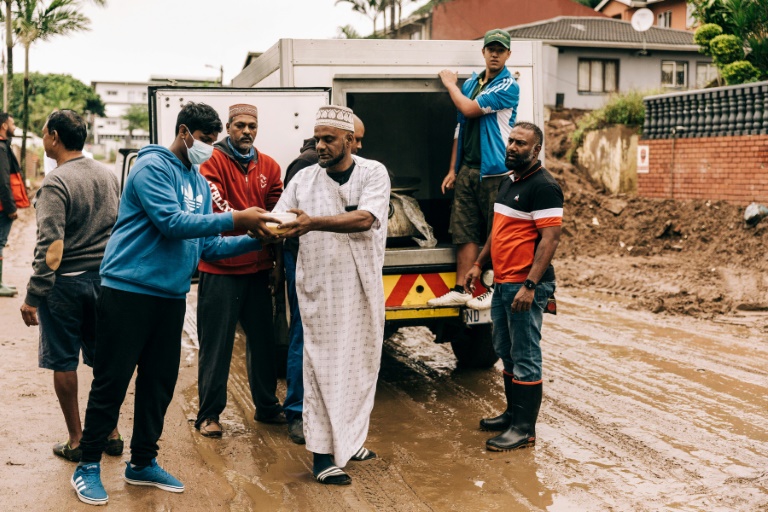 South Africa: Sunshine after tragic floods and a call to prayer

Nearly rainless skies on Sunday finally seemed to bring relief to South Africa, whose east coast was ravaged by floods that have killed 400 and left thousands homeless, as prayers for Easter continue to demand. was increasing.
Most of the victims were recorded in the Durban region, a port city in KwaZulu-Natal (KZN) open to the Indian Ocean, where it has been raining heavily for a week, causing flooding and deadly landslides.
It was raining at some places even in the morning but nothing compared to the last few days. "There is a low risk of flooding in KwaZulu-Natal today," National Meteorological Institute forecaster Puseleto Mofokeng told AFP. "The rain will end completely by Wednesday and by the end of next week."
In recent days, ministers, traditional leaders, Zulu King Msuzulu Zulu and President Cyril Ramaphosa have been on the ground to assess the extent of the damage and support those in mourning.
Families are destroyed, many members are lost in a matter of seconds. Children and children have died, drowned or are buried in the mud. People are still missing.
– " Oh God " –
"We send our deepest condolences to the families who have lost their loved ones. May the Almighty Lord wipe your tears," said Deputy Minister of Social Affairs Hendrita Bogopen-Zulu, who visited the scene.
The call to prayer during religious gatherings manifold this Easter Sunday.
Around 340 social service representatives have been deployed to provide psychological support in the affected areas.
Distribution of food vouchers, school uniforms and blankets is on. More than 250 schools have been damaged. About 4,000 houses were demolished, more than 13,500 were damaged.
The poorest people in the town have been hit hard by the weather. Houses made of sheets of corrugated iron or simple planks of wood, often built on buildable and flood-prone land, did not last long in a deluge.
Water and electricity have been cut in some parts of the state since Monday. Desperate residents were seen carrying buckets of water on the side of the road in vehicles. Food is missing, what was left was rotten.
Donations are collected across the country, especially at fire stations. Pasta, preserved, covered. An emergency government aid of 63 million euros (1 billion rand) has been announced.
Roads and bridges cut the slow relief. Rescue operations are on, but a week after the start of the disaster, there is little hope of survival. Rescuers' job now is to retrieve most of the bodies.
Several hospitals used for the injured have been damaged and are not functioning at full capacity.
Officials expect hundreds of millions of euros in damages. The region had already suffered massive destruction during an unprecedented wave of riots and looting in July.
Every year, the hurricane season from November to April brings hurricanes to southern Africa. Countries like Madagascar or Mozambique are regularly hit by deadly storms. But South Africa is generally spared.
Internet geek. Wannabe bacon enthusiast. Web trailblazer. Music maven. Entrepreneur. Pop culture fan.