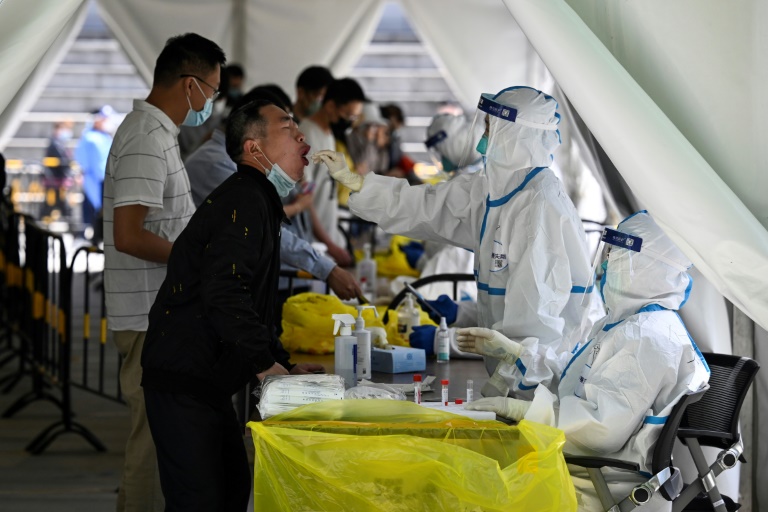 The city of Beijing still lives on Tuesday for fear of general confinement like Shanghai: screening a large portion of residents, increasing the number of cases, closing gymnasiums and tourist sites.
China has been facing a pandemic outbreak since March that affects several provinces to varying degrees. It responds with a zero COVID strategy, with quarantine and mass screening.
The hardest-hit city so far is Shanghai, which on Tuesday announced 52 new deaths and nearly 17,000 positive cases in 24 hours.
25 million residents have been placed in severe confinement since the beginning of April.
Some have difficulty accessing food and those who test positive are sent to quarantine centers with variable hygiene.
The situation in Beijing is infinitely less dire. But over 100 positive cases have been reported since last week, including 33 new cases announced on Tuesday – an increase compared to the previous days.
– Restaurants open –
To identify and isolate infected people as quickly as possible, Beijing officials are running a screening campaign, which from Tuesday spread to 12 of the 16 districts in the city with a population of 22 million.
As of Monday, residents and employees of Chaoyang district, the city's most populous and home to many multinational companies, offices, embassies and shopping malls, had already been tested.
Eleven new districts began screening their residents on Tuesday. In total, about 20 million residents are affected by this campaign.
Several gymnasiums, where Beijingers practice basketball, badminton or table tennis, announced on Tuesday that they would be closed until further notice "to comply with health authorities' requests".
The Lama Temple, a Buddhist site that attracts many visitors, will be closed from Wednesday.
However, life in the Chinese capital is largely normal. The streets are bustling like normal days. Shops, restaurants, cinemas, offices and bars are open.
– " under control " –
Even though officials have not mentioned the possibility of imprisonment, the example of Shanghai scares many Beijingers who prefer to stockpile food to deal with the situation.
They have flocked to supermarkets and online shopping platforms in recent times to buy meat, fruits, vegetables, water, snacks, oil and other basic necessities.
There has been no shortage of food for the time being and officials have assured that the supply will be able to follow the demand.
Beijing City Hall spokesman Xu Hejian said on Monday evening that the spread of the virus was still "under control".
Officials have urged companies to resort to telecom. He also confined around 30 residential buildings and asked travel agencies to suspend group tours in the capital.
A few days before the May 1 holiday, the town hall also called on Beijingers not to leave the city unless absolutely necessary.
The measures taken by Beijing, however, are very moderate compared to other places experiencing similar outbreaks.
Baotou (North China), a major producer of rare earths, on Monday called on all its residents to stay home after discovering only two positive cases.
Internet geek. Wannabe bacon enthusiast. Web trailblazer. Music maven. Entrepreneur. Pop culture fan.