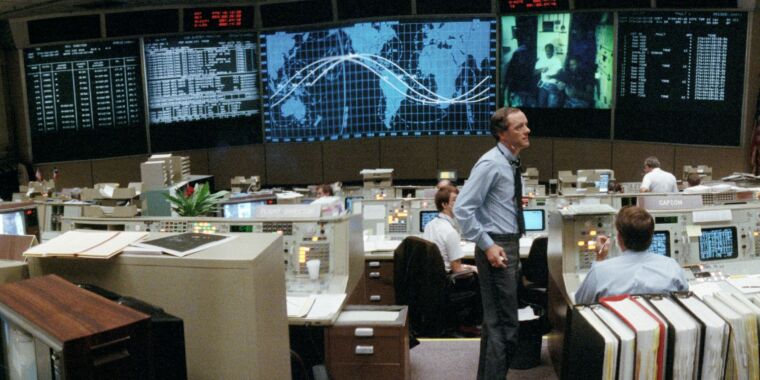 The phone call from Houston's "Mountain" to Mission Control came at its worst. It was the evening of the 1991 Thanksgiving morning. In space, board space shuttle crew members Atlantis Was sleeping. Suddenly, lead flight director Milt Heflin faced a crisis.
The mission control's flight dynamics officer told Heflin that the China Mountain Air Force Station, which tracks orbital traffic, had warned that a dormant Turkish satellite could collide with the space shuttle in just 15 minutes. Moreover, the potential wreckage strike occurred in the middle of a blackout as the spacecraft was communicating with crews as it crossed southern Africa.
Before the start of the blackout period, there was no way for Heflin's engineers to calculate avoidance techniques, wake up the crew, and communicate with them. Heflin was alive – why didn't the Air Force warn him of a possible collision? Typically, they provide about 24 hours notice. By God, if he hits the satellite Atlantis, They can lose astronauts very well as they sleep. The STS-44 crew probably won't wake up.
An experienced flight director who started working at the space agency during the Apollo program two decades ago, conducting ocean recovery activities after the moon landed, Hephlin was mostly unforgettable. But now, he has increased the excitement. When he recently told Ars, "When I think about all my time, I don't think I was so nervous or upset about anything like that then."
What Hefflin did not know, however, was that he was killed by two of his flight controllers during a regular shuttle mission to deploy several Air Force payloads during an overnight shift. There were no illegal satellites – the feeling of Thanksgiving's "turkey" went over his head. But the story does not end here.
The real trick
At first, NASA was not the now buttoned space agency. At first, especially during the Mercury program, NASA decision-makers moved quickly, often flying through the seat of their pants. There was more room for practical jokes, even within the sanctuary of mission control.
In his book NASA was born, Manfred "Dutch" von Ehrenfried wrote about a short-lived practical joke that arose on an Atlas rocket in 1962, just weeks before John Glenn's first orbital flight. NASA legendary first flight director Chris Kraft led his team through long day and night training, simulation and discussion of the rules of this critical flight mission.
At the time, missions were planned and conducted outside the Cape Canaveral Air Force Station Mercury Control Center, and there were several scrubs on the way to Glenn's aircraft. To demolish the stadium one night, Craft's main lieutenant, Jean Cranz, decided to open his boss the next day, when the two activities were due to occur simultaneously. Kraft will lead a mission simulation and a launch pad test with the help of the Cranj Atlas rocket. While performing the mission simulation, Crange knew that the craft console would watch the pad's activity on the television.
Working with John Hatcher, a video support coordinator at the control center, Cranje had an old video of an Atlas launch instead of a Chris feed. In addition, Crange and Hatcher created a time when the rocket appeared to lift off as soon as Krakt threw the "firing command" switch as part of his imitation.
Here's how von Ehronfried happened in Florida:
As the simulation progressed, Kraft would ask Cranj how the pad test was going and Cranj would give him a status check and take him directly to the head and head down. As the simulation descended into the liftoft, Kraft switched off the switch, and Hatcher began the old Atlas lift video on Craft's console TV. Kraft's eyes widened and his forehead frowned as he watched TV. He turned to Crange and said, "Did you see that?" Cranj played dumb and said, "See what?" Without a break, Kraft says, "Give up the disgusting thing!" Hatcher and Crange tried to keep their faces straight but they both couldn't hold back the smile. Kraft says, "Who did this?" Then he realized he was "there" and gave a half-hearted smile. Crange and Hatcher survived by pulling Superman's cape!
Analyst. Amateur problem solver. Wannabe internet expert. Coffee geek. Tv guru. Award-winning communicator. Food nerd.