Bonis Johnson became self-deprecating after coming in contact with an MP who later tested positive for Covid-19, Downing Street said Sunday.
On Thursday morning, the prime minister attended a 35-minute meeting with a small group of Conservative MPs. One of them, Lee Anderson, later developed symptoms of Covid-19 and tested positive.
Downing Street said the prime minister was "good" and insisted that number ten did not have a covid-safe workplace but that the test and trace advised the prime minister that he should be singled out for reasons including the length of the meeting.
A photo posted by the MP on Facebook showing his interview with Johnson shows the men standing less than 2 meters away. Both did not wear masks.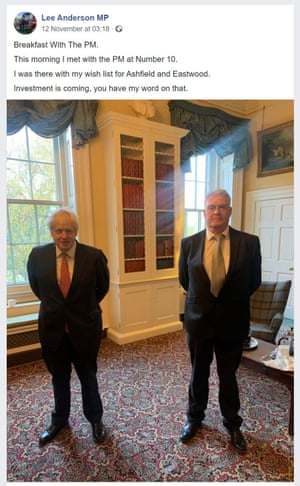 The suggestion of self-separation came at a difficult time for the government, as Johnson sought to restore a sense of discipline after a turbulent week that resulted in the departure of his two main aides, Dominic Cummings and Lee Kane.
Johnson is expected to continue public speaking within No. 10, including the government's green plan. This is also an important week for Brexit as it reaches the final stage of negotiations with the EU.
Downing Street said Johnson would contact parliamentary authorities about his remote participation in House of Commons activities.
Under the parliamentary "hybrid" system, MPs can participate in some activities through video-links.
A spokesman said: "The prime minister will follow the rules and become self-sufficient. He will continue to work from Downing Street, including leading the government's response to the coronavirus epidemic. The prime minister is OK and there are no signs of Kovid-19. "
Johnson contracted the disease shortly after announcing his first nationwide lockdown in late March. He initially worked on Downing Street before his health deteriorated and he was taken to St Thomas Hospital in central London.
Anderson, 53, is a member of the 2019 Conservative Eaters, winning the labor-occupied seat east of Ashfield in Nottinghamshire.
Organizer. Zombie aficionado. Wannabe reader. Passionate writer. Twitter lover. Music scholar. Web expert.