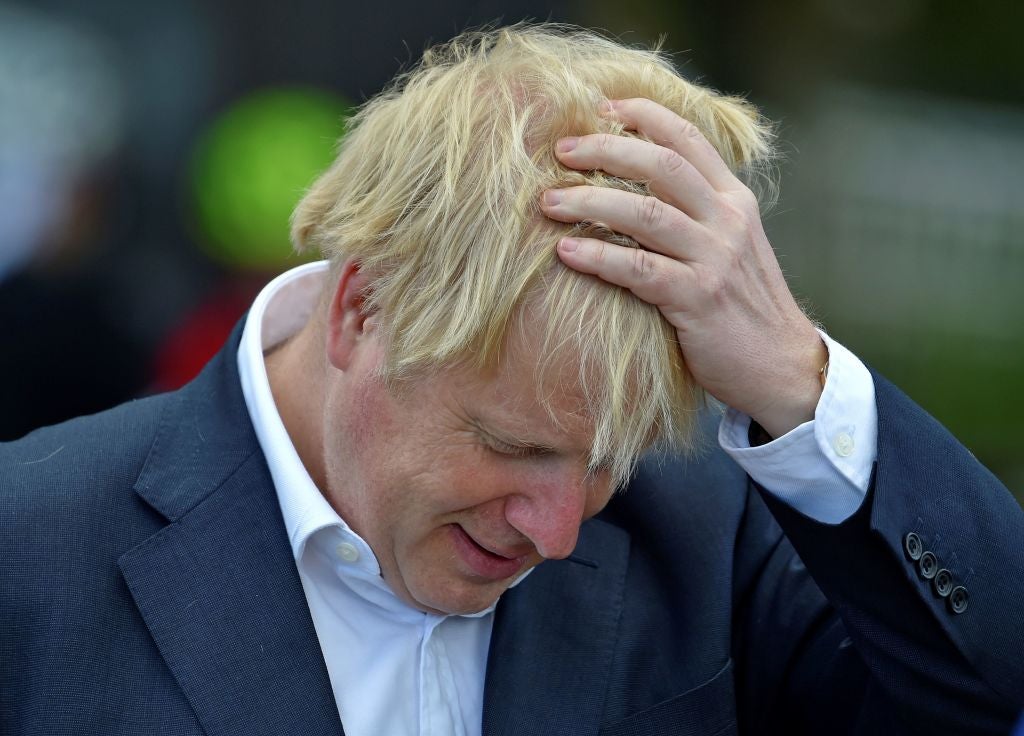 Boris Johnson has called for unity, with rebel Conservative lawmakers warning that he must "give tough evidence" to introduce controversial new lockdown levels or "face backbench revolts."
When her foreign secretary raised the possibility of a possible third-wave case next year, the prime minister said the government's plan would protect the NHS from being "overwhelmed" and allow the economy to reopen safely.
However, in a letter addressed to potential rebels, he added that in the eyes of the vaccine, "there is more time than ever to show unity and determination."
In the wake of the dramatic rise over the weekend, Mr Johnson proposed ending the new system just nine weeks later and also proposed a separate vote for lawmakers on whether the bans should continue until March.
Tory MPs, however, warned of their concerns about the economic impact of the harsh new levels.
In a message to Downing Street, Mark Harper, chairman of the Tory MP's Covid Recovery Group (CRG), said: "Show us that the proposed measures are going to be effective and will show our spending."
He added, "We need hard evidence, not hyperbole.
Under the plan, which MPs will vote on Tuesday, 99 per cent of people in England will only be allowed to go to their homes and socialize inside restaurants, or not at all.
Last week, 0 members of the group wrote to the Prime Minister asking him to publish a cost-benefit analysis of the levels.
Downing Street said the information would be provided before Tuesday's vote.
Mr Harper told Times Radio that the county-by-county approach was "understandable in some parts of England, but I can see it in some parts of the country where there is much greater diversity than you … it is probably not understandable".
Mid-Derbyshire Conservative MP Pauline Latham told Akash Sophie Ridge on Sunday: "I think it depends a lot on what Boris does between now and Tuesday.
"If he presents that evidence and he can prove that there is better evidence for him, I don't think he will rebel."
Earlier, Foreign Secretary Dominic RAB raised speculation of a return to the national lockdown while defending the new levels.
He said the bans were part of the administration's efforts to "stay out" of a national lockdown.
The ministers also warned of the risk of a third wave of lawsuits in the new year without controlling the virus, and rejected the notion that incumbent ministers would abandon the current county-by-county approach.
In his letter to members of the CRG Group, Mr. Johnson wrote: "As we all know very well, these are extremely difficult times for our country and the world at large. No government or parliament has had to deal with these difficulties and enormous issues since the end of World War II.
"Disagreements about the approach are normal, and I hope you understand that the government is trying as hard as it can to listen to criticism and respond positively to constructive proposals.
"I believe that the strategy is a balanced approach to protecting the NHS from being overwhelmed, educating children in school, and allowing the economy to move in a safe and optimal way.
"There is reason to hope and believe that the worst of us is almost behind, so there is more time to show unity and determination than there is now. As we move from winter to spring, the expectations given through vaccines and tests mean that we can sincerely begin the recovery process and re-apply our energy to improving the lives of those chosen to serve us. "
In an article of Sunday Mail Mr Johnson called on his lawmakers to support the move, saying "it is important to understand that with this scientific advancement we can expect progress – and de-escalate before Easter."
He added that the new restrictions would not be locked down from Wednesday.
"We are almost out of our captivity. We can see the pastures high in the sunlight in front. But if we try to jump the fence right now, we will only entangle ourselves in the last barbed wire, with catastrophic consequences for the NHS. "
Tory MP and former children's minister Tim Luton said the PM's letter contained a new sunset clause, "Nothing will change, I'm afraid" if lawmakers asked for a cost-benefit analysis from now on Tuesday.
Most other Tory MPs have said they will decide how to vote based on an assessment of the government's influence.
Labor has not yet committed to voting for action.
But the party has not voted against the public health system since the epidemic began.
Organizer. Zombie aficionado. Wannabe reader. Passionate writer. Twitter lover. Music scholar. Web expert.