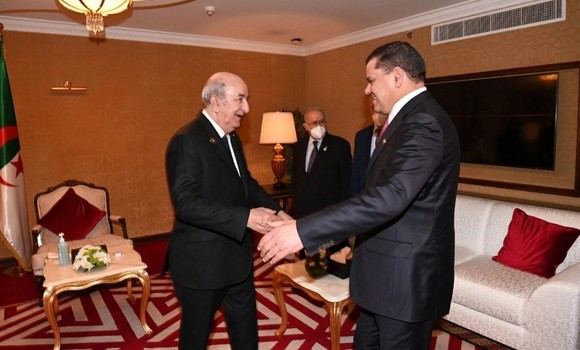 Libya is Algeria's new absolute priority. Algerian officials are currently working on a massive strategy in Libya. Algiers is focusing its entire strategy on expediting the organization of presidential elections in Libya, with the ultimate aim of associating itself with an influential figure capable of uniting the many Libyan forces around itself and subsequently taking power. Occupying, we learned from several concurrent sources in Algiers.
In the same spirit, a meeting with the head of Libya's national unity government, Abdelhamid Dabibah, was held last Tuesday in Algiers. The senior Libyan official officially confirmed that his exchanges in Algiers with Algerian leaders essentially revolved around the delicate question of the organization of the presidential election. At the end of the audience given to him by Algerian President Abdelmadjid Tebboune, Abdelhamid Dabibah indicated that "today I had the honor of meeting the President of the Republic, Mr. Abdelmadjid Tebboune, with whom we addressed many issues, including the upcoming Libya in the election".
"During the meeting, he presented his government's vision to complete this important project and move towards stability in Libya from the transition period," he said.
It should be noted that Algiers' relations with Dabiba have often been strained since 2021. Great mistrust reigns between the current head of government of Libya and the Algerian regime. Dabibah has repeatedly criticized Algeria for its double game and its lack of commitment to economic and financial cooperation to rebuild Libya. Furthermore, Dabibah is aware that Algeria is seeking to establish a coalition behind its back with other influential figures in Libya to prepare for the presidential elections.
But Dabibah is supported by many foreign powers such as Turkey or France. So Algiers was forced to move closer to this strongman in Tripoli to review its transcript and glimpse the beginning of a possible alliance. For the Presidential Palace of al-Mouradia, it is important that the turn of the presidential elections in Libya not to miss the coronation of a personality who may be hostile to Algerian interests.
As a reminder, the High Electoral Commission of Libya postponed the presidential election, which was to be held on December 24, 2021, two days before the vote. A clear decision in the eyes of the observers, as the difficulties accumulated. In this process, the High Election Commission had proposed to postpone it till January 24. But Parliament did not confirm the date. The commission responsible for overseeing the elections submitted a report which concluded that setting a new date at this stage would be risky, leaving the future of the election unclear.
Internet geek. Wannabe bacon enthusiast. Web trailblazer. Music maven. Entrepreneur. Pop culture fan.