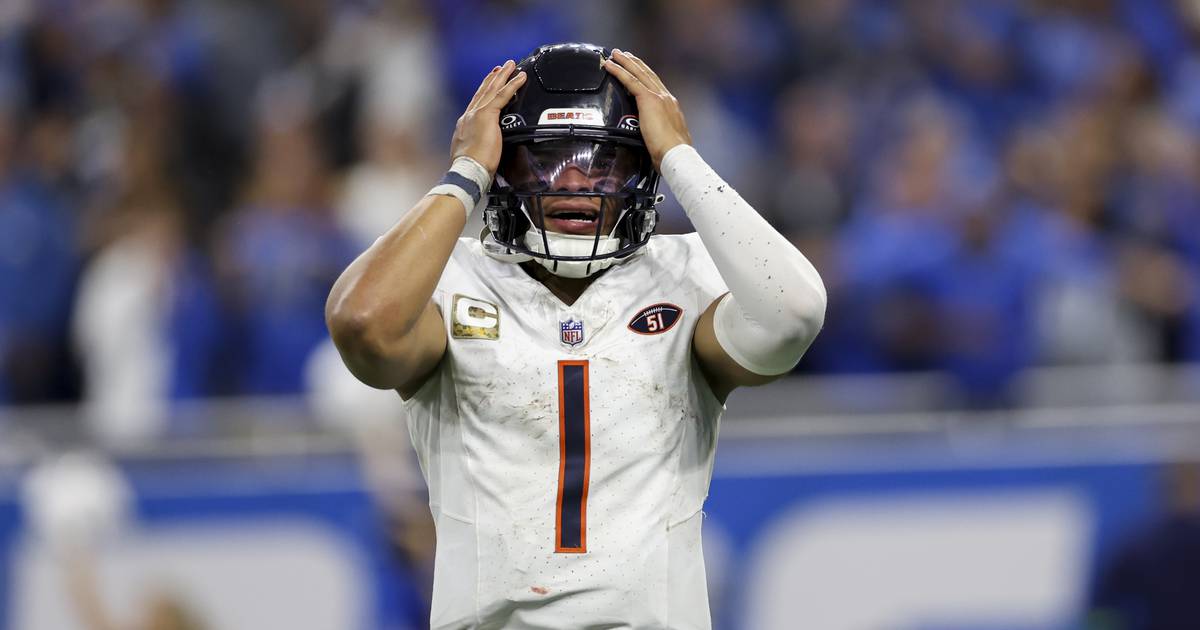 Title: Justin Fields Shines in Comeback, but Bears Succumb to Lions' Late Surge
Chicago Bears quarterback Justin Fields made an impressive return to the field after a four-game absence due to injury, showcasing his athleticism and skills against the Detroit Lions. However, despite Fields' remarkable performance, the Bears could not maintain their lead and ultimately fell victim to the Lions' late-game rally.
Fields immediately made his presence felt, rushing for an outstanding 104 yards, including a pivotal 29-yard gain on third-and-14. In addition to his rushing prowess, Fields also threw for 169 yards and a touchdown, demonstrating his versatility as a quarterback.
The Bears appeared to be in control, enjoying a comfortable 12-point lead in the fourth quarter. However, their hopes of securing a victory were dashed as the defense faltered and the offense struggled to finish the game. The defense allowed two crucial touchdown drives in the final minutes, providing the Lions with a lifeline.
One pivotal moment came when the Bears' offense, holding a five-point lead, failed to convert on a crucial third down. This inability to move the chains gave the Lions the opening they needed. Additionally, rookie Tyler Scott missed a potential game-winning catch on third-and-9, squandering another opportunity for the Bears.
With the game hanging in the balance, the Lions embarked on a 73-yard drive, ultimately scoring the winning touchdown. The Bears had a mere 29 seconds remaining to tie the game, but their hopes were extinguished when Fields fell victim to a strip-sack, resulting in a safety for the Lions.
Fields, however, remained optimistic and displayed little rust in his return. He expressed satisfaction with his thumb's performance and exhibited a strong command of the offense, generating excitement for future games.
Despite Fields' remarkable efforts, the Bears missed several scoring opportunities, particularly on two first-half takeaways achieved by their defense. This inability to convert turnovers into points proved to be a crucial turning point in the game.
Reflecting on the disappointing loss, the Bears acknowledged the need for improved execution and the ability to finish games during crucial moments. They understand that tightening up in such situations will be key to their success moving forward.
As Justin Fields' comeback showcased his immense potential, the Bears are eager to learn from their mistakes and bounce back stronger in future matchups. The team's determination to improve and execute during crucial moments is evidence that they are working tirelessly to deliver better outcomes in their pursuit of victories.
Internet geek. Wannabe bacon enthusiast. Web trailblazer. Music maven. Entrepreneur. Pop culture fan.