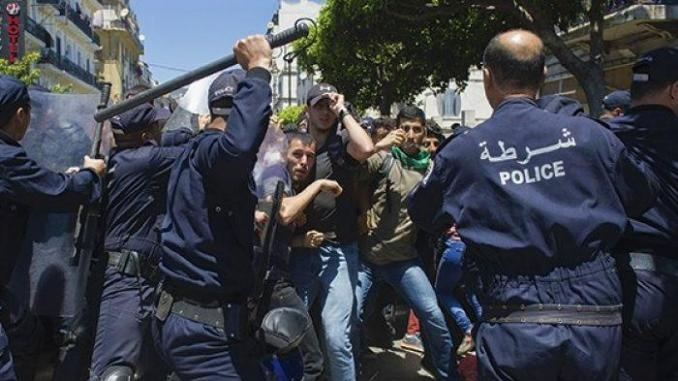 "Dirou watch dirou, vallah mana hubsin" (Whatever you do, we will not stop!). It is with this cry of challenge that Hirac performances begin on Friday, May 14, in Algiers, Tizzi Ouzou, Bejaa, Bouira, Setif, Oran, Tlemsen, Mostaganem, Khanchella, Constantine, Tiaret, Bordj Bou Arriz, Mila, Guelma . . .
Police attempted to end the start of demonstrations in all cities by arresting a dozen people from the first gathering of protesters in the middle of the first day, and by closing the main thoroughfares. Hirakist.
In Algiers and Sétif, in Tizi Ouzou, Bejaa or Bouira, among others, the Hirac march took place without incident, a very strong repression fell on the protesters, causing a spread of their muscles and violent arrests of many.
Also the capital, the center of Hirak, and which terrorized the military regime with last Friday's human tide, has been doubled. On the one hand, the police voluntarily caused several traffic jams at all entrances to the city, thus preventing its access to protesters from the suburbs and neighboring areas.
The police, on the other hand, closed the main arteries, usually used by protesters, in the city center and made mass arrests at the start of the first mob. Almost all journalists at the center of Algiers were arrested, including Khalid Dranei, who had time to post a video of the action on his Facebook page. Photo journalist onlyAl Watan, Sami Kharoum, was immediately identified and released.
Similarly, Mohsin Belabas, president of the Rally for Culture and Democracy, and his right-hand man, Athaman Mazouz, who were demonstrating in Algiers, were arrested. Several confirming sources say that in the first hour of this 117 March, more than 600 people were arrested, half of whom were in Algiers.I Friday.
This wave of anti-Hirac repression was anticipated, following the recent order of Yukse from the Algerian regime on 9 May. Indeed, last Sunday, the Algerian Interior Minister, in an official statement, had chosen the worst solution, in front of popular demonstrations by Hirak.
Thus it was decided that any demonstration that had not been previously announced, and whose organizers, slogans and itinerary had not been communicated to the authorities, was considered a violation of public order, and therefore "illegal" . The deadlock between the military regime and the Algerians has just begun.