12:23
Must go 40 km: Peter Sagan faces no challenge for the middle sprint, and at the same time the opportunity to wear the green jersey today is effectively ending.
12:21
Must go 41 km: Slightly ahead of Peloton are four riders, currently led by Greg Van Evermet. Connor Swift from Britain has also been added.
12:18
43 km to go: There is no break in the front, but Julian Alaphilip is hanging back while waiting for Bob Jungles, who will probably help him get back to the original team and also look for a change of bike.
12:16
Must go 45 km: Round the Arc de Trioff in the back. The end line of the mid-day sprint is 5 km away.
12:09
Must go 52 km: They go round the Arc de Triofa. It's like an open-top bus tour in Paris, the second half of this stage.
12:06
Must go 54 km: Racing! Nielsen Powerless is going first, but he didn't go too far.
12:05
Must go 54 km: They have just crossed the finish line for the first time. I have to go at eight.
12:02
57 km to go: They have crossed the Louvre, and are about to hit the Central Circuit, around which they will go nine times.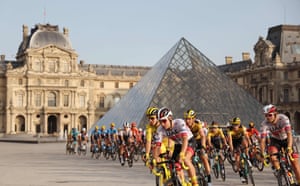 Updated

11:55
63 km to go: They are in Boulevard Lefebvre, named after Franায়েois Lefebvre, a soldier-type Francois Lefebvre who died nearly 200 years ago last Monday. I have no idea what to do with my face, the letter V should come after marriage, especially one followed by another.
11:41
Must go 72 km: Pogakar is setting all kinds of records this year. A 40-year-old younger than you wore a yellow jersey at any stage of a Tour de France (Eric Vanderwarden of Belgium in 1983, as you asked. He won the green jersey three years later).
11:31
Must go 78 km: They have just crossed Versailles. The last patch of green will soon hit the Mudon Forest before they hit Paris properly.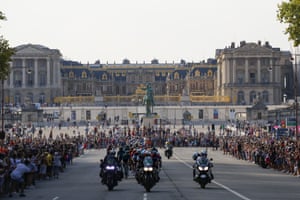 Updated

11:25
82 kilometers to go: Chaos at Europost, where the poor chapter of the commentary tries to hand over to Bradley Wiggins, and then tries to hand over to John, and none of them respond. The danger of live broadcasting there.
11:16
Go 88km: Right now in Fontane-le-Flurry. In fact, it is the day of the election in Fontaine-le-Flurry and the Evelyn region in general, following the resignation of their MP, Nadia Hai. You thought this tour and the resulting traffic chaos would be of no use to them. In other news I apologize for the frustration that a race without blogging forced me to live blogging.
11:07
95 km to go: They have reached Saint-Num-la-Breche. Who is St. Nome, I'm listening? Well, no cent name. It's actually named after St. Noni, about whom I fear I know very little. I can tell you that he came from Wales. Bretch comes from the German Brett Aishe for Big Oak. I don't know why it's just called Saint-Non-La-Bretche.
10:53
102 kilometers to go: They were supposed to reach Sipier somewhere between 3.32 pm and 3.366 pm BST. They finally made it to 3.51 p.m. No one is in any kind of hurry (yet).
10:48
106 km to go: Clement Russo topped the first division. They are now going through Les Aloits-le-Roi, about which I can tell you very little. I saw the latest news on the city website once and I can do the best that they have a 315 year old bell named Mary Ann Andre near their church which was taken away for servicing and renovation on Friday. It sounds bad.
10:37
111 km to go: They have just passed through the site of the Flints Renault factory, the largest car manufacturer in France, in Auburnville. Last year, it produced 4,06,111 all-electric Joe cars, 41,931 Clios and 54,118 Nissan Micras in an unexpected twist.
10:35
113 km to go: Anyone who has seen the final stages of the Tour de France before will know that there is no possibility of any big move until the end. There are four climbing seats at about 4 km.
10:25
117 km to go: Tufut is going when it is hard to continue.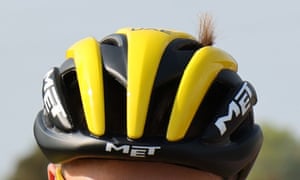 10:23
118 km to go: A tuft is taking his hair tied with a pogakar helmet. Someone should really tell him that he is going to spend more time taking more photographs than any other day in his life with comedy hair failure.
Andrew Benton writes, "While it is a pity that Gerint Thomas did not win the title, it is so good that a team other than Sky / Iniesta has been hit by a storm this year," wrote Andrew Benton. "The Sky / Inias victory train was getting quite annoying. Hopefully next year the competition will be more stable, this year the dominance of Iniesta will be broken. Dave 'Egan-his-face "Brillsford has done a lot of work for the UK in cycling over the past decade, but I'm wondering if the loss of speed will have a long-term effect on him and the Inos team."
10:18
Must go 121 km: Today there was some apparent discussion about how the tour could show solidarity with the Black Lives Matter movement. As Jeremy Whittle wrote in yesterday's report:
There has also been a lot of talk about how the Black Lives Matter movement has reacted, with Kevin Reza, the only black pilot in Peloton, being increasingly frustrated by the lack of diversity in cycling as he ran the competition. Discussions are underway between the top team and the riders on how to best respond to an issue that is now in the public eye after being wrapped under the carpet for so many years.
It turns out that the conclusion was they wouldn't mark it at all. The commentary team at Europort expressed their frustration / regret / anger.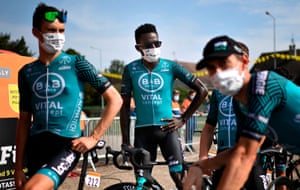 Updated

10:15
Must go 122 km: and they are gone! Racing has begun in the 21st and final stages of the 2020 Tour de France. Today's stage looks something like this: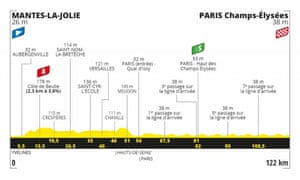 10:04
Must go 122 + 3 km: Five more chances as the first Slovenian – Tadej Pogachar, Primোজz Roglik, Matej Mahorik, Luka Mezegek and Jan Pollank – gathered at the front and then six members of the UAE team added weapons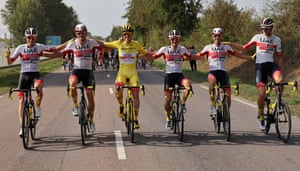 Updated

10:00
Must go 122 + 4 km: Primrose puts an arm around Roglic Pogacar and smiles warmly for the cameras. He's admirable that he was able to do it, I can't imagine how painful it must have been for him yesterday.
09:55
122 + 6 km to go: They are gently strolling through the city of Montes-la-Jolie in Arsenal's Nicolas Pepe (notable for other reasons).
09:47
Riders ready For Imaginary departure, With Tadej Pogakar wearing yellow for the first and obviously most important time. Yesterday's action here Jeremy Whittle:
08:24
O world!
Okay, they actually did it. The 2020 Tour de France is over today, there is no end to the drama in the real race and with compassion is a bit far from it.
Judging by yesterday's extraordinary time, Tadej Pogakar's performance has won him over and over again in several rounds and makes his seemingly glorious countryman look more like a second-rate rogue. Pogakar also ranks Polka.jersity as the most successful climber, but the drama and potential last-day conspiracy to lead the episode's classification is in the competition for the green jersey, which Peter Sagan has won every time he completes the tour – seven to eight years, all told. Sagan finished second at the start of the final day, 55 points behind Ireland's Sam Bennett, meaning he could still win if the Irish fought back, and he threw important points in the two spins of the day (although Bennett, who has already tripled) to 201 points. His only remarks on the occasion that he has just finished this tour are to cycling sensitively, following the Slovaks and waiting for the presentation of his ,000 25,000 check in Paris).
However, enough from me – here is William Fatheringham:
The French title writers prefer to change the phrase used at the level crossing of the national railway to warn that the red light is on but another train may come. The 2020 Tour de France is a groundbreaking version in a number of ways, but the latest breath from Primoz Roglik on Saturday is the latest breath from Primoz Roglik on Saturday, a touch of the less likely Tadez Pogachar, One train can hide another, The last three weeks could be the sum total: one Slovenian could come to another's slipstream. The first and second nails in the world's largest bike race are a huge step up among the smallest cycle racing nations, with a population of 30 million, who have been independent for less than 30 years.
Here's more:
Alcohol maven. Incurable pop culture specialist. Communicator. Gamer. Certified explorer.