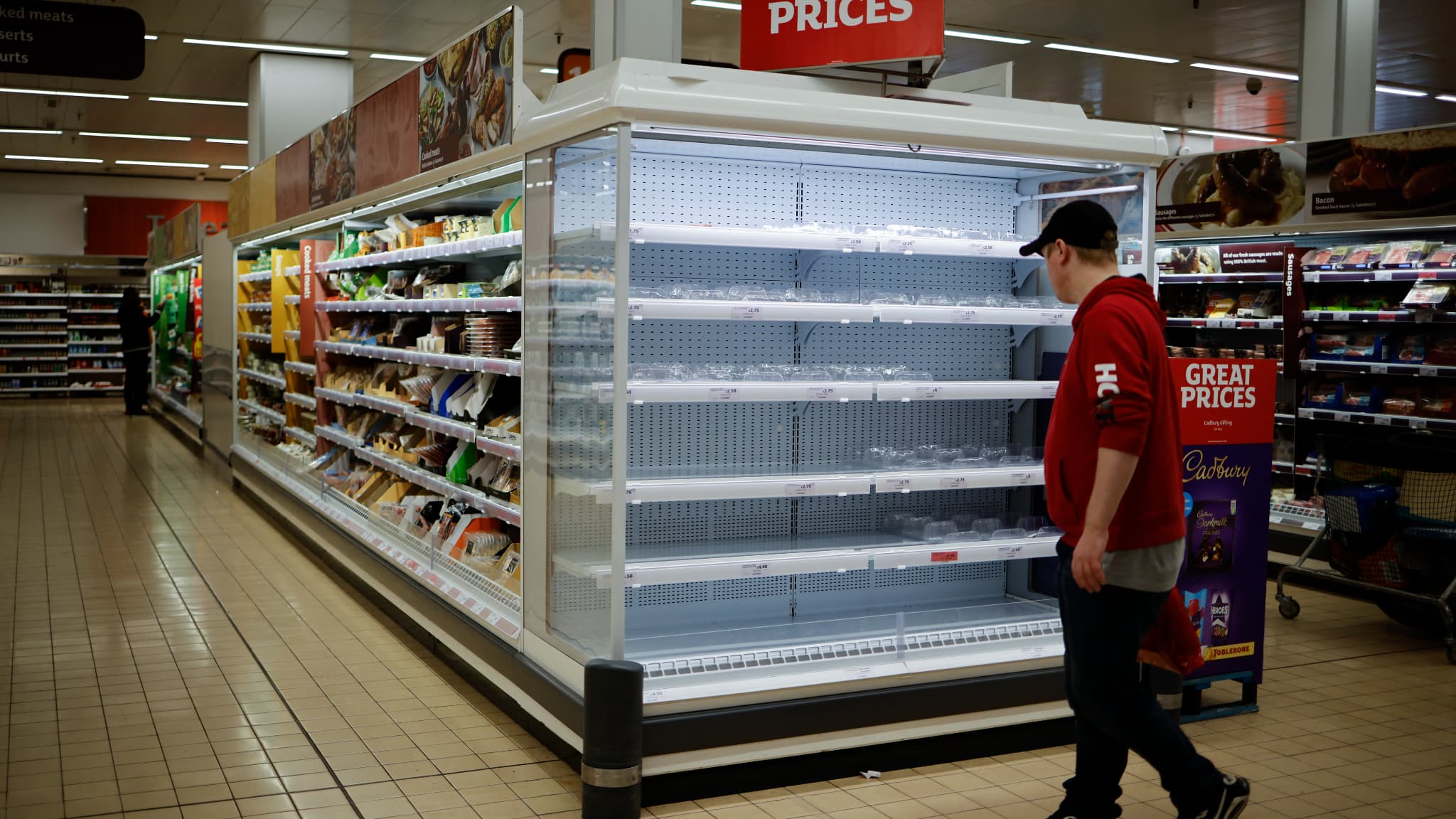 While shortages are increasing across the channel, more and more stores are reorganizing their shelves to avoid offering customers empty stalls.
Shortages are increasing in the UK and now affect fresh produce such as fruits and vegetables. To avoid presenting empty shelves to their customers, more and more supermarkets are deciding to fill in the gaps with incompatible products.
Like at a co-op store in Hertfordshire, North London. Store employees fill boxes of fruits and vegetables with a selection of chocolates. Customers are now getting bags of Kwality Street, Celebration and other dairy milks instead of salads and carrots.
Also inconsistent placement in this other cooperative store in Harpenden, between London and Oxford. In this Twitter user's photo, refrigerated shelves can be seen full of groceries such as HP sauce or salad dressing.
Supply difficulties even at Tesco, the British leader in mass distribution. According to daily mail, a supermarket in Cardiff has set up a display of sunflower oil in the frozen food aisle and another in South Wales is filling its salad bins with cans of tomatoes.
Usually, many brands hide their empty shelves with fake boxes of products. When they have a sufficient set of these.
So this customer at a Sainsbury's store found that wasn't always the case.
"Seen in Sainsbury's today. They don't even have fake full shelf boxes," she tweeted while sharing the photo.
Images that make you smile but worry professionals and consumers. One in three of Channel's stores expects prices to rise in the coming months due to energy costs, transportation and labor shortages.
According to the British Retail Consortium (BRC), there are "clear signs" of rising prices and worsening shortages. Food product prices, which were down 0.8% in August in a year, were still down in September but to a lesser extent (-0.5%).
A few weeks before Christmas, year-end flagship products are already starting to take consumers by storm. Turkey, pastries and toys broke October sales records.
A fugitive whom the government is trying to pacify. Rishi Sunak, the Chancellor of the Exchequer (economy minister), says he is confident.
"I believe there will be a good amount of Christmas presents available to everyone", he assured in an interview with the BBC this Thursday, mocking the "Christmas critters that scare away shoppers".
Organizer. Zombie aficionado. Wannabe reader. Passionate writer. Twitter lover. Music scholar. Web expert.