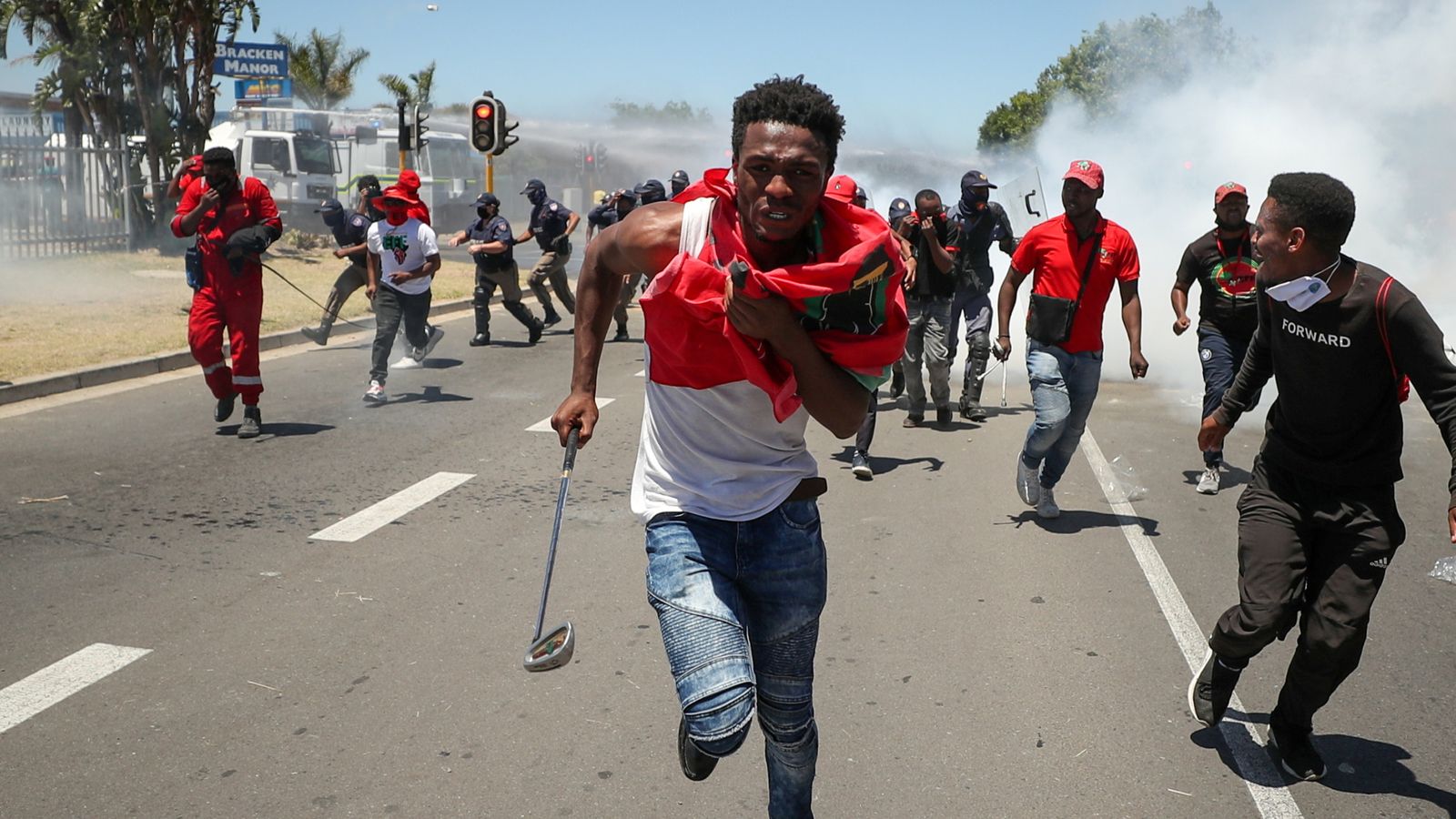 A South African school has used rubber bullets, stun grenades, tear gas and water cannons on protesters, accusing them of "only" white "prom.
Hundreds of protesters from the opposition Economic Freedom Fighters (EFF) group gathered Friday at Brackenfeld High School in Cape Town, a white neighborhood.
Most black protesters were seen carrying matches, sticks and golf clubs, but they were spotted by a heavy police and personal security presence, some of whom were in riot gear.
There is a strong police and personal security presence outside Brackenfell High School this morning. EFF members return to school in protest of racial discrimination. Ronald Masinda of ENCA is on the scene. Politeness # DSTV 403 pic.twitter.com/rhSnPBOSbc

– ENCA (@ENCA) November 20, 2020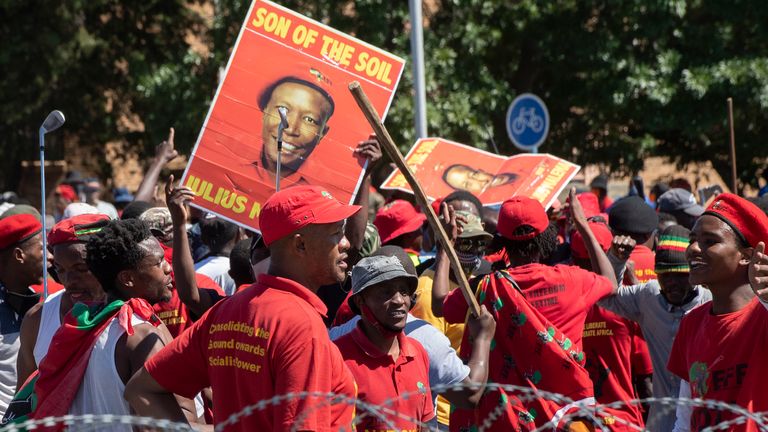 Video launchers are fleeing as missiles are fired
Anger centered on a school prom held earlier this month, where it was alleged that only white students were invited.
It was organized after the original group was canceled for school dropouts due to coronavirus restrictions and the school being limited to 100.
The school said it was a private event hosted by parents and had nothing to do with them, but teachers were allegedly present.
The public reaction began after a video was shared on social media describing it as a "white-cable" group.
The EFF, South Africa's second-largest opposition party, said its followers were protesting peacefully when police used tear gas, stun grenades and water cannons on them.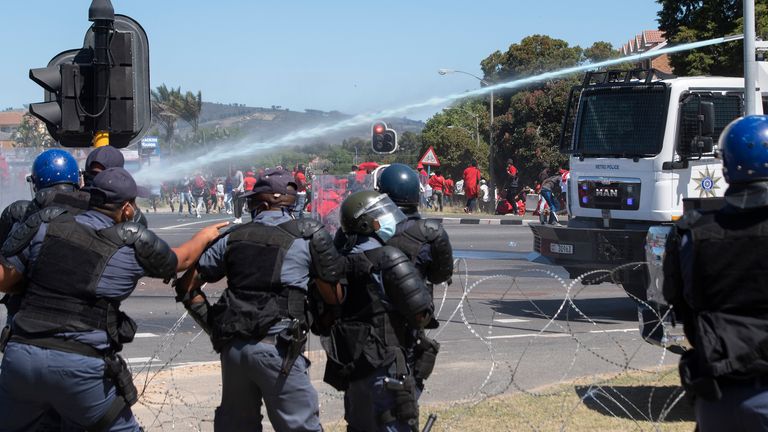 Fields near Cape Town's Brackenfield industrial area have been cleared and windows at a local post office have been damaged following an EFF protest in the area. The EFF is protesting near Brackenfeld High School over allegations of racism at school #Sbacnews

– SFM News (sfmnews) November 20, 2020
Photographs of the scene showed officers firing as rubber bullets spread across the crowd.
The SAFM said nearby fields were set on fire and a local post office was damaged, but no injuries were reported.
Authorities said the use of force became urgent after protesters began arriving at the school, ignoring instructions to stay at the agreed point.
Members of the black group clashed with white parents outside the school in a similar protest last week.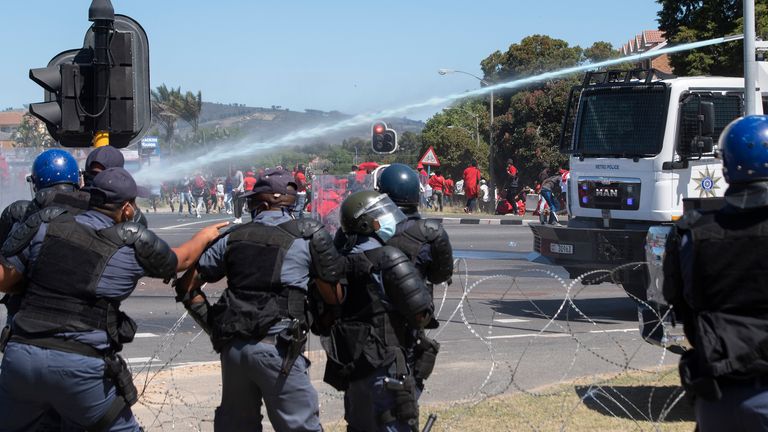 Nobel Peace Prize winner Desmond Tutu, a former archbishop in Cape Town, issued a statement calling for "peaceful and logical speech and action … not division".
He called the issue "a symbol of unresolved issues from South Africa's past", accusing both sides of deteriorating colorlessness.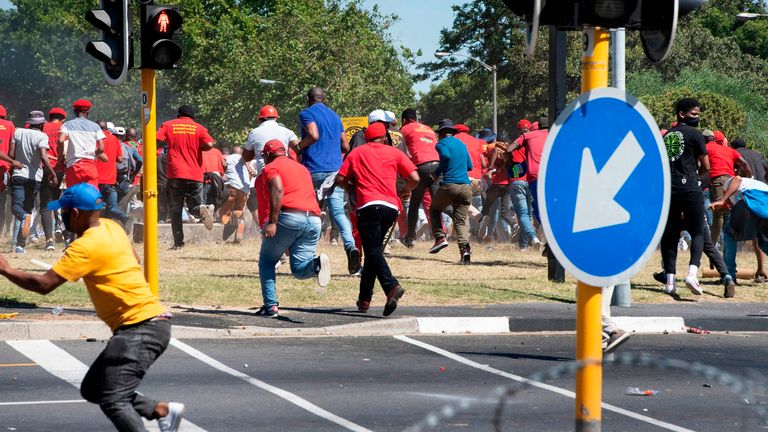 About 70% of South Africa's million million people are black, but many are still living in poverty 26 years after the end of the color system.
The EFF reports that blacks in South Africa, and especially in neighboring areas like Brackenfeld, have been caught up in deep-rooted racism.
Poppy Mellola, deputy secretary general of the EFF, said the Brackenfeld community "even taught their children to be racist."
Internet geek. Wannabe bacon enthusiast. Web trailblazer. Music maven. Entrepreneur. Pop culture fan.