A round table conference on "Relations Vietnam – France and Relations Vietnam – European Union (EU)" was held on 13 April at the headquarters of the Embassy of Vietnam in Paris. This initiative of the Society for East Asian Affairs (SEAA) attracted the participation of students from the Paris Institute of Political Studies (Sciences Po Paris).
Vietnamese Ambassador to France Dinh Toen Thang interacts with the students of Science Po Paris.
In an open and friendly atmosphere, students listened to the partnership of the Vietnamese Ambassador to France Dinh Toen Thang on the importance of Vietnam-France, Vietnam-EU relations in Vietnam's foreign policy, especially in the work. in doi and the international integration of this country.
According to the ambassador, Vietnam and France have long-standing traditional relations. After decades of development, the two countries have now become reliable partners. France is not only a strategic partner, but also Vietnam's most important partner in Europe as well as on the international scene. Vietnam-French relations have made many significant achievements in all fields such as politics, diplomacy, trade, investment, development cooperation, education and training, science and technology, decentralized cooperation. The two countries have consistently cooperated to address global and regional challenges, such as maintaining peace, sustainable development, responding to climate change and combating the COVID-19 pandemic.
Regarding Vietnam-EU relations, the Ambassador said that the EU is an important partner of Vietnam not only in terms of politics – diplomacy, economy but also in terms of cooperation on regional and international issues. Vietnam and the European Union have signed a number of key agreements to their partnership, including the Vietnam-EU Comprehensive Partnership and Cooperation Agreement, and the more recent EU-Vietnam Free Trade Agreement (EVFTA).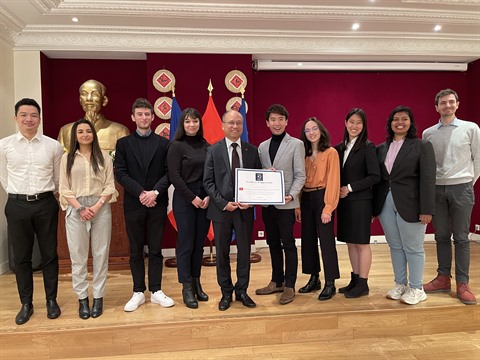 Vietnam's Ambassador to France Dinh Toen Thang took memorable photographs with the students of the Science Po Paris.
During the discussions, the students had lively exchanges and asked a range of questions on regional and international political issues ranging from the question of the East Sea to specific topics such as cooperation mechanisms between the two countries, Vietnam and France/EU. During the discussions, Ambassador Dinh Toen Thang emphasized Vietnam's independent and self-governing foreign policy, the principle of making all countries reliable friends and partners, and its agreement to resolve all disputes through peaceful measures based on international law, which contributes to ensuring peace, security, stability, cooperation and development in the region and the world.
At the end of this meeting, the young Priscilla Mohr admitted: "This is a really rewarding session. We also discussed the future of these relationships. For us, students and professionals, it is very helpful to know where we might be in the future", For his part, the young Ludovic Francis recognized the meeting "very interesting" with the ambassador. "We talked at various points about both the economic and defence, and also the geopolitical situation in the region"They said./.
SEAA is a not-for-profit, non-governmental organization founded by a group of students and researchers from the Sciences Po Paris, one of France's leading world-ranked political science institutions, dedicated to the development of leaders and politicians in French Specializes in training. Established in 2018, SEAA aims to promote an understanding of East Asian affairs – Northeast and Southeast; act as an area for open debate and reflection for all questions relating to cultural, economic, political and social conditions in East Asia; Build a network of professionals interested in these issues in both the private and public sectors. It organizes exchange meetings on issues related to the region, alumni relations, working sessions with Embassies of East Asia and international organizations. The Association also publishes SEAA Academic Journal Annual in focus editions, as well as periodicals from Asia.

Text & photos: Thu Ho Nguyen/CVN
Analyst. Amateur problem solver. Wannabe internet expert. Coffee geek. Tv guru. Award-winning communicator. Food nerd.