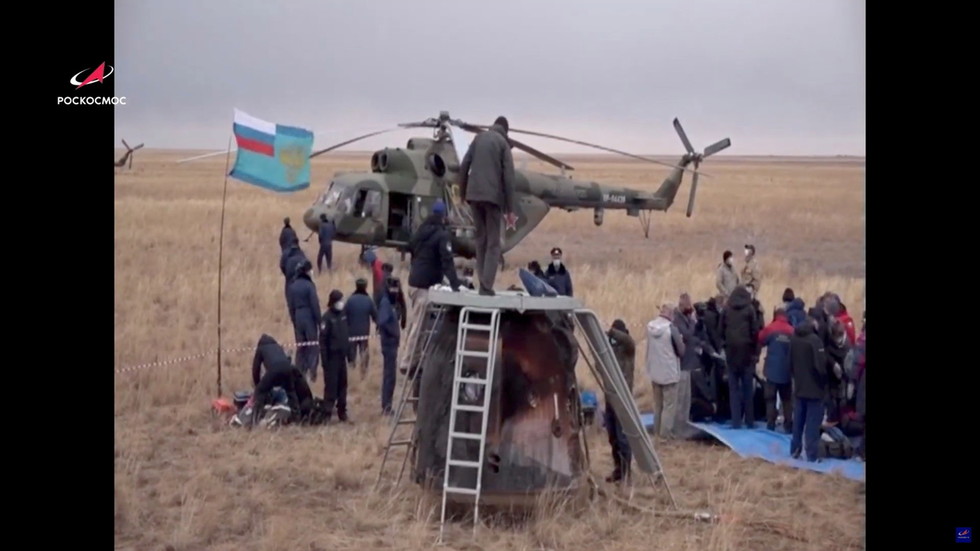 A NASA astronaut and two Russian astronauts aboard the Suez MS-116 spacecraft have landed in the valleys of Kazakhstan without a cliff after spending more than six months in orbit around the International Space Station.
NASA astronaut and mission commander 63 Commander Chris Cassidy, as well as two Russian astronauts Anatoly Ivanishin and Ivan Vagner, reached about 150 kilometers (90 miles) southeast of Zhejkajghan in the Karaganda region of Kazakhstan GMT (around 6 a.m.). Moscow time) Thursday.
The uprising, broadcast by Russian space agency Roskomos, went smoothly, with footage touching the Soyuz landing module steeply.
All three crew members were present in good spirits as doctors examined them after their return. A repatriation ceremony of the crew was shortened to reduce the potential risk of disease, including Covid-19. All members of the welcoming team can be seen wearing masks as the returning crew is surrounded.
"Roscomos Ansoli Ivansin, Ivan_Max 63 [Ivan Vagner] And NASA Astronaut [Chris Cassidy] Looks good!The Russian space agency reported on Twitter.
Ship at 05:28 Moscow time # SoyuzMS16 Divided into three categories: a family, an enthusiastic vehicle (will return to Earth with the crew) and a set of materials //# SoyuzMS16 Separation of spacecraft categories: Orbital modules, Original modules (with crew), Instrumentation / Propulsion modules pic.twitter.com/Mf3YPBpiAr

– Roscosmos (coscosmos) October 22, 2020
After a brief recovery after the flight, the Russian astronaut will return to Moscow. Only family members who took the coronavirus test and are not tested "Risk group" Upon their return, they will be allowed to meet with travelers. According to the Gagarin Cosmonaut Training Center, after rehabilitation, children under the age of 12 and over the age of 65 will first see Ivinisin and Vagner in front of their eyes, which can last up to seven days.
Think your friends would be interested? Share this story!
Analyst. Amateur problem solver. Wannabe internet expert. Coffee geek. Tv guru. Award-winning communicator. Food nerd.