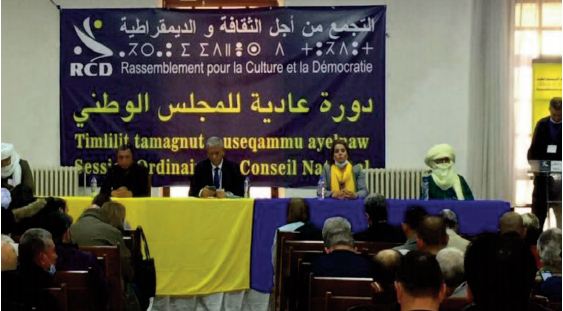 The Assembly announced its decision to boycott the early parliamentary elections to be held on 12 June on Saturday, the Le Culture et la Democracy (RCD) party, one of the main opposition parties in Algeria.
The boycott was decided during the general session of the party's national council held in Algiers on Saturday, the Algerian press reports, indicating that it was unanimously decided by council members, who explicitly rejected the decision done. By the authorities and expressed their support for the ongoing protest movement (Hirak) in the country.
"It is against this backdrop of repression, the detention of prisoners of conscience, the restrictions of individual and collective freedoms, and the economic and social regression that power in place, twice disqualified from a large and historic boycott ballot box, prepares to play a new one Doing "electoral tragic on June 12," congratulated RCD Chairman Mohsin Belabas, at the inauguration of the work of his party's National Council on this simple session. For Mr. Belabas, quoted by the local media, the power to resolve the crisis in Algeria Prioritizes decay compared to. He said, "The inability to open a serious dialogue for a genuine democratic change and to fail to neutralize hirak by repression, bets the future of the nation on the option of decisive real decider , "He said.
The Workers Party (PT-Opposition), ruling on March 15, said that the RDC is the second political formation to boycott the next legislative election, which will not participate in this deadline, announcing an election that results in the public know-how. 'Advance' and which enters an unfortunate and pathetic attempt to 'save an obsolete and irreversible system'. He said, "No and no, the next assembly election will not begin the dismantling of the obsolete system inherited from a party model, against which most people revolted and rose up." Press release announcing boycott of next assembly elections