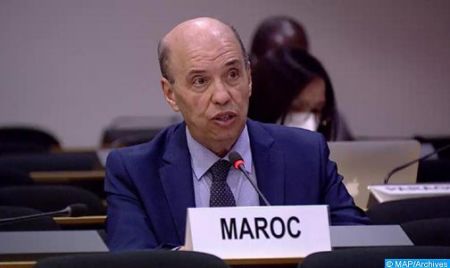 The Permanent Representative of Morocco to Geneva, Omar Zanibar, before the Standing Committee of the United Nations High Commissioner for Refugees (UNHCR) condemned Algeria and Polisario for the examination of the population of Tindouf's camps, which they use as part of the Moroccan Sahara. A business to perpetuate artificial conflict around.
Mr Zanibar questioned the full responsibility of Algeria in persevering the suffering of the population of the camps from the UNHCR, condemning the transfer of its powers by the authorities of this country to Tindouf for the benefit of a separatist group. armed.
He also pointed to Algeria's insistence in refusing to register and census the population of the said camps, in violation of the rules and principles of international law.
"The reality of the population in the Tindouf camps contradicts established principles for the defense of this category, as they are victims of persecution and abuse there", observed the ambassador, noting that the privileges of managing these camps were transferred by the separatist military element. , who control these camps, "increasing the isolation of the population, and thus preventing them from voluntarily returning to their country of origin".
They also drew attention to the "worrisome conditions in the Tindouf camps, particularly the isolation of the population, their reliance on aid, the recruitment of children into armed militias, and the absence of human rights monitoring in the area".
"As for the number of residents of the camps, it is only a goodwill gesture to the Algerian regime, which uses its ordeal as an excuse to prolong the dispute over the Sahara and as a card to ask for international aid. ", They told.
With regard to the false figures presented by the Algerian regime, they are aimed only at continuing to increase the number of the camp population, as confirmed by the Anti-Fraud Office of the European Union and other relevant reports. International report, added the ambassador.
Internet geek. Wannabe bacon enthusiast. Web trailblazer. Music maven. Entrepreneur. Pop culture fan.