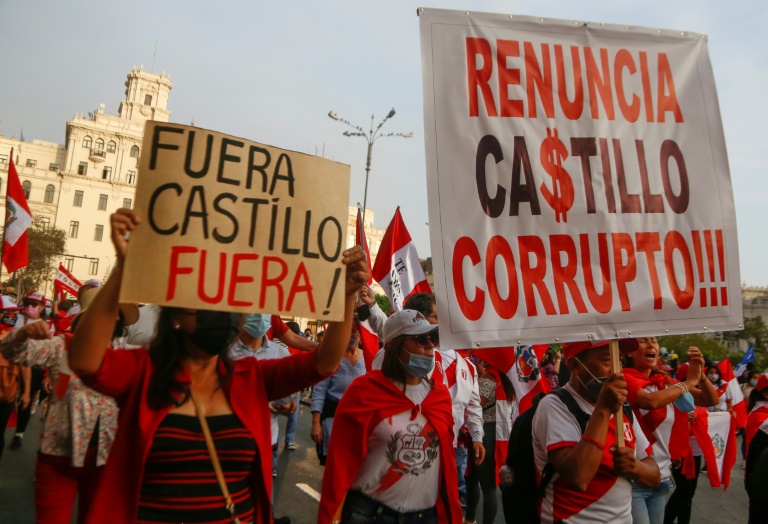 Hundreds of Peruvians demonstrated in Lima on Saturday, calling on political and civil organizations to demand the resignation of radical leftist President Pedro Castillo.
Waving red and white flags and placards reading "Castillo Corrupt Resigns", "Castillo Out", protesters, some of whom were carrying utensils, – a traditional form of protest in Latin America – chanted "Castillo resign now". Put it.
"The president should leave the country because there is so much corruption, he is unfit and will ruin us," Ursula Portocarrero, an insurance company employee, told AFP.
About 3,000 riot police were deployed in Lima.
"We want him to resign for the benefit of those who love their country and we can really move Peru forward," said 58-year-old Tula Casado.
One such demonstration took place in the north of the country in the city of Trujillo.
Following violent demonstrations by carriers against rising fuel costs, a curfew was imposed on the evening of April 4 in the capital and neighboring port of Callao, where 10 million people live.
It was eventually withdrawn on 5 April under popular pressure and from Parliament, where the opposition has a majority.
But in Lima the same evening there were clashes between protesters and police, with public buildings attacked and businesses ransacked.
On 4 April, protests broke out in several areas of Peru against the rising cost of fuel and tolls, as well as food.
On 6 April, a protester was killed in the city of Ica (about 300 km south of Lima).
In late March, Mr Castillo, 52, escaped impeachment from a parliament dominated by the right-wing opposition, which had opened proceedings for "moral incompetence".
She specifically accuses him of interfering in a case of alleged corruption run by his party.
Internet geek. Wannabe bacon enthusiast. Web trailblazer. Music maven. Entrepreneur. Pop culture fan.