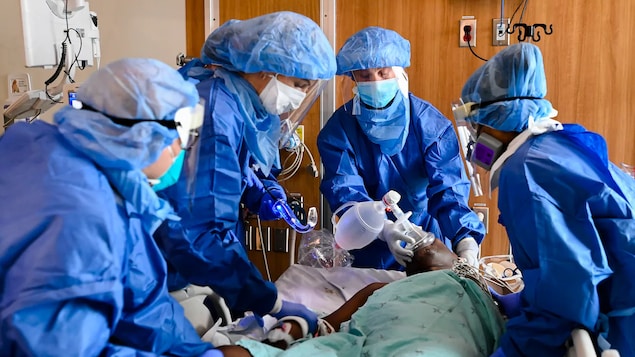 Of the 11 patients currently in intensive care due to COVID-19 in hospitals in Montreal and Laval, none have been adequately vaccinated, that is, with two doses, indicate health establishments. The statistics remind us of the importance of vaccination to prevent severe forms of the disease.
At the Quebec level, the latest data is from last week. As of August 7, 80% of Quebecers hospitalized for COVID-19 in the past week had received no dose or dose of the vaccine for less than 14 days.
The public health departments of Laval and Montreal are concerned about the increase in the number of COVID-19 cases. If the zones were still in use we would be in the red zone, warned the director of public health of Laval, Jean-Pierre Trepanier.
we are not going in the right direction, warned, Thursday, Montreal's medical chief of public health David Kaiser. One-third of Montreal people aged 12-17 have not received their first dose of vaccine and six in ten teenagers have not received their second dose.
In the past seven days, in Mauritius and the Centre-du-Québec region, 95% of people who contracted COVID-19 were not adequately vaccinated, indicating that siyusuIntegrated University Health and Social Services Center.
At the Hpital du Sacré-Coeur in Montreal, doctors are seeing the results when entire families decide to reunite without any vaccinations. most of them regret it, after the hospital stay, explains in an interview with pulmonologist Patrick Bellemare all morning.
To see that people are still disconnected from reality and believe that this virus is the result of a conspiracy is beyond comprehension.
Public health departments are urging the population to get vaccinated again to avoid overcrowded hospitals, while healthcare workers have received no real relief since the start of the pandemic.
It will be difficult for non-vaccinated people to avoid the delta version, warn public health experts.
The federal government on Friday announced the imposition of mandatory vaccinations on all federal public servants.
Analyst. Amateur problem solver. Wannabe internet expert. Coffee geek. Tv guru. Award-winning communicator. Food nerd.