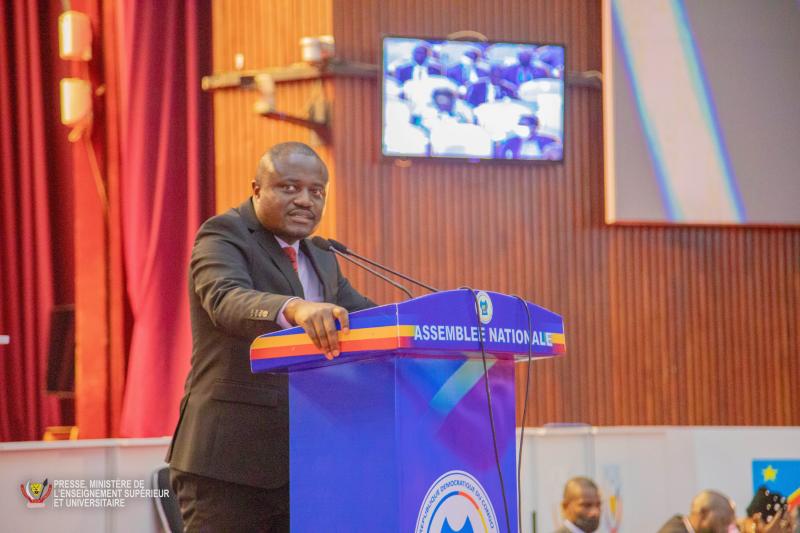 National MP Odette Mwamba asked Higher and University Education Minister Muhindo Nzangi to regulate other areas related to health sciences.
In his intervention during the examination of an oral question with a debate addressed to Muhindo Nzangi, Odette Mumba believes that a better, well-trained doctor can do nothing good if he works with nurses, laboratories, etc. who are not well trained.
"I would like to congratulate the Minister for the measures that his predecessors did not know how to take because suppose that life is priceless and this attitude which is priceless, it is imperative that we have to be able to guarantee Men and women should be well trained to care for life. As much as I congratulate him, as much as I challenge him, today he immediately measures for doctors, he forgets that caring for patients is done in an interdisciplinary way. How do you think you have a better doctor but who works in a team where all the other colleagues are poorly trained? And I think it takes all the health sciences to guarantee adequate health care for our population. It is time to reorganize our training," she said in her speech during the plenary session this Wednesday, December 08, 2021.
and continue:
"It is here that I would call for the training of other members of the care team, nurses, biologists, laboratory assistants and others, to regulate their training so that when you get to the hospital, you will find a team that can provide quality care and that can bring our population to better health".
After the States General, the Minister of Higher and University Education had taken a number of measures in accordance with the recommendations and proposals of these States Generals. For Muhindo Nzangi, it was necessary to restore order in the region.
"We took these decisions to restore order and for that we have to set norms. Training of doctors should be systematic as they are the ones who manipulate our bodies," he said.
Berith Yakitenge
Analyst. Amateur problem solver. Wannabe internet expert. Coffee geek. Tv guru. Award-winning communicator. Food nerd.