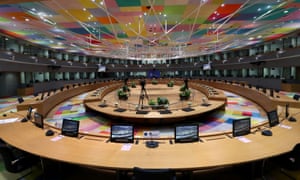 Good morning, and welcome to our rolling coverage of the world economy, the financial markets, the eurozone and business.
No crisis is complete without a crunch European summit. And today, investors around the world are watching Brussels closely as EU leaders try to hammer out a €750bn recovery fund.
The special two-day summit will see a classic clash between some of Europe's 'frugal' Northern members, and the Southern states who have been hit harder by the pandemic (and were in weaker shape beforehand, following the eurozone debt crisis).
The core of Brussels' plan is a new 'recovery and resilience facility' of €560bn, to provide grants and loans to help countries recover from Covid-19.
Crucially, Germany and France are both pushing for the EU to go to the markets to raise the money, backed by its common budget, and distributed towards regions and sectors that need it most after the pandemic. Italy, Spain and Greece could all head the queue for help.
But Denmark, Sweden, Austria and The Netherlands have all pushed back — they don't fancy shared debt liability, and would favour a smaller package. They would also prefer the money to be doled out as loans, rather than grants.
So, we can expect tough – but socially distanced – discussions among the bloc's leaders, who will also try to agree a new seven-year budget (talks having collapsed back in February).
Yesterday, European Central Bank chief Christine Lagarde tried to sound optimistic, telling reporters:



"Our assumption… is that the recovery fund … will come about and will be a strong mixture of grants on the one hand in larger proportion than loans on the other."
But the markets aren't too hopeful of a breakthrough in the next couple of days.
Jim Reid of Deutsche Bank has warned clients not to get their hopes up:



Our view here at DB is that although an agreement is still possible this weekend, it would now be a positive surprise, and there's no indication so far of the differences of opinion between the member states having been bridged yet.

The meeting gets started at 10:00 Brussels time, though is scheduled to continue into Saturday, so it's likely the final news of what's happened will only be known over the weekend.
Adam Cole of RBC Capital Markets predicts an agreement, eventually….



We are optimistic that an agreement on the European Recovery Fund can be reached. However, recently Hungarian PM Viktor Orban said negotiations will be "very tough" and will likely need to continue throughout the summer.
But time is clearly running short, with Europe facing its worst recession in decades. A Summit failure could rock the markets next week.
The agenda
9am BST: EU Leaders Summit on Covid-19 Recovery Fund begins
10am BST: Eurozone inflation for June (final reading)
1.30pm BST: US building permits and housing starts in June
3pm BST: University of Michigan survey of US consumer sentiment
Internet geek. Wannabe bacon enthusiast. Web trailblazer. Music maven. Entrepreneur. Pop culture fan.