20:20
I'm sure the match report will be along any minute now, but until then I'm going to sneak off. Bye!
20:08
Sky have already turned their attention to goings-on in London, so we won't hear the managers' instant reaction in Manchester. Bournemouth need at least one win from their two remaining fixtures, which include one against an Everton side that has won two of their last nine and have looked a little low in the motivation department of late. Southampton, their next opponents, have only lost once since the restart and have played, at worst, pretty well when I've seen them.
By the time that match kicks off West Ham will have played Watford, two teams who sit three points ahead of the Cherries and at least one of whom they must catch. A slender Watford win is probably the nightmare scenario, which because of West Ham's much superior goal difference would leave Bournemouth effectively needing two wins in their last two games. A draw isn't much better. A bit of luck in that game and two more performances like this one, though, and they've got a fighting chance of surviving.
20:01
The Premier League action continues at the Emirates, where Arsenal play Liverpool. Scott Murray is all over that one:
19:54
Bournemouth were excellent tonight. To state the bleeding obvious, if they played like that every week they wouldn't be anywhere near the bottom three.
19:54
Final score: Manchester City 2-1 Manchester City
90+7 mins: The throw is flicked on but then hacked clear by Stones, and that's it!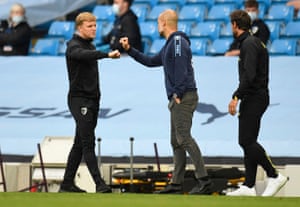 Updated

19:53
90+6 mins: About 30 seconds to go. Ederson comes out to deal with a through-ball, and Bournemouth will fling the resulting throw-in into the box.
19:52
90+5 mins: Brooks crosses, but it's too high and a bit aimless, and Ederson collects.
19:51
90+4 mins: Rico crosses from the left, and Callum Wilson heads over.
19:50
90+3 mins: Another half-chance! Ramsdale's long free-kick is flicked on to Surridge, who can't quite bring it under control before he runs into Ederson!
19:48
90+1 mins: There will be six minutes of stoppage time! Harry Wilson's low cross finds Lewis Cook, whose shot deflects out to Lerma, whose shot hits a defender and rebounds to safety!
19:47
90 mins: Bournemouth bring Surridge on in place of Billings.
19:47
90 mins: Chance for a second! Brooks' cross comes off Garcia's bum and drops to Callum Wilson, whose first-time left-footer from the edge of the box rolls wide!
19:46
GOAL! Manchester City 2-1 Bournemouth (Brooks, 88 mins)
Bournemouth grab the goal they deserve! Callum Wilson gets in down the left while Otamendi is left for dust by Brooks in the middle, who is entirely alone as he gobbles up the pass infield!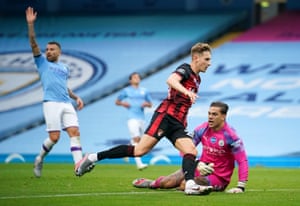 Updated

19:45
87 mins: Twice in about 30 seconds City defenders are forced to miscue wild clearances away from danger.
19:42
84 mins: Save! Garcia's cross from the right isn't very good, but Foden controls it beautifully, shimmies past a defender and shoots from an acute angle straight into Ramsdale.
19:39
83 mins: Sterling has touched the ball 11 times since he came on at half-time, and has been almost entirely peripheral.
19:36
78 mins: Harry Wilson goes down on the edge of the area as Mahrez stretches out a leg. The referee puts his whistle to his lips, then thinks better of it and waves play on. Turns out he got that call right, as replays indicate it was horrible cheating from the Bournemouth substitute.
19:34
77 mins: City take off Jesus and Mendy, and bring on Mahrez and Zinchenko. Bournemouth counter by taking off King and bringing on Harry Wilson.
19:33
76 mins: This is probably City's best spell since the first few minutes of the game. Foden slides in Jesus, whose low shot from the right skids across goal and wide.
19:32
74 mins: No penalty! Cook slid in and took the ball, and Jesus landed a foot on his ankle and went over. Not a dive, and a perfectly understandable decision from the on-field referee, and all in all an excellent example of VAR intervening to improve things.
19:30
73 mins: VAR is checking this as well. Looks like an excellent challenge to me.
19:30
72 mins: Penalty to Manchester City! David Silva plays a nice pass infield to Jesus, whose first touch is good, but Steve Cook slides in and nicks the ball away!
Updated

19:26
69 mins: Three changes for Bournemouth, who bring Brooks, Lewis Cook and Callum Wilson on, and take Solanke, Stanislas and Gosling off.
19:25
68 mins: City make another change, bringing Rodri on for Gundogan.
19:23
66 mins: King runs in from the left and past Garcia, who reaches out an arm in an effort to slow his progress. King might have won a penalty if he went down at that point, but instead he runs on and wins only a corner.
19:22
65 mins: Bournemouth continue to look rather decent. I've seen them several times since the restart and indeed before, and they have often looked like an incoherent mess. This has been a very decent performance, and even if the game were to end 2-0 if Watford play against City as they tend to Bournemouth might end up with better goal difference.
19:21
64 mins: Another chance for Bournemouth! Stanislas crosses, Ederson sprints off his line but palms it straight to Gosling, and his first-time effort deflects wide!
19:17
60 mins: The offside decision is upheld, but that couldn't have been much closer and to my mind falls squarely in the should-really-give-those category.
19:16
59 mins: VAR is checking this – it looked clear at the time, but it looks super-close in the replays.
19:16
59 mins: Bournemouth score! But it's disallowed! Stanislas gets in on the right, turns inside Gundogan and curls a shot towards the far post. It was heading wide so King taps it in, but the linesman's flag is up!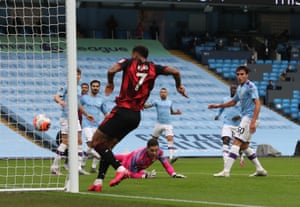 Updated

19:15
58 mins: Foden blooters a left-footed cross from the right over everybody and everything and into touch. Goal kick.
19:12
54 mins: Fernandinho bursts down the right, takes on Rico, turns him one way, turns him the other, and then sends in a cross that's cleared for a corner. An excellent impression of a tricky flying winger there from the 35-year-old.
19:10
52 mins: City are keeping the ball, but haven't quite worked out what to do with it.
19:06
49 mins: After their half-time switch City are basically playing with an advanced-midfield four, with Foden on the right, Jesus on the left and Sterling and Silva in the middle, and no forwards.
19:02
46 mins: Peeeeeep! The game is back on, and City have made a couple of half-timely substitutions, bringing on Eric Garcia and Raheem Sterling, and taking off Bernardo Silva and Kyle Walker.
18:58
That Stanislas free-kick, though. The full sequence of events once the ball reached Ederson, diving at full stretch to his left, was: hand-post-hand-post-head-wide. It was a brilliant shot, and even after being saved it could very easily have gone in.
18:49
Half time: Manchester City 2-0 Bournemouth
45+3 mins: We have now had half of the time. Bournemouth have played pretty decently, and could easily be going in level. Ultimately while this level of performance might not be good enough to get anything from Manchester City, it could very well do so in their forthcoming fixtures against Southampton and Everton.
18:45
45+1 mins: There will be two minutes of first-half stoppage time, or something in that region.
18:44
43 mins: Chaos breaks out in the Bournemouth defence after Ramsdale comes for the ball, gets a hand to it and drops it. Jesus looks set to run onto the loose ball before Lerma intervenes, and he goes down. On replay it looks to me (and to Jamie Carragher on Sky) like a penalty, but the referee didn't give it and the VAR doesn't think it's worth an overrule.
18:41
40 mins: King goes on a decent run of his own, to the edge of the City area, but then he can't decide what to do next and gets dispossessed.
Alcohol maven. Incurable pop culture specialist. Communicator. Gamer. Certified explorer.