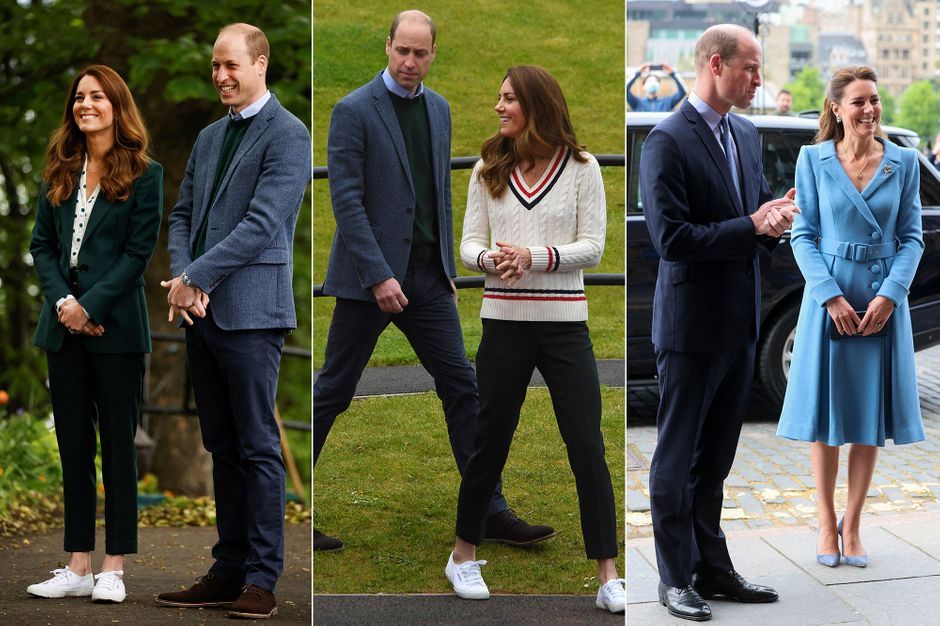 The princely couple completed their tour in Scotland on Thursday with several commitments.
The Cambridge Scottish tour ended on Thursday, May 27, 2021, after several days of sightseeing. For their final moments in Edinburgh, Kate Middleton and Prince William honored various commitments. His day began with learning about the work of the Fields in Trust at Starbank Park, which helps protect the city's green spaces. Wearing an emerald suit and a white shirt with black polka dots, the Duchess was very chic. On site, Kate and William specifically met the children with whom they attended a flower planting workshop.
On their last day in Scotland, William and Kate have joined Starbank Park in Edinburgh with children to plant butterfly-friendly flowers and hear about their work. @FieldsInTrust. William took over as president of the organization in 2013 from his grandfather the Duke of Edinburgh. pic.twitter.com/WB6BBokOgT

– Emily Nash (@emynash) 27 May, 2021
Later, the parents of Princess George (7) and Louis (3), as well as Princess Charlotte (6), moved to the British Tennis Federation Lawn Tennis Association (LTA) in Great Britain. For this outing, Kate wore a white netted sweater and black pants this time. Meeting young athletes, Cambridge competed face-to-face in a tennis match. Duke's team eventually won the match. "Thanks to the @LTA youth program, tennis is being made accessible to more and more children across the UK. Through their inclusive approach, children can enjoy the benefits of playing tennis regardless of their age, gender, ability, disability, or background. The LTA has been incredibly successful in creating an environment that allows children and parents to have fun while learning, now with over 685,000 members playing in over 23,000 courts, "reads Cambridge's Instagram account.
"It was an honor to represent the queen"
After that workout, Kate met a 5-year-old girl, Mila, who underwent chemotherapy treatment, with whom she swapped for the first time last year during imprisonment. The Duchess then met Prince William for a final show at Holyrood Palace. This time Kate once again looked very beautiful wearing a blue Catherine Walker coat. The princely couple attended a military parade and then the closing ceremony of the General Assembly of the Church of Scotland. "It was an honor to represent the Queen as Lord High Commissioner. Catherine and I have come here to listen and learn, so that we can learn more about your challenges, but also your hopes and aspirations (…). I am the size of this place. My constant affection for (Scotland) lies in my daily life experience, "said William.
Also read : Cote Court – William and Kate, Crown's best ambassador ambassador
Any reproduction prohibited