The talking points may be in the vicinity of the two red cards, but the Wallachians will drop their Bladeslow Cup rollercoaster with the knowledge that this new generation can beat all blacks.
A week after the record 43-5 humiliation in Sydney, Australia, Brisbane moved away from their trans-Tasman rivals, then conceded and finally forgot about a team seven days ago, literally taking him to a narrow place.
The 24-22 result was just as numerical as the balance of the game and hinted at a full time for the Australians long before the sweet sound of the final whistle was heard. With 10 minutes left at Rees Hodge's boot at Suncorp Stadium, Dave Rennie's side are 17-11. Lost in the interval, Taniela Tupu ran in the th minute and Hodge added an extra for a nine-point buffer.
If they had a say, the Wallabies would have stopped counting there. However, all blacks are known for winning key areas in the tight competition, and here Tipu Wa'i made no exception when he scored in his first Test with a minute to go. Jordi Barrett's conversion deficit closed in on two points and there Renee stood as the standpost for the first win since scoreboard Michael Chika took over as coach.
The fourth Test on Saturday night was a dead-rubber textbook conflict, a chaotic thriller that showed two red cards matching the high little rules of rugby designed to reduce headaches after referee Nick Berry.
Both the hosts and the visitors were disappointed ahead of time, as the promising Walabi newborn Lachi Sweetton followed all the blacks in the shed for the near-uniform high tackles of forward Afa Tungafasi. Replays showed that Tuntafasi hit Tom Wright – who scored in the first touchdown of the first Test – over Wright's chin. Berry ordered marching without any diminishing reason.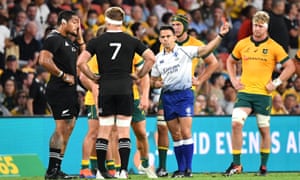 This should have provided an important advantage, but Wallabiz's failure to raise enough capital allowed New Zealand to match the Hajj's first penalty – Noah Lolesio's five-eighth place start with four penalties for seven of five.
They halved this 8-8 scoreline with 13 players on the field. The first was Sweetton, who copied Tungafasi's hit by challenging Sam Whitelock to earn a red card of his own.
Michael Hooper, captain of both Renee and Wallace, accepted Sweeton's dismissal. "We don't train to deal around the head and we have to talk about player safety … we want players to play in this game as much as possible," Hooper said. "If it's the explanation from the top, we have to be better and deal with the bottom."
Then, after repeated violations, winger Marika Corbett was shown a yellow card for a line-ball penalty in the final.
Nonetheless, they denied their short-term deficit after the break and converted the Hajj penalty to an initial pressure of 11-8. It was all very fleeting. All-black hooker Cody Taylor scored behind Scrum from the start and the immediate response began to beg when Nick White smashed Wright's inside pass.
Hodge then missed a penalty from the 50m, but the Wallabies kept up the pressure and New Zealand's Scott Barrett sinned for professional stupidity. He didn't miss another one from the front, slotting the screen-riser for Tupo's next performance.
Y'i was in a rush to enjoy the late and his attempt turned Ian Foster's outfit into a jolt of hope. The idea was to bring back some pride after a 2-1 series loss featuring one win, one draw and two defeats, to bring back some pride through a flying injury to Damien McKenzie.
"We said we wanted feedback after last weekend and we got it," Renee said after the match. "Hedge kicked pretty well and we got our noses in front of us. We've come a long way – we're getting better – but it's good to get results like this. It helps to gain some confidence.
James Slipper missed his 100th Test early with an arm injury.
Alcohol maven. Incurable pop culture specialist. Communicator. Gamer. Certified explorer.