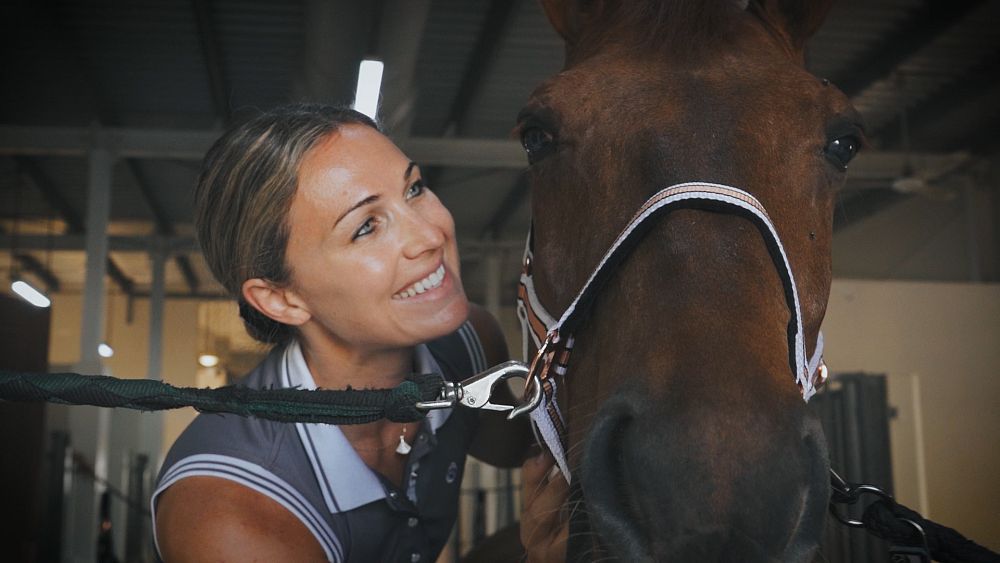 Natalie Lancaster is a professional dressage rider who will represent the United Arab Emirates at the Asian Games in September 2022. Originally from the United Kingdom, Natalie developed a love for horses from an early age thanks to her grandmother, who had a similar passion.
"Once you have a relationship with a horse, it stays with you," Natalie says. However, over the years she focused more on her studies and dressage remained a hobby. Until she moved to Dubai in 2010.
"I couldn't watch the horses on TV without feeling anything," she told Euronews.
In 2014, he got his first horse in Dubai, a former racehorse. "He introduced me to the world of sports here, so I am very grateful to him," she adds.
Next, Natalie met her husband Rashid, who won a silver medal for show jumping for the United Arab Emirates at the 2010 Asian Games.
"Although we share the same passion, we are in different disciplines, which allows us to enjoy the environment and travel without being directly competitive", explains the young woman.
Natalie progressed in her career and thanks to her horses Eli and Viva, she was able to spend her first season in the United Arab Emirates. "By perfecting my horses, I was developing myself, and then my husband was diagnosed with leukemia," explains the rider who had to stop competing.
In this time of uncertainty and anxiety, Natalie found peace with her horses, which gave her the "calm and positivity" to "fight this battle" with her husband.
"That's when I really appreciated my relationship with the horses. They are able to connect with me and keep me grounded," she says.
After Rashid made a full recovery, Natalie returned to competition with her horses Echo and First Dance DXB and secured her place in the UAE squad for the 2022 Asian Games.
"I am so honored and proud to feel at home in Dubai. I am also proud to have participated in the development of the discipline of dressage here, and I look forward to making those who trust me proud. Must be able", says the young rider.
Alcohol maven. Incurable pop culture specialist. Communicator. Gamer. Certified explorer.