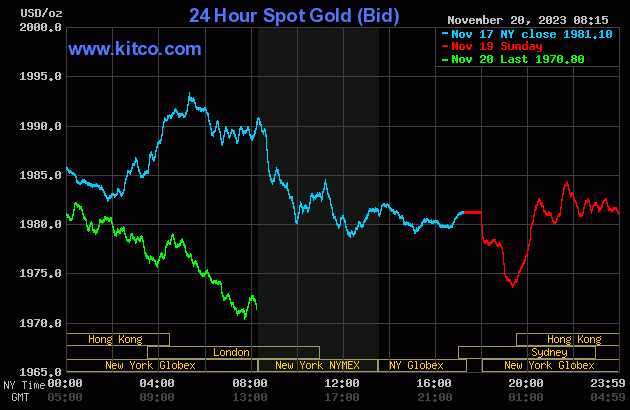 Title: Mixed Performance in Global Markets as U.S. Thanksgiving Holiday Approaches
Gold and silver prices witnessed a moderate decline in early U.S. trading as rising U.S. Treasury yields impeded the impact of a lower U.S. dollar index and higher crude oil prices on the market. Asian and European markets showed mixed performances, creating anticipation for the opening of the U.S. stock indexes, which are projected to open slightly higher.
The upcoming U.S. Thanksgiving holiday on Thursday and Friday is traditionally a period of quiet trading, adding an air of uncertainty to financial markets. In the backdrop of this anticipated calm, the U.S. dollar index hit an 11-week low overnight, reflecting a decline in confidence in the world's reserve currency.
Meanwhile, Nymex crude oil prices remained on an upward trajectory as the Organization of the Petroleum Exporting Countries (OPEC) considers implementing further oil-production cuts. This development lends further support to the oil market, though its impact may be overshadowed by the influence of rising U.S. Treasury yields.
In terms of economic data, the market is expecting a relatively light release, with the focus on leading economic indicators from the United States. Analysts will closely examine these indicators for insights into the current economic landscape, possibly influencing investor sentiment.
Looking at the technical indicators, gold futures bulls have a slight overall near-term advantage, indicating a potential bullish trend in the precious metal's price. Silver bulls also hold the overall edge in the near term, suggesting a positive outlook for silver prices.
As the U.S. Thanksgiving holiday approaches, investors and traders will be keenly observing the impact of these factors on global markets. The mixed performances in Asian and European markets set the stage for the opening of U.S. stock indexes, which are anticipated to start marginally higher. However, with the potential for quieter trading volumes, the outcome remains uncertain.
Alcohol maven. Incurable pop culture specialist. Communicator. Gamer. Certified explorer.