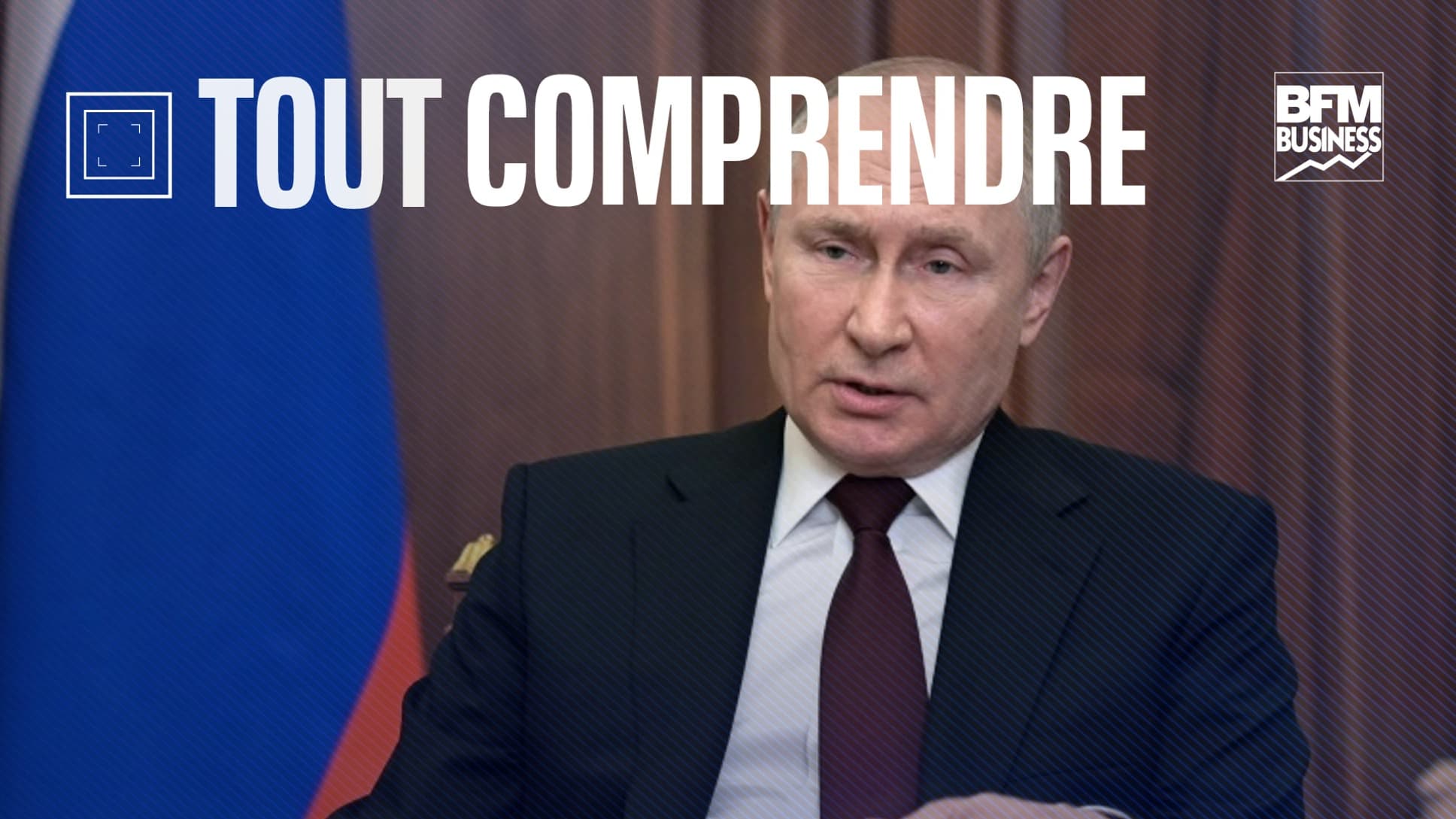 In the words of the German chancellor, the European Union is preparing to adopt "larger and stronger" sanctions against Russia. The economic measures studied are limited and their effectiveness remains to be proven.
They want to work hard to avoid "disaster". Western European leaders must decide on unilateral sanctions against the Kremlin. Berlin has already decided to suspend authorization of the Nord Stream 2 gas pipeline, which was to connect Germany with Russia. The United Kingdom, for its part, announced the "first series" of economic sanctions. But what is the envisaged nature of these measures? Are they discouraged enough in the face of a country with limited assets, but already turned financially on their own?
• What economic sanctions can be envisaged against Russia?
Beyond the diplomatic lever, the economic lever will be used to put pressure on Moscow. There is an arsenal of remedies available to Western countries.
• Russian oligarchs close to Vladimir Putin could see their assets confiscated and their assets blocked.
• The United States promises severe sanctions on essential industries and financial institutions. Among them, SWIFT, an international banking messaging payment system that brings together 200 countries and 11,000 companies. It is used to make secure transactions. Russia can be excluded. A highly symbolic measure at the diplomatic level.
• Americans considered another possibility: cutting Russia's access to the dollar.
• Ukraine has demanded a halt to the new Nord Stream 2 gas pipeline project aimed at transporting Russian gas to Europe, and Germany has just accepted it.
•Another possibility, a ban on technology exports: artificial intelligence and new computers may be concerned, to halt development
• Is Russia ready to take this economic risk?
The details of the Russian national budget are unclear. It also has secret lines, especially those related to defense. According to Tatiana Kastaueva-Jean, director of the Russia Center at IFRI. It is therefore difficult to precisely measure the potential impact of European sanctions.
Nevertheless, the inflation rate in Russia reached 8% in one year, which is a record for 5 years. Russia's purchasing power has dropped 10% in less than a decade.
The latest Eurostat bulletin on European foreign trade shows that Russia remains one of the EU's main partners, despite the decline in international trade. Russia exported 158 billion euros to Europe for 2021, more than the United Kingdom (146 billion euros).
The economic measures could therefore dry up major commercial exchanges for Russia.
Especially since Russia suffers from a diversified economy focused on hydrocarbons. However, to continue extracting oil deposits, Moscow needs a technical know-how that may well be lacking in the medium term. The country lives off its reserves but no longer develops new deposits.
• Can these restrictions be in effect?
"We don't give a crap." This is a message from the Russian ambassador to Sweden last week, when asked about possible European sanctions against the country.
Beyond words, there are already economic sanctions against Russia since the annexation of Crimea in 2014. Since then, Russia has learned to produce more and import less. For example, the country has become the world's largest exporter of wheat. What brings him more than arms sales.
Energy products remain the heart of the country's economy. They represent over 60% of the country's exports. This lack of diversification is paradoxically an advantage at the moment: threats of conflict have driven up the prices of raw materials, the country's main asset.
The absence of the dollar, if it would not facilitate trade, would not be a blocking element for Russia. The country has made preparations for this event. Only 10% of hydrocarbons are still sold in dollars, compared to 100% in 2013.
The euro is also now more present in the country than the dollar. The country's reserves account for 16% of dollars.
According to Collge de France professor and economist Philippe Aghien, the West does not have the means to financially sanction Russia. "Putin perfectly took into account the fact that there can be sanctions. He knows how to circumvent them. I do not believe at all in the effectiveness of sanctions against Russia."
Failing to trade with the EU and the United States, Russia may rely on China, which may well come to its aid, especially for raw materials. Beijing has already been China's largest trading partner for 12 years. In 2020, Chinese imports of Russian gas increased in value by 75% and for oil by 31%. The export of Chinese products to Russia increased by 22%. The two countries will also inaugurate a motorway bridge to facilitate the exchange of goods.
Russia too… can count on itself. His gold stock was multiplied by 5.
Inside Russia, boycotting the SWIFT system would have very limited consequences as they have their own system.
About 40 countries in the world are under sanctions, France applies against 25 countries. Inflation, what causes scarcity, makes people's lives more complicated, but has no real political impact. This illustrates well the political failure of the US embargo against Cuba since the 1960s. Those raised against North Korea do not stop the dictatorship from working.
• What measures of economic retaliation from Russia?
Vladimir Putin may decide to end wheat exports. This would have little effect on European consumption but would cause the inconvenience of raising prices everywhere in Europe.
In addition, economic sanctions may be turned against us. More than 500 French companies have subsidiaries established in Russia, including 35 companies of CAC 40. France is the first foreign employer with approximately 160,000 employees.
Another lever, gas delivery, could be reduced further by Moscow. Blocking the Nord Stream 2 pipeline would weaken the German economy. 40% of European gas is Russian. Will Europe dare to cut off the gas tap when it ends? it's unlikely.
Sofiain Aklauf with Nicolas Douz, Emmanuel Lechipre, Pierre Kuferman and Thomas Leroy
Organizer. Zombie aficionado. Wannabe reader. Passionate writer. Twitter lover. Music scholar. Web expert.