00:48
The Australian prime minister, Scott Morrison, has just been talking to Sydney radio station 2gb about the findings of that Ruby Princess special commission of inquiry, which cleared federal agencies of wrong-doing in the saga.
"It is as we said it was," Morrison said. "We were being straight with people about what happened and I think the inquiry has borne that out."
On the New South Wales Health department, which was criticised in the final report for making "serious errors" in handling the debacle, Morrison said it had been "a very difficult time".
"Officials will make mistakes in a pandemic that none of us have had to manage before. I think there have been some humble learnings in NSW and I've seen NSW go from strength to strength."
00:18
The 303 new cases in Victoria continues a downward trend for the state amid harsh lockdowns in the city of Melbourne.
Over the past five days Victoria recorded 372, 278, 410, 331 and 303 cases respectively.
"The seven-day trend indicates the peak was probably four or five days ago and we will continue to see lower numbers overall from here on in," the state's chief medical officer Brett Sutton said on Friday.
00:03
Victoria reports 303 new cases and four more deaths
The Australian state of Victoria has recorded 303 new cases of Covid-19 and four new deaths overnight. It brings Australia's death toll from the virus to 379.
Updated

23:44

Michael McGowan
Australia's Covid-19 death toll stands at 375 after a man in his 20s was among the newest casualties of the second-wave outbreak in the city of Melbourne.
The man, the youngest person to die of the virus in Australia, was among 14 people to die from the virus in Victoria on Friday, as the state recorded 372 new cases of the virus. It came during stage-four restrictions that has seen Australia's second largest city placed under a long-running lockdown.
Also on Friday, a long-awaited report on the Ruby Princess cruise ship debacle – which saw hundreds of infections spread around the country after the ship was allowed to dock in Sydney despite having infectious patients on board – found the New South Wales Health department made multiple "serious errors" in handling the Ruby Princess, and effectively "did nothing". Passengers have welcomed the findings, but some criticised the report for not going far enough after it has made no recommendations to NSW Health.
In NSW, which has maintained low case numbers since the beginning of July, a number of outbreaks in schools looks likely to prompt further restrictions, including reports that instruments such as choirs and recorders, singing and end of year school formals may be banned.
Meanwhile the Australian prime minister, Scott Morrison, has apologised for the government's role in failing to adequately prepare aged care residences for Covid-19 amid thousands of cases in Victoria, and dozens of deaths in the sector.
Updated

23:39
The Argentine biotech firm contracted to produce 400 million doses of an AstraZeneca Covid-19 vaccine for Latin America said on Friday it could start shipping the active substance of the product to Mexico for completion.
Esteban Corley, director of mAbxience, the biotech firm, said he expected the vaccine could be distributed in Latin America between April and May.
The vaccine candidate, which is likely to cost between three and four dollars per dose, has raised hopes in the badly-hit region, which has seen just under a third of global deaths and cases.
"Sometime in late February these materials will be exported to Mexico and in Mexico they will be formulated, filled and released" through Mexican Laboratory Biomont, Corley told journalists in a digital press conference.
On Wednesday, the Argentine government said it had agreed to co-produce with Mexico and Britain's second-largest drugmaker, AstraZeneca Plc, the potential vaccine against the virus at present under development at the University of Oxford.
On Thursday, the general director of AstraZeneca in Mexico told a press conference that the trials in phase III of the product would end between the end of November or December, after which the company would seek government approvals.
"Our understanding will be the same in all territories and is based on cost," the director of mAbxience, part of the larger Insud Group, said.
He added that he was confident the initial goal of producing 250 million doses in 2021 could be met.
23:28
Moscow's health department has said it recorded 1,706 deaths related to the coronavirus in July, of a total of 10,773 deaths recorded in the city over the course of the month.
Moscow has been the area worst hit by the pandemic in Russia, and the health department said the coronavirus toll partly accounts for a rise of about 7% in the city's mortality rate compared to the same month last year.
The department found 742 cases in which the coronavirus had been the main cause of death while in 964 other cases, the victim had died of other causes after testing positive for the virus.
23:12
Brazil has reported 50,644 new coronavirus infections and 1,060 new deaths, the health ministry said on Friday.
The country's tally now stands at 3,275,520 confirmed cases and 106,523 deaths, making it second globally in number of cases and deaths after the US.
23:03
As the new quarantine rules come into effect in a few hours for holidaymakers returning from France, Antonia Wilson has put together a guide to the updated travel corridor
22:27
Coronavirus outbreaks are taking place across Europe and it is up to each country to decide on how to tackle them, Spain's foreign minister said on Friday as Germany declared most of her country a risk region.
Germany followed the UK in imposing quarantine on people returning from Spain, further damaging hopes of a swift revival for tourism, which usually accounts for around 12% of the Spanish economy.
"New outbreaks are the norm, they are not the exception, in Spain or any other country in the European Union," Arancha Gonzalez Laya told Reuters in an interview.
"Every country is taking measures to fight Covid… that they think are necessary to protect their citizens. We don't question the measures other countries take."
Some regions within Spain itself have limited movement with neighbouring areas to isolate flare-ups of the disease, "showing that this is not a question of diplomacy or politics, it is a question of epidemiology," she said.
Spain recorded almost 3,000 new cases on Friday, about double the average in the first 12 days of August, bringing the cumulative total to 342,813 – the highest in Western Europe.
Earlier on Friday, Spain announced a series of measures limiting nightlife, including closing clubs and bars.
Asked whether the limits would impact tourism and the economy, Gonzalez Laya said: "The main question today is how do we make sure we limit infection and the expansion of Covid in the country."
21:48
Croatia recorded 208 new coronavirus cases on Friday, the country's chief epidemiologist Krunoslav Capak has said.
"The average age of those infected is 31 years as some two thirds were infected in the nightclubs and bars that remain open beyond midnight," Capak told a news conference.
Croatia will require that bars and nightclubs to close after midnight for a period of 10 day from this weekend, similarly to Greece.
This follows Italy introducing mandatory testing for all those entering the country from Croatia, while Slovenia also floats the idea of requiring people visiting Slovenia from Croatia to present negative tests before entering the country. Austria has warned against visiting Croatia.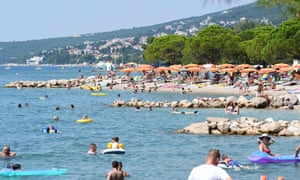 A number of localised outbreaks in Europe, including in Italy and Germany, have been traced back to travellers returning from trips to party hot spots in Croatia in the past couple of weeks, notably from the island of Pag, Reuters reports.
Croatia has registered a total of 6,258 cases so far, with 163 deaths recorded.
21:07
Summary
To those of you just joining the blog, welcome. Here's a quick summary of recent events to get you up to speed.
Think I've missed a story from your part of the world? You can reach me on Twitter @cleaskopeliti or by email: [email protected] Here's the latest.
France has recorded another new post-lockdown record rise in cases, with 2,846 new infections. The UK has removed the country from its travel corridor, meaning all holidaymakers returning from France will have to self-isolate for two weeks, leading to British tourists scrambling to cross the Channel before the cut-off time on Saturday 4am BST.
In the UK, the North West, West Yorkshire, East Lancashire and Leicester face a third week under tightened coronavirus restrictions as the latest figures showed no decrease in the number of infections, the Department of Health has said.
Germany has declared almost all of Spain as a coronavirus risk region following surging infections – a further blow to the country's tourism industry.
Greece is limiting public gatherings to 50 people amid a recent spike win cases. The measure will be in place until 24 August in areas with high infection numbers. The government has imposed a midnight curfew on bars and restaurants in Athens and other regions.
Serbia will require foreigners to present a negative coronavirus tests taken within 48 hours of arrival from Bulgaria, Croatia, North Macedonia and Romania from Saturday. The measure does not apply to Serbian nationals.
Spain is set to shut nightclubs and late-night bars and ban smoking in public nationally, the health minister announced today as part of measures to fight the country's coronavirus outbreak. Smoking has been outlawed in all public spaces where people are unable to maintain a distance of 1.5m (virtually banning it in outdoor terraces of bars and restaurants).
The EU has reached a deal with British company AstraZeneca for at least 300m doses of its vaccine candidate. The deal includes an option to purchase a further 100m doses should the vaccine prove safe and effective.
Italy has ordered holidaymakers returning from Spain, Croatia, Malta and Greece to be tested for the coronavirus, as the number of new cases crossed the 500 mark for the first time in weeks.
19:53
US coronavirus hotspots had disproportionately high numbers of cases among communities of colour, according to an analysis by the Centers for Disease Control and Prevention (CDC).
The report contributes to a growing body of evidence that existing health and social inequalities experienced by communities of colour raised the risk of infection and death from Covid-19, the CDC said.
In 79 counties identified as hotspots that also had information on race, 96.2% had disparities in Covid-19 cases in one or more minority racial and ethnic groups between February and June, researchers concluded.
The largest disparities were reported among Hispanic people in hotspot counties (3.5 million people), followed by African Americans (2 million).
Asian populations were disproportionately affected by Covid-19 in a small number of hotspot counties, but the Asian racial category is broad and further analyses might provide additional insights, the researchers said.
The study did not assess disparities in Covid-19 related deaths because of the lack of available county-level mortality data, but the researchers said existing national analyses show there exists differences in Covid-19 deaths and similar patterns were likely to exist at the county level too.
Apart from long-standing discrimination and social inequities, other factors such as economic and housing policies, employment in meat packing, agriculture, service and health care sectors, and living in multifamily households could increase risk for transmission, the researchers said.
Updated

19:26
Canada will grant permanent residency to asylum seekers who cared for coronavirus patients in hospitals and care homes at height of the pandemic last spring, Marco Mendicino, the immigration minister has said.
Mendicino said the program is a way to thank those who "put themselves at the greatest risk" of contracting the coronavirus.
They will be able to apply for residency for themselves and their families if they had submitted their application by March 2020, even if their demand had already been rejected.
The decision would affect about 1,000 claimants across the country, the CBC reports.
19:16
France has declared Paris and the port city of Marseille high-risk zones for coronavirus as the government reported more than 2,500 new infections for the third day in a row.
However, the number of people hospitalised due to the disease continued to fall, having dipped below 5,000 for the first time since mid-March on Wednesday.
While the number of new infections is up in all age groups, it has risen particularly sharply among 25 to 35-year olds. The health care system appears to be holding up at least in part as this group is less likely to need hospital care.
The number of people in ICUs has fallen to 367, a new low since mid-March and a level almost 20 times lower than a 7,148 peak reached on 8 April.
Health ministry epidemiologist Daniel Levy-Bruhl said authorities are not "presently worried by the hospital situation but we are worried of how this situation could evolve if measures are not taken to stop the increase of cases we're witnessing".
The daily death toll increased by 18 to 30,406 on Friday, compared to 17 over the last two days.
France's total number of cases stands at 212,211.
18:22
Oman ends ban on night movement
Oman will end its ban on night movement starting from 15 August at 5am local time (GMT +4), Oman's supreme committee for dealing with Covid-19 has announced.
Oman has recorded 82,743 coronavirus cases, including 557 deaths and 77,427 recoveries.
Internet geek. Wannabe bacon enthusiast. Web trailblazer. Music maven. Entrepreneur. Pop culture fan.