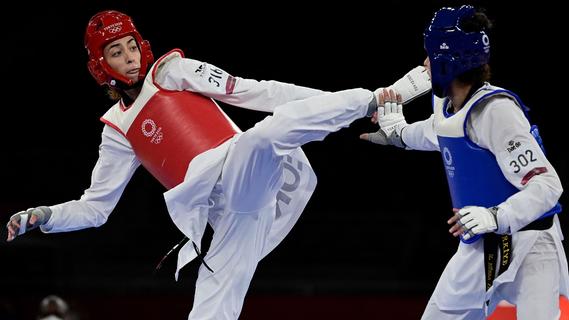 – Five years ago Kimiya Alizadeh became the first Iranian woman to win an Olympic medal. Then she fled her country, finished in Nuremberg – and was back on the mat in Tokyo on Sunday.

She was a heroine. When Kimiya Alizadeh won a bronze medal at the Rio Olympics five years ago, she was nothing short of a sensation. Never before has an Iranian woman won a medal at the Olympics. And then another with a headscarf. For the Islamic country, it was a symbol of the sporting world, the fame of this success allowed the 17-year-old athlete to lead a good life in his country.
But Kimiya Alizadeh wanted to fight not only on the mat but also in life. for their ideals and beliefs. So she left her friends and family in Iran and left. In January 2020, she made it public on Instagram that she had left her home. "I am one of the millions of oppressed women in Iran with whom they have been playing voluntarily for years," she wrote at the time. "I dressed the way you wanted. I repeated every sentence he gave. It's not about me, not about us. We're just tools."
From Spain it went to the Netherlands and from there to Hamburg. In Germany she learned that she could continue working on her dream of the next Olympic medal. A few weeks later, Kimiya Alizadeh landed in Nuremberg, where the "Taekwondo Ozar" school has been producing internationally successful athletes for many years.
Alfred Castano remembers that the youngster arrived well at Nuremberg on the first day. The first president of "Taekwondo Ozar" sought to contact the city of Nuremberg immediately and found an open ear there. As well as sending all the necessary papers to the Federal Office for Migration and Refugees (BAMF), Alizadeh wanted to fight for Germany in the Olympics as soon as possible.
He got an apartment in Nuremberg, but it was not sporty. After the first few weeks at Nuremberg, Alizadeh struggled with chronic injuries and underwent knee surgery in Nuremberg. Then came leg pain, which he treated in Aschaffenburg by a doctor of Iranian origin. This gave her an apartment in Lower Franconia, and the 23-year-old has been living there with her husband since late last year.
Shortly before the Games, the IOC nominated him for the refugee team – and Kimiya Alizadeh surprised everyone. In Tokyo, she defeated two-time Olympic champion Jade Jones from Great Britain, and she lost on Sunday in a bronze bout against Turkish Hatice Kubra Ilgun. "She only trained with her husband," says Alfred Castano. "If she was one hundred percent fit, she would have definitely won gold. She is a mega talent."
Alcohol maven. Incurable pop culture specialist. Communicator. Gamer. Certified explorer.