16:03
McLaren's Lando Norris speaks after his impressive fifth-placed finish. He is third in the drivers' championship: "It was very enjoyable, especially those last few laps. I went really long, much longer than we thought would be possible on the softs, about 45 laps or so, and that played into our hands perfectly."
15:58
Sky Sports are now speaking to the Racing Point team-mates Stroll and Perez, who lost out to Lando Norris on the final lap – but considering he started in 17th, sixth place for Perez is a great effort. There was some great racing today, it just wasn't happening at the front of the field.
There's a helicopter roaring just overhead, and you can barely hear a thing. The noise they constantly have to fight in these pitlane/paddock interviews makes it tough for the interviewers, and indeed the interviewees.
Updated

15:56
A clearly elated Lewis Hamilton pours some champagne on a team member's head.
"He didn't put a foot wrong. He was light years ahead. He comes back from bad weekends very, very well," says Sky pundit Jenson Button, referring to the Briton's relatively disappointing result at this same venue last weekend.
Updated

15:54
Ahead of the Hungarian Grand Prix in Budapext next weekend, Bottas leads the drivers' championship by six points.
15:52
Time for the anthems on the podium. Hamilton, Bottas, Verstappen.
Speaking to Brundle a few moments ago, third-placed Verstappen said: "I tried, but we are just a bit too slow."
Simple stuff really.
15:47
The final standings from the Styrian Grand Prix:
1 Lewis HAMILTON Mercedes
2 Valtteri BOTTAS Mercedes +13.719 1
3 Max VERSTAPPEN Red Bull Racing +33.698 2
4 Alexander ALBON Red Bull Racing +44.400 1
5 Lando NORRIS McLaren +61.470 1
6 Sergio PEREZ Racing Point +62.387 1
7 Lance STROLL Racing Point +62.453 1
8 Daniel RICCIARDO Renault +62.591 1
9 Carlos SAINZ McLaren1L 2
10 Daniil KVYAT AlphaTauri1L 1
11 Kimi RAIKKONEN Alfa Romeo Racing1L 1
12 Kevin MAGNUSSEN Haas F1 Team1L 1
13 Romain GROSJEAN Haas F1 Team1L 1
14 Antonio GIOVINAZZI Alfa Romeo Racing1L 1
15 Pierre GASLY AlphaTauri1L 2
16 George RUSSELL Williams2L 1
17 Nicholas LATIFI Williams2L 1
18 Esteban OCON Renault DNF 1
19 Charles LECLERC Ferrari DNF 2
20 Sebastian VETTEL Ferrari DNF 1
Updated

15:46
Hamilton's team-mate Bottas, who is still leading the world championship, speaks: "Lewis had a good start, he controlled the race, there was not as much happening as last week. Starting fourth, today was damage limitation, but I still got some good points. It's not too bad."
15:43
Lewis Hamilton reacts
"Firstly a big thank you to my team, and everyone at the factory. What a weird year it is, but it's great to be back driving with this kind of performance. The team did a fantastic job with the strategy. It was up to me to keep it together, stay off the kerbs, and bring it home. I tried to get fastest lap, but I wasn't going to get it with 40-lap-old mediums compared to someone with fresh tyres.
"I love back-to-back races … let's just go back-to-back all year long."
Hamilton did not manage to grab the fastest lap. That went to Carlos Sainz Jr. who had a good run on fresh tyres in his McLaren.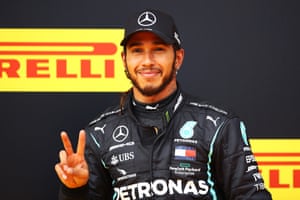 Updated

15:41
An absolute stinker for Ferrari and a dream one-two for Mercedes. That is the story.
15:39
Lap 71/71: "What a fantastic job guys, I am so impressed," Hamilton tells his team on the radio.
"Lewis, your driving wasn't bad either," they reply. It certainly wasn't. It's a dominant win for Hamilton, his first at the Red Bull Ring for three years.
Updated

15:38
Lap 71/71: Lando Norris charges into fifth, having started the final lap in seventh! He overtook Lance Stroll and Sergio Perez, he kept fighting right until the end.
15:36
Lewis Hamilton wins the Styrian Grand Prix!
An accomplished win for Mercedes' world champion, his 51st victory from pole. Bottas is second. Verstappen is third.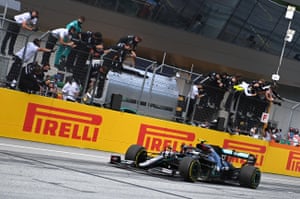 Updated

15:35
Lap 70/71: Albon and Perez are having a battle royale for fourth place. Perez sustains a damaged front wing.
15:34
Lap 69/71: All looking good for Hamilton. Bottas is nearly 15 seconds down in second. This has been a sensational drive from Hamilton to follow up his incredible efforts in qualifying …
Updated

15:31
Lap 67/71 – Bottas takes Verstappen!
It's one-two for Mercedes right now as Bottas brilliantly battles the Red Bull, who puts up a great fight. This will be Hamilton's 152nd podium, within three of Michael Schumacher's record. It will be his 51st victory from pole.
Updated

15:30
As they stand on Lap 66:
1 Lewis HAMILTON Mercedes
2 Max VERSTAPPEN Red Bull Racing +10.278
3 Valtteri BOTTAS Mercedes +11.777
4 Alexander ALBON Red Bull Racing +46.140
5 Sergio PEREZ Racing Point +46.434
6 Daniel RICCIARDO Renault +58.650
7 Lance STROLL Racing Point +59.178
8 Lando NORRIS McLaren +62.829
9 Carlos SAINZ McLaren +65.100
10 Daniil KVYAT AlphaTauri1
11 Kimi RÄIKKÖNEN Alfa Romeo Racing1
12 Antonio GIOVINAZZI Alfa Romeo Racing1
13 Romain GROSJEAN Haas F1 Team1
14 Kevin MAGNUSSEN Haas F1 Team1
15 Pierre GASLY AlphaTauri1
16 George RUSSELL Williams1
17 Nicholas LATIFI Williams1
18 Esteban OCON Renault
Updated

15:27
Lap 63/71: Back down the field, in the scrap for the last point on offer, Giovinazzi lets his Alfa Romeo teammate Raikkonen past, because he is on fresher tyres and in a better position to attack Daniil Kvyat who is currently 10th. Kvyat is more than 27 seconds up, mind you.
Updated

15:23
Lap 59/71: "When it Lewis going to go for the fastest lap, and get another championship point?" asks Brundle on commentary. He's in the lead by 8.363 seconds now.
Meanwhile, it looks like Verstappen has sustained a bit of damage to a front wing, which may well hamper his chances of holding off Bottas. The third-placed Bottas is 4.316 seconds down. He'd love a second place to follow up his opening win last week, here at the Red Bull Ring.
Updated

15:21
Lap 58/71: Having set the fastest lap, in impressive fashion, Sergio Perez in the Racing Point is putting plenty of pressure on fourth-placed Albon in the Red Bull. They are currently caught up in a bit of traffic at the back of the race.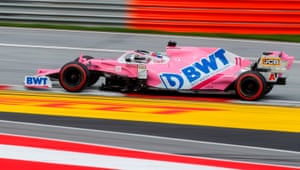 Updated

15:18
Lap 56/71: Hamilton's lead is up to 6.577 seconds. In second, Verstappen is 6.870 seconds ahead of Bottas. Albon is fourth but he is over half minute down on third-placed Bottas.
Updated

15:16
Ferrari head honcho Mattia Binotti speaks after seeing both his drivers retire after crashing into each other on Lap 1: "I don't think there is much to say to the drivers … it's the worst end to the weekend, it's a difficult weekend for us. It's not time to look to for responsibility, or to accuse, it's time to be united."
Statesmanlike.
Updated

15:14
Lap 51/71: Pierre Gasly has pitted a second time in his Alphatauri and is in wooden-spoon position. Up front, Hamilton's stretched his lead to nearly six seconds.
15:12
It's a bit of a feast of live sport this afternoon after the famine of the Covid-19 lockdown. What's happening in the cricket? Do let me know.
15:10
Lap 48/71:
1 Lewis Hamilton Mercedes
2 Max Verstappen Red Bull Racing +4.943
3 Valtteri Bottas Mercedes +12.963
4 Alexander Albon Red Bull Racing +44.226
5 Daniel Ricciardo Renault +49.013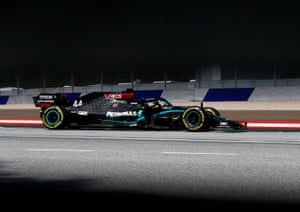 Updated

15:06
Lap 44/71: So, to recap. The world champion Hamilton is winning comfortably at the moment, more than five seconds ahead of Verstappen in second. Hamilton was on pole. The main headline is that both Ferraris were forced to retire after Charles Leclerc and Sebastian Vettel came together on Lap 1. Leclerc has said he is very, very sorry because it was his fault for trying to force his way down the inside at a right-hander.
Updated

15:04
Lap 41/71: Stuart Brandreth emails: "Why two Grand Prix in two weeks using same circuit? This isn't normal is it?"
Absolutely not normal Stuart, no, but with the whole Covid-19 thing, the powers-that-be decided the best course of action safety-wise was to stage the first two races of the season in a 'bio-secure bubble' in Austria.
A couple of riders got in hot water for leaving the bubble, and the people running the next race in Hungary have made it clear that such misdemeanours will not be tolerated at their event.
Updated

14:56
Lap 36/71: "Both sets of tyres feel softer today," Hamilton tells his team on radio. "It feels like they are having a harder time."
Still, he's pitted and he is on medium tyres, just like the rest of the top three, which currently looks like this:
1) Lewis Hamilton (Mercedes)
2) Max Verstappen (Red Bull) +4.811
3) Valtteri Bottas (Mercedes) +8.319
The weather is good, the car seems to be performing well, and Hamilton is more than halfway to his first victory of the 2020 season.
Updated

14:53
Lap 34/71: Bottas is pitting. Hamilton is back in the lead, 5.190" ahead of Max Verstappen in second.
Updated

14:53
Lap 33/71: Sainz pits for McLaren. The team have a problem with a rear tyre, failing to secure it properly, and lose a few valuable seconds.
Updated

14:52
Lap 32/71: Our current leader Bottas is still yet to pit. Hamilton is a fraction under 10 seconds behind his team-mate. Can Bottas find a way to leapfrog Verstappen (who of course has already pitted) and secure what should be a a one-two for Mercedes?
Updated

14:47
Lap 28/71: Hamilton pits, and rejoins the action out in second place behind his teammate Bottas. It was a smooth pitstop, no dramas, and Hamilton is perfectly set to re-take the lead when Bottas pits. Verstappen already pitted a couple of laps ago and is 16 seconds down on Hamilton.
Updated

14:44
Lap 26: Renault's Esteban Ocon retires!
He was going well, but the Frenchman Esteban Ocon of Renault has now retired. We don't know what the issue is yet.
Up front, Hamilton is nearly nine seconds up, but is coming up behind Pierre Gasly who pitted, so wants to get past the Alphatauri ASAP.
Updated

14:42
Lap 21: Lando Norris grabs a place off Pierre Gasly and goes 10th.
In the paddock, Vettel and Leclerc are pictured discussing the mess they just got themselves into. Or rather, that Leclerc created with his over-eagerness to get into that corner.
"I apologised," says Leclerc, speaking to Sky. "Excuses are not enough at a time like this. I am very disappointed in myself, I have done a very bad job today, I let the team down. I can only be sorry, even though I know it's not enough. I hope I can learn from this and will come back stronger for the next races. But it's a tough time for the team. I put all the effort of the team in the bin."
Well, that is a a totally honest admission of guilt, to be fair to him. Taking it on the chin.
"Can we definitelys say you were too optimistic in that situation?" (Diving down the inside of Vettel.)
"Yes, yes I was," confirms Leclerc at the end of the interview.
Updated

14:37
Lap 19: Ricciardo gets past Ocon with a lovely bit of cornering at Turn 3, getting the jump on his team-mate as they both floor it out of a left-hand turn, and overtaking before Turn 4.
Hamilton is pushing on at the front, and looks well set to turn his brilliant pole into victory, as things stand. Long way to go, though.
Updated

14:35
Lap 18: Renault teammates Ocon and Ricciardo are having a battle for fourth place. Ricciardo tries to sneak down the outside on a right-hander and Ocon slams the door.
Updated

14:33
Lap 16: The top three of Hamilton, Verstappen and Bottas are building what looks an impregnable lead over the rest of the field. The gap between Bottas in third and Albon in fourth is over 13 seconds.
Hamilton's lead is now 3.484
Updated

14:31
Lap 13: "We've been having this debate for years – how important is Ferrari to Formula One?" asks Brundle on commentary for Sky Sports. "They're not there … and it doesn't feel quite right, does it?"
Updated

14:30
Lap 10: Albon is having a stormer in his Red Bull so far. He's up to fourth, having overtaken Sainz.
Updated

14:27
Lap 9: Hamilton's lead is now out to just under three seconds with Verstappen in hot pursuit. Bottas, who won last week, is four seconds behind Verstappen, back in third place.
Updated

14:26
Ferrari Team Principal Mattia Binotto had some harsh words for his drivers and team before this:
'Not good enough for a team by the name of Ferrari'
"A really disappointing day. We have to accept that the stopwatch doesn't ever lie. In two qualifying sessions, albeit in different conditions, we have not been competitive, not only against those who have been our closest rivals over the past few years, but also against others, who up to yesterday were generally behind us."
He is going to be beyond livid with what has just occurred.
Updated

14:23
Lap 5: Ferrari's Leclerc retires!
What an absolute shocker for Ferrari. Both drivers out of the race within five laps, arguably due to a bit of carelessness by Leclerc.
Updated

14:22
Lap 5: Hamilton leads, Verstappen second, Sainz third, Bottas fourth. Albon has made up a place, overtaking Gasly, and is fifth.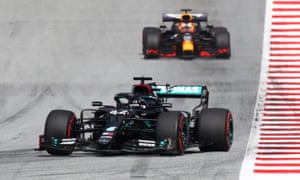 Updated

14:21
Lap 4: We are back and racing. Hamilton leads, Verstappen nearly 0.9 of second down in second place. Scratch that, Hamilton's lead is stretching fast and is up to 1.5sec already.
Updated

14:17
Lap 1: Safety car! Ferrari's Vettel retires!
Vettel of Ferrari lost his rear wing after nudging into Leclerc. From the on-board that looks like the blame lay with Leclerc, who tried to sneak down the inside of Vettel into a right-hander when there was no room.
A dreadful start for Ferrari, and indeed end to Vettel's race.
"Why would he [Leclerc] lunge up the inside of his team-mate like that?" asks Martin Brundle on comms. Quite. Leclerc is back in last place having gone into the pits and changed to hard compound tyres.
Updated

14:14
Lights out!
Hamilton leads into the first corner. Sainz went off the track and came back in third, behind Verstappen. It's a perfect start for Hamilton. Behind him, it looks like the two Ferraris, Vettel and Leclerc, had a little shunt and Vettel may have broken his rear wing. That is a REAL shocker for Ferrari but they are both out on track.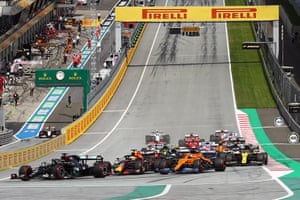 Updated

14:12
Here we are. The warm-up lap has begun, the cars are out on the track and getting some heat into their tyres ahead of the second Grand Prix of this pandemic-hit season.
14:10
Alfa Romeo Racing have released a statement about their commitment to fighting racism and inequality, presumably to try and see off the criticism their drivers may take for choosing not to take the knee: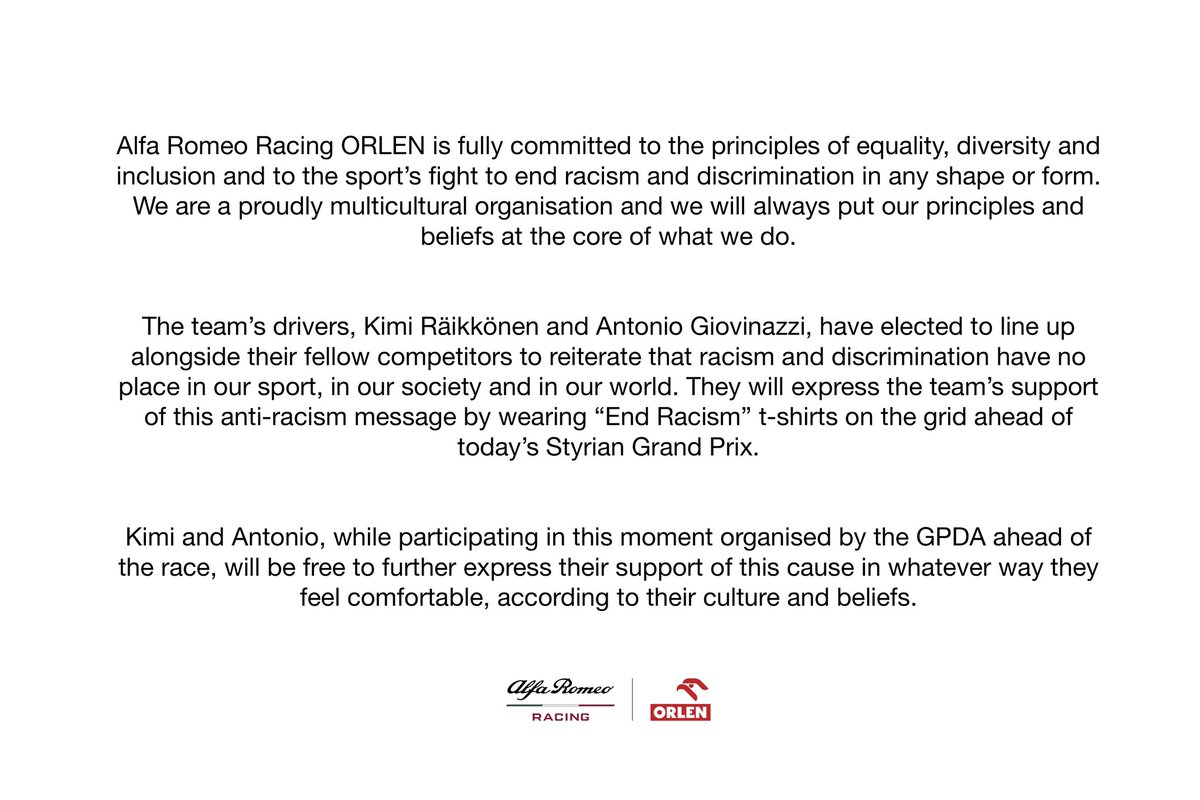 14:09
The weather looks utterly delightful in Styria. The contrast with qualifying could not be more extreme.
Updated

14:06
Mercedes, Hamilton's team, have tweeted about their commitment to end racism and discrimination of all kinds:
We are now less than 10 minutes from 'lights out' at the Styrian Grand Prix.
14:02
So, sports fans, how do you see this one going and what are you looking forward to? Feel free to email or tweet me with your thoughts.
Updated

14:00
Hamilton speaks about that magnificent lap in qualifying: "Yesterday was epic. I woke up [this morning] and watched the on-board, to confirm it was real. Sometimes you have to pinch yourself. Sometimes I have dreams and I wake up and I'm not sure if it's real or not. Yesterday was a special day, especially with the pressure, there is not really a better feeling to come away with that."
13:57
There wasn't a consensus, predictably, with Hamilton and several other drivers taking the knee on the grid in the lead-up to the race, while some did not. All were wearing the black t-shirts printed with 'End Racism' in white text.
Updated

13:51
The 22-year-old driver George Russell, of Williams, talks to Sky about his excellent showing in qualifying. He is 12th on the grid: "Incredibly pleasurable … I didn't know what to expect, it was great. Our aim was probably Q2. It was unbelievable. The weather conditions were so difficult for everybody, I don't think anyone could do a perfect lap but the car felt great, better than it ever has done in the wet … when there was no visibility and you couldn't see anything, I had the confidence to go flat-out on the straights and into the corners, and not everyone felt like that. But we know our true race pace is still the slowest car, and it's going to be tough."
Updated

13:46
"Rain is Formula One's great equaliser, putting a driver's touch and feel at a premium and the world champion claimed the top spot with what he described as an almost perfect lap."
Read Giles Richard's report from qualifying:
Updated

13:44
Good fact from David Croft on Sky Sports: this is not the first time the same track has hosted different Formula One races in the same season: Brands Hatch in 1983 hosted the 'Race of Champions' and the European Grand Prix, although the former was not a championship race, so this is the first time in F1 history that one venue has doubled up with two regular-season, points-scoring F1 events.
Updated

13:41
Here's the starting grid. Charles Leclerc took a three-place penalty for impeding Daniil Kvyat during qualifying. The sound of engines roaring is ringing around the track ahead of the 2.15pm kick-off.
1 Lewis Hamilton – MERCEDES 1:19.273
2 Max Verstappen – RED BULL RACING HONDA 1:20.489
3 Carlos Sainz Jr. – MCLAREN RENAULT 1:20.671
4 Valtteri Bottas – MERCEDES 1:20.701
5 Esteban Ocon – RENAULT 1:20.922
6 Alexander Albon – RED BULL RACING HONDA 1:21.011
7 Pierre Gasly – ALPHATAURI HONDA 1:21.028
8 Daniel Ricciardo – RENAULT 1:21.192
9 Lando Norris – MCLAREN RENAULT 1:20.925
10 Sebastian Vettel – FERRARI 1:21.651
11 Charles Leclerc – FERRARI 1:19.628
12 George Russell – WILLIAMS MERCEDES 1:19.636
13 Lance Stroll – RACING POINT BWT MERCEDES 1:19.645
14 Daniil Kvyat – ALPHATAURI HONDA 1:19.717
15 Kevin Magnussen – HAAS FERRARI 1:20.211
16 Kimi Räikkönen – ALFA ROMEO RACING FERRARI 1:21.372
17 Sergio Perez – RACING POINT BWT MERCEDES 1:21.607
18 Nicholas Latifi – WILLIAMS MERCEDES 1:21.759
19 Antonio Giovinazzi – ALFA ROMEO RACING FERRARI 1:21.831
20 Romain Grosjean – HAAS FERRARI
Updated

13:31
Preamble
"It's down to focus, to how you study the track, your innate ability to be dynamic and manage the trickiest of conditions with the pressure on you. That is what the best athletes in the world do."
Lewis Hamilton there, talking about, er, Lewis Hamilton. He is nothing if not modest. But sarcasm aside, the British world champion did produce a simply sensational flying lap in yesterday's qualifying for today's Styrian Grand Prix, securing pole position for the second event of the season. It was vintage Hamilton, producing an unbeatably-fast, near-perfect lap in the kind of rain-soaked conditions that separate the men who can drive cars fast from the men who can't. It evoked memories of the great Ayrton Senna's ability to race in the rain, not to mention the Hamilton vintage of 2008.
Contrary to some reports, 'Styria' is not a CGI-generated fantasy world cooked up by the tech boffins at the FIA in order to get their Covid-19-hit campaign up and running. It is in fact a south-eastern state of Austria. The Austrian Grand Prix took place last weekend at the same circuit, the Red Bull Ring, and Valtteri Bottas won it. Today's meeting is being called the Styrian Grand Prix mainly so the pandemic-affected schedule doesn't look weird.
Hamilton is on pole for Mercedes, Max Verstappen is second for Red Bull, and Carlos Sainz Jr. is in third with McLaren. The Styrian weather has improved massively since yesterday and this could well be a fascinating race. Start your engines.
Alcohol maven. Incurable pop culture specialist. Communicator. Gamer. Certified explorer.