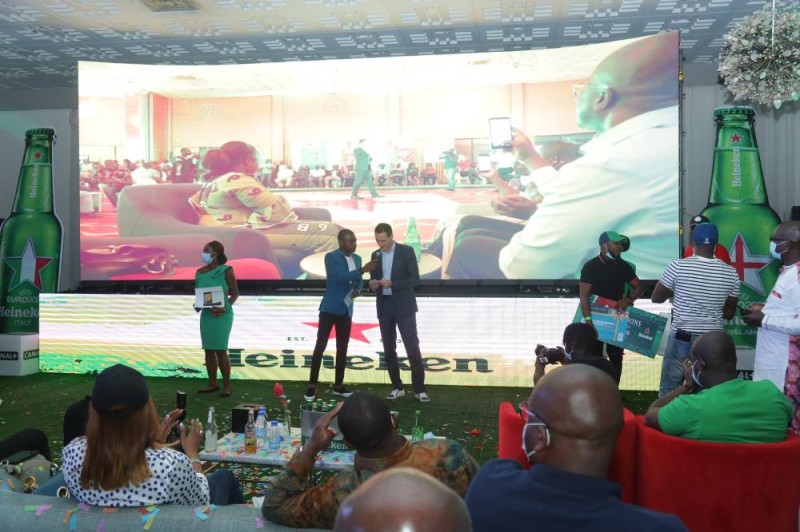 Around 350 guests including Minister of Sports Promotion Claude Pauline Danho, Mayor of PCA of Canal Plus Mr. Jean-Marc Yasse, Cocody Mr. Jean-Marc Yasse, Football International, Ambassador of the Yode and Siro brands, Serge Benaud, DJ Kedjevara, Elaune. Sofitel Abidjan attended the final of Euro 2020 at Hotel Ivor For the occasion, the party room of the Sofitel Hotel Ivor, which was redesigned on Sunday 11 July 2021, was allowed to immerse in the great Wembley Stadium. (United Kingdom) To experience a "best of rivalry" with the final between Italy and England. "The sponsors of the European Nations Championship wanted to celebrate the best of European football. That is why they felt it necessary to build another Wembley here at the Sofitel Hotel Ivor in Abidjan. It is the symbol of the most prestigious sporting events. So you have the Champions League and football. For Euro, there is Formula 1 for motorsport and the Rugby World Cup. In addition, there is also the famous agent 007, James Bond, for the cinema component", explained Laurent Theodor, managing director of Brassievoir).
Following the 66th UEFA Champions League Final on 29 May 2021, Heineken, the official sponsor of the prestigious sporting event, put the covers back on the table with a VIP evening called 'Immersion'.
Beginning on 11 June 2021, UEFA Euro 2020 had its epilogue with this titular duel between the Three Lions and La Squadra Azura. England, struck by half a century of desperation and disillusionment, this time approached the grave; But this was without relying on the anger and rage of the Italian team, who, despite scoring just 2 minutes from the start of the match, made an impressive comeback to equalize and even put pressure on England. At the end of a 1 goal draw everywhere, a period of overtime was followed by a penalty shootout that allowed Italy to take first place in the championship.
A resounding victory celebrated by consumers and fans of Round Ball in an atmosphere brilliantly powered by welcome drinks, aperitifs and afterparty with DJ Philo on the turntables.
It should be noted that almost 5 billion spectators and spectators have followed UEFA EURO 2020 around the world from the very beginning, thanks to Heineken. Well-known international beers sold in over 192 countries and for which matches represent ideal opportunities for sharing and trust.
Sercom. with