12:34
102nd over: England 252-3 (Sibley 96, Stokes 82) Joseph returns and Stokes welcomes him back with an edge for four through gully, then clodhops down the track and times a beautiful straight drive to the fence. West Indies need something, badly; meanwhile, does coming in at a decent score paradoxically ratchet up the pressure on Jos Buttler?
"The crimson rambler" is one old-time euphemism for a cricket ball that I quite like," says Steve Hudson. That's lovely – let's not wonder if the ball really is crimson – and very easy to work into this.
Updated

12:28
101st over: England 242-3 (Sibley 96, Stokes 84) Roach serves Sibley one right in the slot, which he duly turns around the corner for two; he's stepping on the gas now, and he's nearly there! Five dots follow, because they can do no other.
"WI are racking up the maidens," emails Gary Stanley, "but they have got some way to go if they want to match the 6 ball over record set by AL Valentine. 116 overs – 75 maidens – 7 for 127 at Lord's in 1950. Eyes down lads!"
Updated

12:24
100th over: England 242-3 (Sibley 94, Stokes 84) I wonder if Stokes is getting ready to go now, but it's Sibley who unfurls an expansive pull at the start of Holder's next over; they run three.
"I enjoy your cricket ball synonyms (the recent 'obelisk' being a particular favourite)" says Mac Millings, "but I'm worried that, after using that one a few times, as well as sphere, meteorite, vector of disease, and so on, you're going to run out. I have, therefore, come up with an over's worth of new cricket ball names for you. I live to help. Comet, ladybird, conker, spleen, haemorrhoid, nipple."
I think this is another thing for which we have SK Warne to thank – he loves a nut, a cherry and a rock – and I'm always happy to add new words to the lexicon.
12:20
99th over: England 239-3 (Sibley 91, Stokes 84) Roach is around to Stokes now, and when he bangs to mid on, he tries a single; Sibley waves him right back from whence he came. But the next delivery is too straight and Stokes flicks it away for three, then Sibley cruises off 90 with … a single off his pads. Glorious.
12:17
98th over: England 235-3 (Sibley 90, Stokes 81) Holder squares Stokes right up, only to be edged for four! A single follows, and this is beginning to grate the tourists.
"I like the way you work it," says Matthew Snow; why thank you! Oh. "(Dom Sibley) I got to bag it up I like the way you work it (Dom Sibley) I got to bag it up (bag it up girl) I like the way you work it (Dom Sibley) I got to bag it up (bag it up)."
Hey yo, hey yo, hey yo, Chris Woakes.
Ok, it's time: can someone who knows about I don't know, linguistics, or poetics, explain why Sibley is so good for this game? Is is the three syllables? The "ee" sound?
Updated

12:12
97th over: England 230-3 (Sibley 90, Stokes 78) Roach is looking decent this morning; is "this morning" correct even though it's actually afternoon, because it's still the morning session? Anyhow, five dots before Stokes half-bats to mid on and they zip through for a single; these two have run between the wickets really well. Sibley hasn't scored a run for seven overs and i'd not be surprised if Stokes got to a hundred before him.
12:08
96th over: England 229-3 (Sibley 90, Stokes 75) Robkey reckons West Indies were wrong not to take the new globe on the basis that the old one wasn't reversing or anything and England would not have wanted to face it. In the meantime … and steady yourselves for this one … Sibley plays out a Holder maiden, as Ebony shows us that West Indies have been much fuller this morning, inducing plenty of false shots. The problem, in mine, has been an inability to maintain the pressure of seriously testing balls.
12:02
95th over: England 229-3 (Sibley 90, Stokes 75) On comes

Pankaj
Kemar Roach, who's now 78 Test overs without a wicket, and he nails Stokes twice in two balls, tempting a leading edge then spiriting one past the outside edge – that second one, in particular, was an excellent sphere. Maiden.
"Not sure about all this chat about Sibley's strike rate," says Richard Coyle. "It isn't that different to Stokes' in this innings, and he is one of the most brutal quick scoring batsmen in the game. Could it just be the conditions and pitch reward patience?"
That's definitely part of it, but I'm pretty sure it's not all of it.
11:58
94th over: England 228-3 (Sibley 90, Stokes 75) Holder takes the new ball and whams Stokes on the pad with his third ball, but it was high and going down. And his next delivery shows why he kept plodding with the old obelisk; he hangs it outside off, and Stokes times him beautifully through midwicket for four.
"You can of course sing 'Dom Sibley' to any of the many songs in which Bo Diddley uses his own name," says Richard O'Hagan, "including the imaginatively titled 'Bo Diddley'."
I wonder if he had a personalised number plate.
11:53
93rd over: England 224-3 (Sibley 90, Stokes 71) Stokes sees away four dots, then Gabriel sling him a full bunger, wide; Stokes doesn't get all of it, and they run two. But this has been the problem with West Indies bowling so far: too many bad balls, not enough good ones. I believe they call that insight. Anyhow, Stokes drops into the on side and they scramble a further single.
"John Kettley alternate lyrics with cricketers," begins Mac Millings. "Warning: this is dreadful. But do sing along. Dom Sibley Ishant Bannerman, Bland Sohail Bichel Vish."
You tell Aamer he's boring.
11:48
92nd over: England 221-3 (Sibley 90, Stokes 68) Holder invites himself to have a go, and Stokes takes his second delivery for one, down to fine leg; Sibley then plays out four dots, as Nasser wonders at what point England get a wriggle on.
"May I take issue with Nasser's use yesterday of the word bunsen as rhyming slang for slow turner?" asks Kim Thonger. "While that may be appropriate for an Essex big bash game, it's rather déclassé for Test matches in other more refined parts of the nation. I think a 'Joseph William Mallord' or, as I prefer, for short, a 'J.M.W.', has more gravitas and dignity, don't you?"
Or a "nice little", as in an earner.
11:43
91st over: England 220-3 (Sibley 90, Stokes 67) I get why West Indies haven't taken the new meteorite yet, and that leaking runs would kill them, but they badly need a breakthrough. In the meantime, Gabriel nails Stokes, too good for his edge and too high for the stumps; Stokes then slips and plays the next delivery while nosediving down the track, running one.
"If Sibley and Bess bat together," says Barney Jeffies … can you see where this one is going … "we can sing some Tina Turner."
It's Sibley and Bess! Outstanding, going to stick on Capital Gold immediately, it'll be on any minute.
11:38
90th over: England 219-3 (Sibley 90, Stokes 66) Eesh! Sibley edges Joseph, but the ball drops short of slip, by plenty, then after yet another dot he prods two to cover which takes him into the 90s – but this is batting from a decade well before that.
I've just flicked to my email to discover

four
five missives with "Sibley songs" in the subject box. I love my job.
"I think you'll find repleacing the words 'Generals and Majors' in the eponymous XTC song works very well," says Peter Salmon.
"Dominic Sibley ah ah
Is never too far
From battlefields so glorious
Out in a world of his own
He'll never come down
Till once again victorious, whoa."
11:34
89th over: England 217-3 (Sibley 88, Stokes 66) Gabriel beats Sibley outside off, twice – he's not quite middling his leave this morning – before a singgle to cover retains the strike.
As for the below, I don't know. By which I mean I literally don't know, and also that I just don't know because how can we rely on someone with Boris Johnson's track record? On which point – and bear with me on this – I wrote something about Jaws.
11:29
88th over: England 216-3 (Sibley 87, Stokes 66) Joseph and Gabriel are both growing into the day, finding a much better line and length than earlier. This is a good over from the former, asking questions of Stokes and enticing him to play and miss just outside off. Another maiden.
"Steven Van Zandt makes a contentious selection point," emails Mark Hooper. "'I ain't gonna play Dom Sibley'".
Updated

11:25
87th over: England 216-3 (Sibley 87, Stokes 66) There we go! It may be old but there's some action in this

piano
ball, and Gabriel diddles Stokes with one that nips away, then wallops him on the pad with one that was just sliding down, before a twizzle to deep square adds a single.
Updated

11:19
86th over: England 215-3 (Sibley 87, Stokes 65) You're not going to believe me when I say this, but it's true, I promise: Sibley plays out another maiden.
11:16
85th over: England 215-3 (Sibley 87, Stokes 65) I don't think it'll be long before West Indies take the new ball – they'll want these two bowlers to enjoy it fresh. But in the meantime, Gabriel cedes a single and wide before going around the wicket to Sibley; it takes him a couple of deliveries to find his range, before he forces a defensive shot, cramping yerman just outside off, then gates away with what should've been another wide.
"Dom Sibley songs," is one of the greatest email subjects lines I've ever seen; here's Tom Paternoster-Howe with more: "I sing 'Dom Sibley' to this slice of pure genius from Sly & the Family Stone," he says, "but I think I might now switch to your novelty pop delight."
I love that!
11:09
84th over: England 213-3 (Sibley 86, Stokes 65) A bucket with sawdust comes out – Joseph must've brought his pet hamster, Colin, into the middle – but some is put on the run-up area too. Stokes opens the account for the morning with a shove to mid on, then a thick outside-edge adds four more.
"You know you've been watching too much cricket when you look at the start time instead of out the window when deciding whether or not to leave the house," emails Michael Robinson. What's "leaving the house"? This is the OBO you know.
11:05
83rd over: England 207-3 (Sibley 86, Stokes 59) Gabriel has the ball, and we're told it's slightly warmer today than yesterday and also not as breezy; "Should be batting day," says Bumble. Sibley plays out a maiden – of course he does – while Mikey says everything to him needs to begin outside off stump, whether it's moving in or out, and the penultimate delivery does just that, beating him moving away off the seam.
"From last winter," tweets Bob O'Hara: "'Zak Crawley is an opener, and so is Dom Sib-ley'. Ugh. I think we now know why he was demoted to 3."
I agree, my version is far, far superior.
10:58
"You know you've been watching too much cricket when…" begins Alok Prasanna Kumar. "You've memorised all the words in all the ad jingles that play between the overs."
Incredible India!
10:53
Or, in other words, you know you've been watching too much cricket when….
Feel free to send in your personal completions of that sentence.
10:53
Also on Sibley, and returning to yesterday's patter about an OBO playlist, is anyone else singing his name to this? Dom Sibley is an opener, and so is Rory Burns.
10:47
"Permission to declare my adoration for Dom Sibley?" rhetorical questions Guy Hornsby, who well knows that adoration is what the OBO is all about. "I know for a long time we wanted six Warner or Kohlis to be a dominant Test side, but surely our ongoing fragility demands a Sibley at the top. It went ok for Cook. Wearing bowlers down is key to making hay at 4/5/6."
I agree – I don't think there's a formula that results in a good team beyond having good players, and that is absolutely one way of doing it. If Sibley is good, he's good.
10:42
"Regarding Archer," says Tom Marlow, "if someone informed on him would it be a case of bubble and squeak? Sorry, I need to get out more. Looking forward to another great day's play. Be nice to see England put back-to-back sessions on top, even three if that's not over-optimistic, and put some pressure on the opposition for the bowlers to exploit. But these teams seem evenly matched. Should be fascinating."
They are, but this track has, unwittingly, taken away a lot of what West Indies do well, and by inserting England, they've added SB Pressure to their bowling attack. That might be the difference here.
10:39
Sibley tells Athers he doesn't sleep well when he's not out overnight and didn't last night. He says the pitch is soft and two-paced but he hopes to get through the new ball and "build an innings"; er, you've sort of done that already mate. He says he's always been able to bat long period of time, and talks himself through good periods for the bowlers, then goes on to explain, when prompted, that he's been thinking about not glancing to leg slip – yesterday he allowed a ball to hit him – and that so few bouncers were bowled at him because the pitch offered so little help.
10:33
Email! "Not wanting to be a pedant," begins David Harland, "but then again this is the OBO so I will be anyway … surely Jason Holder is is West Indies' best bowler over the angel Gabriel? His figures from recent tests are incredible (or at least that's what Andy Saltzman said yesterday!!)"
His recent figures are great, it's true, and he is also great. But the England batsmen say Gabriel is the hardest to face, apparently, and that looks the case to me watching on telly too. I might be wrong, though.
Updated

10:24
There was a lot of talk yesterday about Dominic Sibley's batting style, but ultimately, where would England be without him? Batsmen want to put pressure back on the bowlers, but that needn't mean whacking them off their length; the knowledge that anything wide is getting left and anything straight is getting nurdled brings its own issues. Alastair Cook and Jonathan Trott showed that you can be an outstanding Test player with very few principal shots; if Sibley can develop a cut, that might just be enough for him.
10:15
I hope we see the best of Shannon Gabriel today, who struggled for rhythm yesterday and perhaps felt the effects of bowling nearly 37 overs in the first Test. West Indies know that England aren't going to give it away – yes, I really typed those words, but what I probably meant is that West Indies know Sibley and Stokes aren't going to give it away – so will be relying on their best bowler to show up.
10:09
On the pitch, there's a chance that we'll see it quicken up over the next few days. There's still a bit of rain forecast, but if it's sunny or sunnyish the rest of the time, we might see it dry out, which would probably please everyone – batsmen, quicks, spinners, viewers.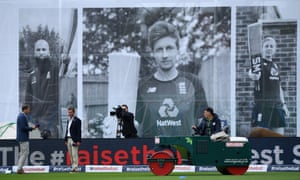 Updated

22:47
Preamble
If life teaches us anything, it's that we're better and worse than everyone else. So there was a certain indulgent, masochistic pleasure in yesterday's fare, one for the purists and the impure that was both uninteresting and disinteresting for more normal, abnormal people.
And, by the end of it, England had lurched into a strong position. If they can avoid collapse – ! – in the early part of the day, they'll be in control of the match, which is to say that the first hour will be crucial, then the hour after that, the hour after that and the hour after that.
West Indies, meanwhile, will know that even without playing well, they missed chances to take command, so can reasonably rationalise that even a par performance will stick them right up in England's grille.
Ultimately, the unavoidably sluggish nature of the pitch means we might be feeling inferior and superior this time tomorrow too – but there's more than enough talent and stakes out in the middle to take all that out of the equation.
Play: 11am BST
Updated

Alcohol maven. Incurable pop culture specialist. Communicator. Gamer. Certified explorer.