12:30
There's a lot for England to lose in the next hour. Lovely stuff.
12:28
"Great to see the likes of your REMs and your Pavements in the list," tweets your @AsNaturalAsRains, but may I submit the pure Proustian rush of Lou Bega."
That reminds me a lot of cricket and a lot of a bar in Ios, in which you don a helmet, perform a dentist chair, then have someone hit you over the head with a mallet. It's extremely invigorating.
Updated

12:21
"Perhaps the most obvious choice of music would be The Third Man theme," returns Geoff Wignall, "preferably a cover version of course. But also how about Jurassic 5's Swing Set?"
12:17
"Maybe not in the first eleven of Who songs," says Richard Woods, "but a decent tribute to our game all the same."
I'm no doubt attracting opprobrium when I say this, but I don't get the Who.
12:13
"There would be two great things about having Sarah Taylor as the OBO XI wicketkeeper," says Geoff Wignall. "First would be having Sarah Taylor keeping wicket. Second would be having Kumar Sangakkara playing as a specialist batsman."
I'd also have Sanga in – partly for his dub-K, and partly for his misfortune in having his phone hacked" in the middle of a county game".
12:11
Looking at the England XI, it lacks pace, but it does not lack batting (in theory). Every player has a first-class century, and all of them has a Test fifty.
Updated

12:09
Teams
England: Burns, Sibley, Crawley, Root, Stokes, Pope, Buttler, Curran, Woakes, Bess, Broad.
West Indies: Brathwaite, Campbell, Hope, Brooks, Chase, Blackwood, Dowrich, Holder, Joseph, Roach, Gabriel.
12:07
Tell you what, it'll take some colossal runs to redeem this.
12:06
Joe Root, then, sporting a bumfluff beard. He says what's been said about Archer has been said, and it'd be high-risk to play Anderson or Wood, who've come back from bad injuries – though England need to win. Instead, the attack is Broad, Woakes, Curran, Stokes and Bess; he goes on to say that he appreciated what Broad said during the last Test and notes that he's played a lot less and Anderson so isn't close to the end. He's pleased that, following a bad start, his team got into a position to win at Southampton, and says it looks a good wicket here. It feels a little bit softer than usual, he reckons, but doesn't say what he'd have done had he won the toss.
12:03
He goes on to say that people are smiling in West Indies and it's for the team to keep things that way.
12:02
West Indies win the toss and will …field.
They're attracted by the overhead conditions, and whatever's in the surface, they want first go at extracting. They're unchanged.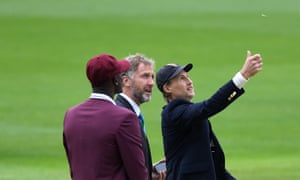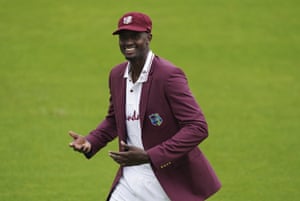 Updated

12:01
"In India, Disco Dancer is a movie from the previous century which became an instant cult classic owing to its display of a dancer trying to live the big life," says Abhijato Sensarma. "It's one of those movies from the past which will not win the award for the best movie in any year, but it's also one of those movies which you're always down to see on a free evening. I provide the link below to one of the songs from this enduring film. After hearing it, I can only hope that despite being released in the 20th century, the song must have been written with a cricket player kept in mind – Mr Anderson!"
11:57
"Can I nominate Pavement's "…and Carrot Rope" from their underrated final album Terror Twilight," says Thomas Atkins, "with its chorus of 'the Wicketkeeper is down'. An apt summary of Jos Buttler's travails with the red ball over the last year or so."
You've really hoofed ther hornet's nest there, I'm afraid! Here's Wiki!
"Carrot Rope" is a song from Pavement's 1999 album Terror Twilight. It is erroneously known as '…and Carrot Rope', the '…and' was added to the stylized track listing on the back of Terror Twilight signifying that it is the final song on the album and not actually a part of the title."
Someone in the studio had clearly been watching ITN news at 10.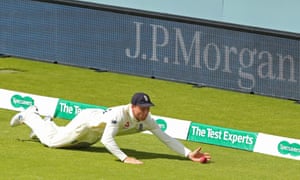 11:51
"Whatever is going on in the England dressing room," says Graeme Thorn, "it can't be as big a scandal as Watergate-gate."
11:50
"Sam Curran would create a nice bit of rough for Mr Bess," tweets @jackofatrade. That's true, though West Indies only have one lefty. I've actually been wondering if I was too hasty last week, when I wrote that England seemed to have found their spinner – someone to take the ball away from the bat might've been helpful in the fourth innings. But Bess seems to have greater potential upside than Jack Leach, so I'd persevere with him.
11:47
"Got to say, I'm finding the whole bowler rotation thing a bit hilarious," chortles Peter Salmon. "Last Ashes, Australia gave a masterclass in rotating their bowling stock across the five Tests. Here we are on day six of the policy and we've already had Broad-gate, Archer-gate and we are half an hour after the toss and names are still being moved around the whiteboard. Glorious, English, stuff."
It's superb isn't it. Tangentially, when Alec Stewart was stopped entering the Oval through the Alec Stewart gate, was it called Gate-gate?
11:44
While we're here, shall we do an OBOers playlist? Feel free to send in your rules, but how about we go for things we think other people won't know, and if we can find a tenuous cricket connection, so much the better. I'll get us underway with this paean to English batting collapses.
11:39
"Definitely Robert William Trevor Key," says Sean Clayton, "both because he looked like more like an OBO-er (OBO-eist?) than a Modern Cricketer during his playing career and also because I spent most of the mid-to-late 2000s banging on about how he should be recalled. I'm only refraining from nominating Neil Mallender due to the statute of limitations…"
Ah, that takes me back to one of the great Test debuts from one of the great Iain Dowie lookalikes. But I regret to inform you that RWT is wearing brown shoes; I would exclude for that, but submit to majority rule on the matter.
11:30
"I have a question for OBOers," says Kim Thonger. "Would David Gower's Tiger Moth flight, if it had occurred yesterday, have been a biosecurity breach? They were socially distanced surely? Yes I know, don't call me Shirley."
Don't forget John Morris of Derbyshire. Did he, when fielding close to the wicket, start knocking the ball up to catch it when it dropped, or is my mind playing tricks on me? But back to the original poser, I'm sure Gower can be relied upon to do the right thing – he was socially distancing from balls outside off stump long before it was fashionable.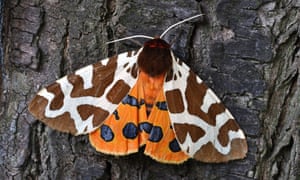 Updated

11:24
"Totally agree about Sarah Taylor as the keeper," says John Starbuck. "My vote is for Kevin Pietersen in most categories, that's if we are allowed one vote each. If not, I'm sure we'll see a few complete XIs from readers. Also, which umpires?"
Shakoor Rana and Marais Erasmus? I think we can all agree that Michael Gough goes upstairs.
11:21
"In regards to the missing Olly Stone," emails Zach Nolan, "I can confirm I saw him in the Co-op about a month ago. I was on door duty at the time so unfortunately can't shed any light on the contents of his basket. How's that for breaking news?"
What do we think he bought? I'm going for chilli McCoys, a Twirl and a box of Swan Vestas.
Updated

11:19
"I see a lot of people defending Buttler saying he should be coming at 250/7 not 13/5 or something on similar lines," says Rohit Dixit, "so why not change the top order to suit him or if England are inevitably going to be 13/5 on a regular basis (which I am sure you agree is going to be more often than not), get Foakes in or rather get Bairstow in?"
I'm not sure it'd be wise to bring Bairstow back at this point because his issue was one of technique, not form. Had he been dropped sooner – when he should've been dropped, in mine – he might be ready now, but he wasn't. I've no idea why they took him on tour in the winter, instead of giving him a brief and programme to help him satisfy it.
Updated

11:16
In commentary, Nasser notes that England have more scores of 25-40 that any other Test team, then goes on to say that at the Ageas, Rory Burns and Joe Denly both allowed Roston Chase to bowl even though the ball wasn't turning. If they'd encountered him playing for their counties, he says, they'd have smashed him all over, and Zak Crawley got after him, so they need to appreciate when to hunker down and when to cash in.
11:09
"OBO XI," tweets Neil Parkes. "Rob Key". I seem to recall discussing the decent syllable deficiency of his name, but I'd need to see your working.
11:07
Behind Bumble – who is sporting blazer, cardigan, beard and new glasses – we can see that it's brightening up. There's very little chance of further rain, so we should get a full day.
11:04
"For all the wanging on about Kohli," says Peter Gibbs, "I nominate Sarah Taylor. Attitude, entertainment, humour, plus inspirational, outrageously talented, very real personal struggles, moved the game on and changed the conversation … broke records all over the place. I mean, I could go on."
Absolutely – she's my keeper too. I've never seen handspeed like it, and not sure I've seen brainspeed like it either.
11:02
"Whatever happened to Toby Roland-Jones?" asks Max Harrison.
He got injured at the wrong time, mainly, so couldn't cement a spot – and he needed to because stylistically, he wasn't what the selectors were after.
11:00
"Gutted to see the start delayed by rain, especially since I didn't realise it was raining," says Michael Robinson. "Although being just half a mile down the road the ground does look pretty dry here, maybe they can come and play in Alexandra Park round the corner?"
I believe Whalley Range has its own microclimate.
10:58
"As much as he's brought this on himself," says Adam Giles, "Jof doesn't strike me as the sort of man that enjoys missing out. That considered, on top of the fact that he'll have had five days in isolation knowing he's let the side down, how much fire and brimstone might we see from him in the next game? In a similar vein, what should we be expecting from Broad? I feel like resting Wood and Anderson may have somewhat quelled his burning need to prove a point, seeing as, in light of this week's selection, resting players now appears to just be another sign of the times.
Finally, is this last-chance saloon for Buttler? Lots of discussion last week by a myriad of pundits as to whether he'd retain his place ahead of Foakes, but I can't fathom how he continues to be picked despite meagre returns. Foakes, on the other hand, must be wondering just what he has to do to take those gloves off the incumbent."
It's a tricky one. I was delighted when Buttler returned because he has too much talent for us to die not knowing, but we're getting to a point aren't we? I'd not necessarily bin him for not coming off in this Test, but I'd absolutely bin him if he doesn't come off in this Test of the next one. In fairness, though, he's someone you want coming in at 250-7, not 13-5.
10:52
Athers would also be tempted – he thinks Wood should've played here but not last week. But then what of next week? He goes on to say that Curran might not be a good enough third seamer, so perhaps this is a chance for Robinson to get a go.
10:50
"Would England really have decided to rest both Jimmy Anderson and Mark Wood if they'd known Jofra Archer would be unavailable?" asks Smylers. "If not, then it was silly not to include at least one of them as reserves in the 13-player squad. Admittedly it's awkward to announce both the intention to rest a player and that they are in the squad, but it would've made sense. Or, as Vic says, why bother naming a squad at all?"
I wonder, quite a lot, if England might just stick one of them in anyway, then deal with next week next week.
Updated

10:48
By the looks and sounds of things, we need to find something to talk about while we wait. How about we put together our definitive OBO XI? Feel free to nominate for attitude, entertainment, humour, attire, and any of the many other things that have detained us over the last 15 years or so. I'll start: SJ Broad.
10:45
"Think that 2013 test was also a portend of what was to come later that winter," emails Digvijay Yadav. A fast and bouncy pitch with relatively little sideways movement. Right up Australia's alley. As an aside, why don't England play Jamie Overton or Olly Stone? So far we've only heard about these boys but rarely glimpsed them. Proper fast from the sound of things."
Yes, I mainly agree with that. I'm not sure the pitch was fast and bouncy, exactly, but it was true, with action available for those getting close to 90mph (though it's also fair to note that Australia had the best of the conditions). I'm surprised Olly Stone isn't involved, but I've not seen loads of him or Overton.
10:42
Looking at West Indies' squad, the main question is whether they change their XI and bring in Rahkeem Rashawn Shane Cornwall. My guess is that they stay as they are.
10:39
Holding goes on to say how may messages he's received from around the world following West Indies' brilliant victory last week. And how brilliantly affirming it is to see them back as a serious and seriously likeable outfit.
10:37
"He's been very foolish," says Athers of Archer, and it's hard to argue with that. He's as measured as ever, and understands the difficulty of being stuck in a bubble for so long, but those are the rules. "Nelson Mandela spent 27 years in a cell and he did nothing wrong," says Michael Holding. "That's sacrifice."
10:33
TOSS AND START DELAYED DUE TO RAIN
Obviously. It's still raining, and once it stops, there'll be a 90-minute clean-up operation.
10:32
"Morning," tweets Guy Hornsby. "It may be raining at Old Trafford but from my window a few miles away in Sale it's stopped and the forecast looks pretty good from the next hour onwards and over most of the five days. I'm sure we'll get a result, but what it is is anyone's guess. Oh Jofra!"
10:29
"Jimmy and Wood rested, Jofra excluded," emails Adrian Armstrong. "Are England at risk of deploying Adelaide 1982, or indeed Lord's 1982, levels of popgunnery? Broad shoulders can't carry everything."
See below – I agree. We're going to need something significant from Chris Woakes, and he's capable, but the Ageas might've suited him better. Ultimately, Anderson and Wood will be needed next week, but it's not that helpful if the series is over.
10:25
I wonder about England's selection, as it goes. Old Trafford is maybe England's best wicket, and I mean that in cricketing terms – how good it is to bat on – and absolute terms – how good is it relative to its rivals. Which is to say that it offers most to the bowlers with a bit of extra gas, and England now have no one with any. In 2013, they needed Kevin Pietersen and Ian Bell to save them for that reason; today, they have a problem.
10:18
So, what does it all mean? It was probably fair to assume that England were going with Archers, Woakes and Broad, meaning there's now a place available for one of Sam Curran and Ollie Robinson. My guess is they'll go for Curran, who's proved himself at Test level, offers ballast to the batting, and has the precious gift of timing – especially given they've got Ben Stokes to augment the pace attack. Perhaps, if another quick was in the squad – Olly Stone, say – they'd have been tempted to replace like with like. But in the circumstances, Ollie Robinson would be a huge punt.
Updated

10:12
What's Jofra Archer's favourite play? Macbeth. Bubble, bubble, toil and trouble, fire burn and testing double.
10:08
What's Jofra Archer's favourite song? I'm Forever Blowing Bubbles.
10:04
Jofra, though; what were you thinking? I mean, we know exactly what you were thinking because it's similar to what the rest of us have been thinking for four months – this is absolutely *Anglo-Saxon*, this is, is this – but really, as one of your best mates, what were you thinking?
07:43
Preamble – written prior to events, my dear friends, events.
This is not normally a niche that deals with indulgent fripperies like breaking news, but here's some for you anyway: Test cricket is good. We thought we knew this prior to last week and we did, except we didn't know it in the way that we know it now; now that we have have been distracted and diverted by it, enraged and enraptured by it, during a time of global disaster. As a wise man once said, ooh baby, I feel right, the music sounds better with you.
In similar vein, we can rely on the next five days to give us life. West Indies will be more confident than before, secure in the knowledge that not only can they beat England in England, but that they can beat England in England without Kemar Roach taking a wicket. That will not happen again, and with Shannon Gabriel and Jason Holder already in the zone, they will fancy themselves to clinch the series at the first time of asking – and with good reason.
England, meanwhile, have some breaking news of their own – great areas, Jofra – but have Joe Root back in the team, Stuart Broad consumed by an even more terrifying, hilarious vengeance than usual, and collective redemption to seek. Perm all that with one of the world's most consistently sporting pitches, and we have all we need for another life-enhancer of a Test right when we need one, which is always, and may our heavenly father spread the tabernacle of peace over all the dwellers on earth, and let us say amen.
Play: 11am BST
Updated

Alcohol maven. Incurable pop culture specialist. Communicator. Gamer. Certified explorer.