12:51
39th over: West Indies 112-2 (Brathwaite 36, Hope 24) Woakes beats Hope with the ball of the morning. Shaping in, on the money, angling away off the seam – everything but the edge. He finds that part of the bat later in the over, but straight to ground. A frustrating morning for the seamer – he's bowled really well.
"Dear Adam." Dearest Bob Wilson! "How's the family?" They're the best. Winnie is currently having a nap, having tried to eat my ears and nose all morning until then.
"Creeping out of our pestilence-avoiding lairs and hideyholes, we're all a little chary and wary, looking to the skies for signs and portents, hearing whispers on the wind. Maybe that's why I think Holder has yet to do his thing in this match. It's an odd heroism, Holder's, but a strangely effective one. He doesn't grip it too tightly. He palms it gently, discreetly, the opposite of Botham (maybe even Stokes). He's gonna want to put this game to bed and read it a scary story. In my bones, I feel he's due (so obviously, that's a King Pair for Jason)."
I'm with you. I told a story last week about his attitude to a scenario in 2015 where Smith wanted to set up a chase. He said no, because, as a young captain, he wanted to teach his team how not to lose; how to do it ugly. He's built for a scrappy draw.
12:47
38th over: West Indies 111-2 (Brathwaite 35, Hope 24) Back to Bess v Hope, with the tweaker spun around to the Statham End. I reckon we might see these two play a lot of international cricket against each other over the next ten years. The spinner keeps him at home so the No4 responds with a full-blooded sweep, the first time he's played that shot, striking it expertly – four runs. Stokes now, right?
Iain McKane is hot on the emails, informing me that he's found a new role for his cricket headbands as Coronavirus masks. Good thinking – more of that!

12:43
37th over: West Indies 107-2 (Brathwaite 35, Hope 20) Shot! And again! After the failed review, Brathwaite strikes a pair of delightful boundaries from consecutive deliveries. The first is a full-blooded slap through the off-side off the back foot, the second is all timing, not a lot of footwork but the result is the same, four past point. Ten from the Woakes over, his first back into the attack. He's had a top morning.
"Hi Adam." G'day Romeo. "This guy didn't use a headband in 1972, although he did when he cut his hair a bit shorter and it started coming out." And so did every cricketer of my father's generation as a result. By the time I came along, we were all wearing the Nike headbands because of Shane Warne's influence.
12:39
NOT OUT! Michael Gough's decision is confirmed by Richard Kettleborough and England lose a review. They have two remaining, the West Indies three.
12:38
HAS BRATHWAITE GLOVED WOAKES TO BUTTLER? Root wants DRS to take a look.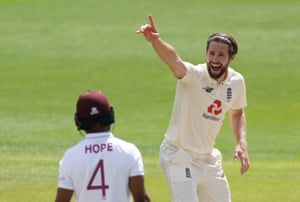 Updated

12:38
36th over: West Indies 97-2 (Brathwaite 27, Hope 20) Well played, Brathwaite steering Broad off the back foot past backward point for three. With about half a dozen overs left until lunch, the West Indies are 372 runs behind. England need to find a way through before that break. Throw it to Ben Stokes for a couple, right?
"Something to put you off your lunch," begins Peter Gibbs. Should we? Okay, let's. "Listening to Tufnell and how to shine the ball without sweat/spit, I think he suggested a sweat substitute of salty water in a bottle at the beginning of the run-up. Even better, why not get properly shielded people collecting both and sending it in at a cost. Ticks all the working from home boxes etc. Plus! sweatshop.online is available for just a couple of quid Naturally with all website ideas, I'll just offer it up and take 50% of the profits and EVEN forego any employees take home product privileges." Yuk! But not as bad as how Ash Giles kept his fingers in good shape…
12:34
35th over: West Indies 94-2 (Brathwaite 24, Hope 20) Hope does again at Bess but this time by jumping back and thumping him hard through midwicket. His fourth boundary so far for him and they've all been class. Quality Test Match cricket.
"I like Bess," writes Digvijay Yadav. "Old fashioned offie, drift it outside the off and get it to turn back sharply towards the top of off. Beautiful. None of this carrom ball nonsense." I've nothing against a finger-spinner who has the other one up his sleeve, but I agree that there's something comforting about the fact that, for all of cricket's rapid evolution in recent times, there remains room for an old-school offie.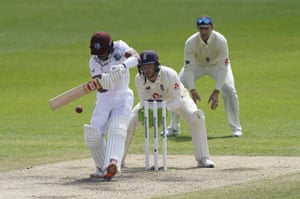 Updated

12:30
34th over: West Indies 90-2 (Brathwaite 24, Hope 16) Back to back maidens from Broad, this time at Brathwaite, who he takes a straighter and shorter line at. He's not far away at all with the final delivery, banging it in and finding an edge from relatively high on the blade. The opener did well to take his bottom hand off the handle at the point of contact, taking the cordon out of play. Speaking of slips…
"Adam." John Starbuck. "I've often wondered about how much work goes into calculating the optimum distances for close fielders, especially the slip cordon. Obviously, you need time enough to spot the ball coming your way to catch it, but the speed will vary between bowlers and the pitch character. Supposedly, the wicketkeeper's placing sets the distance, but most of the time the ball doesn't touch the bat, the keeper has to take it directly, whereas a slip usually gets a ricochet from the edge. Moreover, it seems like bad manners or lack of team spirit to appear to be disparaging some bowlers' lack of pace, which could make them perform worse (or gee them up). Any suggestions?"
In all my years playing – as a bowler and a slipper – it's always just been… the vibe?
12:25
33rd over: West Indies 90-2 (Brathwaite 24, Hope 16) Shot, Shai. Big stride in, driving against the spin of Bess, perfect contact, four runs. Bess drags his length back just a tad with his next ball, finding an inside edge. Good little contest.
12:23
32nd over: West Indies 85-2 (Brathwaite 23, Hope 12) Broad is back for his second spell and it is a tidy re-start, hitting the deck outside the off-stump at Hope.
"Surely in England matches should start at 11-ish, 10.30 for 11, or 11 on the dot." Very good, Paul Griffin. I missed most of Bess' next over laughing at this.
12:19
31st over: West Indies 85-2 (Brathwaite 23, Hope 12) The other big selling point for Bess: he gives away nothing in terms of runs. Another maiden. We saw that in South Africa, of course, when he came into the XI from nowhere. I spoke to his coach at Somerset about that call-up and, at that stage, it was unclear if he would even be in the county team to start this year. A nice ride he's been on since.
12:15
30th over: West Indies 85-2 (Brathwaite 23, Hope 12) A nice start this from Hope, into double figures off Curran with a couple through square leg then two more into the gap at midwicket. Meanwhile, Jimmy is in Sky Cricket's Diary Room. Not quite as much to report on as there was when his old mucker Stuart Broad had a chat during his week off in Southampton! Says he feels fit after a few days rest.
"It's all floppy hair and headbands in the England attack just now, and I'm worried." Strong words from Luke Williams. "Kindest thing to say is that it's very Love Over Gold era Dire Straits, although I'm sure I saw Broady trying a Hugh Grant copyrighted boyish-grin-with-a-hint-of-fop."
We're at odds here, Luke. As a bowler who loved a headband, I'm really into the tied option being used by both Broad and Curran. I suppose they will be allowed out of the bubble between the West Indies and Pakistan Tests and, thus, can get their hair done like the rest of us have over the last couple of weeks?
12:09
29th over: West Indies 81-2 (Brathwaite 23, Hope 8) "A little bit sloppy," is Nasser's verdict of England's first hour. But Bess, who got them a prize before the drinks break, is right on the money. Three men around the bat, which could afford to be four if Root wants to throw in a silly point. Whatever happened to off-spinners having silly points by default? For another time. Brathwaite is up to the challenge. On Root, fancy us seeing a fair bit of him later today as well. Spin twins.
"All the talk of Test start times – doesn't anyone remember the bad (good) old days of Channel 4?" asls Thomas Hannan. "Tests started at 10.50am or sometimes 10.45am I think (to accommodate horse racing?) so starting early in England is certainly doable. Sky made a big deal of moving it back to 11am when they got the rights but just think if only it was still on Channel 4, England would have had the extra 10-15 mins daily play that surely would have guaranteed victory."
Related: want to know how Mambo Number Five became the theme music? Enjoy a great story from Mark Nicholas here, talking with us during our lockdown series.

12:03
28th over: West Indies 81-2 (Brathwaite 23, Hope 8) The final over of the first hour, and Hope is off the mark courtesy of a long half-volley, timing Curran through cover for four. Granted, not a high degree of difficulty but still needed to be put away. And he does it again later in the over – a classical square drive! "Shai Hope at his best," says Ebony Rainford-Brent on television. Top over for him. And that's drinks.
"Morning Adam." Hi, Damian Clarke. "Sitting here with a leg in plaster, I need a little project. So I'll be happy to take your funding for the PhD. Can you first bung me a sub to get a degree and Masters, though. Thanks in advance."
Any academics out there who want to fund an OBO thesis for Damian?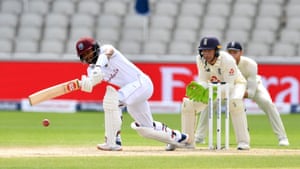 Updated

11:59
27th over: West Indies 73-2 (Brathwaite 23, Hope 0) Positive signs for Bess early on here, the turn considerable at Brathwaite, who plays him well off the front foot for a couple before defending deeper in the crease with nice, soft hands later on.
11:58
26th over: West Indies 71-2 (Brathwaite 21, Hope 0) Brathwaite flicks Curran for a single early in the over, Hope then playing him watchfully, getting his eye in.
11:57
25th over: West Indies 70-2 (Brathwaite 20, Hope 0) This is a big match for Shai Hope, who battled last week at Southampton. Of course, he has those twin tons to his name at Leeds the last time these teams met in England, and is one of the most prolific ODI openers in the world with nine tons to his name in that format, but he has averaged just 25 in Tests since August 2017. He's well forward to begin against Bess, but the off-spinner goes through the gate with the final offering of his successful over, a gorgeous, dipping delivery that turns big and bounces over the middle stump; the type of delivery that's earned Nathan Lyon so many wickets over the last decade. The end of a fantastic set to begin the Somerset tweaker's day.

"Hey Adam." Thilo Fob, my man. "Good to have you back and congratulations again on your big news this year, talking about the introduction of the tv umpire checking front foot bo-balls of course. Changing Meal and start times next!" Just you wait.
"While I am obviously all for an exciting test and want to join in on the "follow-on" talk, but when one team took two days to reach under 500 declared and the other is still only two down, should we talk more about the pitch? What happened to the supposedly best Test pitch in England?" But I reckon it's been pretty good? Given ample to the bowlers in terms of movement off the track – both fast and slow.
11:49
WICKET! Joseph c Pope b Bess 32 (West Indies 70-2)
After talking up Joseph, he's out from the second ball of spin! Bess is into the attack and immediately into the book with a classic off-spinners' wicket, finding the shoulder of the nightwatchman's bat, the sharp chance taken well at short leg.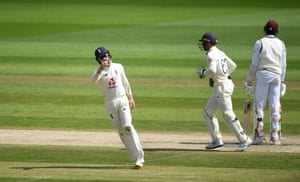 Updated

11:47
24th over: West Indies 70-1 (Brathwaite 20, Joseph 32) Singles for both players early off Curran, Brathwaite to midwicket then Joseph cover. The latter, the TV tells me, had a first class average in excess of 100 last year at home. Don't read too much into that, but based on what we've seen, he's better than your average nightwatchman.
11:45
23rd over: West Indies 68-1 (Brathwaite 19, Joseph 31) Woakes has bowled nicely this morning but this is less threatening, Joseph through it without a bother.

11:41
22nd over: West Indies 67-1 (Brathwaite 18, Joseph 31) Slammin' Sammy Curran! The OBO darling is into the attack and immediatley making things happen when Joseph tries to smack him onto the moon. He's lucky to get an inside edge on it before returning to a more conservative strategy as the all-rounder finds his range.
"Not being able to see it," writes Rod Ryan. "Are England's slips too close together? It always seems the 'deviation angles' between them are less than Australian slips. I think the Australian idea is that you 'go for everything' while the English pattern can lead to occasional unfortunate 'double leaves' or 'crossover interference' and also a bigger gap to the gully fieldsman." There's a PhD thesis somewhere in that!
11:33
21st over: West Indies 67-1 (Brathwaite 18, Joseph 31) Woakes is the man most likely so far this morning, generating plenty of dangerous movement away from both right-handers. In this case, Brathwaite plays him judiciously, carefully getting his bat inside the line just before the ball reaches him. Good work. It's a maiden.
11:31
20th over: West Indies 67-1 (Brathwaite 18, Joseph 31) Runs aplenty here, Brathwaite busy early in the over before Joseph is lucky not to be caught in the gully when hanging his bat at a good ball. Ohh, and again with a more conventional outside edge, bisecting third slip and gully. Broad is fuming. A quick bouncer to finish and it's four more straight off the helmet when the nightwatchman misses the ball when attempting an awkward hook. Those leg byes make it 17 off the over! The Windies have in half an hour this morning taken the deficit from 437 to 402 and this partnership is now 51 from just 63 deliveries. England need to strike.
"It is lovely to have the rhythm of international cricket back," writes Rod Ryan. "And for us in Australia or elsewhere in the world if we are unable to listen or watch the game, the Guardian OBO experience is identical with zero crowd!"
Fantastic, thanks for joining us. I believe Cricket Australia's website is taking a feed of this if you want to watch without taking up a pay TV subscription.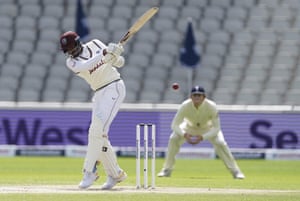 Updated

11:25
19th over: West Indies 50-1 (Brathwaite 15, Joseph 21) RUN OUT CHANCE! Joseph defends to mid-off and sets off for reasons best explained by the nightwatchman! Brathwaite sends him back but had Sibley's throw been a direct hit, that would have been that. He gathers his thoughts and gets through another probing Woakes over.
"I think that the 11am start on the fifth day was so that the game would finish earlier allowing the players to get back to their counties for a match the next day," recalls RTK Davies. "Mind you can't see that half an hour would make much difference."

11:22
18th over: West Indies 50-1 (Brathwaite 15, Joseph 21) Time for Disco Stu to get in the book? Not this time around, Joseph able to get off strike with an unconvincing pull shot before Brathwaite gets his bat out of the way of one that would have caused him trouble had he elected to play at it. The West Indies are 419 behind.
11:17
17th over: West Indies 49-1 (Brathwaite 15, Joseph 20) Woakes squares Joseph up, trying to slip to midwicket but instead spitting out into the offside off the leading edge, but safely away for three behind point. Oooh, nearly a carbon copy to Brathwaite next up – three more through the cordon. Most frustrating for the bowler, who is looking dangerous early on here. DROPPED CATCH! Oh dear, that's a pretty straightforward chance for Stokes at second slip to his right. Yes, Crawley edging into his line of sight from third slip, but it wasn't coming quickly from the edge of Joseph's bat. Perhaps it was too slowly and he had too long to think? In any case, the chance goes down. As is the custom after something like that, a boundary follows to finish, Brathwaite glancing Woakes away fine. 13 off an over when Woakes found three legitimate edges. It is a batsmans' game and never forget it.
"Hi Adam." Morning, Ian Forth. "Do I remember this right? When I was a lad, test matches used to start at 11.30 (and there was a rest day). But on the final morning, it was 11a.m. What on earth was the logic behind that?"
I know from Calling the Shots research that 11:30am was the standard starting time for the longest time, but have never heard the 11am bit. Anyone have that to hand?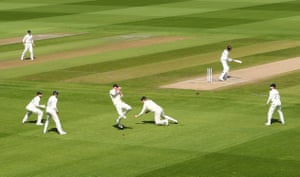 Updated

11:10
16th over: West Indies 36-1 (Brathwaite 6, Joseph 16) Now Broad with the headband, who has swung himself around to the Statham End. Athers explains that there was a strong breeze on Friday but not much now, allowing the attack-leader to return to end he usually bowls from at this ground when Anderson is in the team. Joseph gets his first run of the day from the first ball he faces, a single behind point. Back to Brathwaite, who leaves to begin before Broad really sprays one, heading to the right of Root at first slip when Buttler gets his glove in there to parry it away; a couple of wides added to the total. We saw Shannon Gabriel put a couple of deliveries in that direction but you don't expect it from Broad. Joseph on strike once more and he gets another single, nicely timed through the gap at midwicket.
"Hi Adam." Hello, Peter Salmon. "Surely the ideal situation for us OBOers would be the Windies rolled for about 180 and then England failing to enforce the follow on. Then making a sluggish 7/150 and it ending in a draw. Imagine the exasperation we could share! Proper cricket." We should be so lucky, my friend.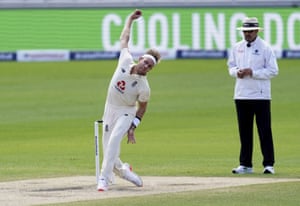 Updated

11:04
15th over: West Indies 32-1 (Brathwaite 6, Joseph 14) Ball on bat, the first two deliveries clipped to fielders on the legside, Woakes then nearly squaring up Brathwaite, who plays him with soft hands. Ooh, and there's the leg-cutter, hitting the seam and beating the edge. Not a lot of bounce but plenty of movement. To finish, more bounce on that same nagging line, well left by the opener. Nice start.
11:00
The players are on the field! And we're ready to go. Nasser Hussain is ringing the pavilion bell and Chris Woakes is at the top of his mark. The West Indies resume on 32-1, some 437 runs behind the hosts. Kraigg Brathwaite is the man on strike, resuming on 6. He has Alzarri Joseph with him, the nightwatchman 14. PLAY!
Updated

10:54
"G'mornin Adam, g'mornin all." Hi, Dean Kinsella. "So the photo shows a fair bit of cloud cover this morning. Looking forward to seeing Jimmy hooping it about on his home ground and. Oh wait." It's sunny now! But, yes. I wonder, if they knew about Archer earlier, whether Anderson would have been in this XI. On the other hand, as Silverwood has hinted, it's about getting him safely fit for four Tests this summer.
Before we begin, an excellent Vic Marks column on Stokes and Botham. I'm not posting this to start a discussion about the House of Lords, by the way – for the sake of all of our mental health, let's leave that one well alone today.
10:47
"Morning Collo; morning everyone. Love channelling my inner Benaud." Iain McKane, hello to you. "I've a feeling Sam Curran and Bess will "come to the party" more tomorrow; today, I'm looking particularly at Broad and Stokes to make the major breakthroughs. Here's hoping, though, that the West Indies batsmen make a real fight of things and we get a finish, late tomorrow, to match the brilliance of the First Test at The Ageas. Enjoy, Sir!"
As Vish Ehantharajah – formerly of the OBO parish – noted in his piece last night, if you need wickets in a hurry, who are going to call? Stuart Broad.
Ed Clarke has some additional information on starting earlier: "There is also the whole 'back-stage' setup to take into account. Powering up and checking all cameras and communications and everything behind the scenes takes ages – I worked a test match at the Oval some years ago and were onsite at 6am for an 11am start." Good to know. Yhey can do it – there's a 10am start permitted in Australia rather than the late finish – but it comes down to what has been agreed.
10:43
Lovely, sunny day in Manchester. Watching the telly, and taking a look at the forecast, there will be no issue with rain today. Let's get those 98 overs in. Meanwhile, Michael Holding and Ian Bishop are talking with Nas about their distinctive approaches to the crease on Sky Cricket. Outstanding coverage.
Good question about any flexibility they might be able to build into Pakistan Test series, coming up in August. I'll find out from the ECB after this match.
10:35
"Hi Adam." G'day, Avitaj Mitra. "Since yesterday's play was entirely washed out, and this is now, in effect, a 4 day match.. shouldn't the follow on mark be 319 and not 269?"
Good shout but not quite. If the Test had been reduced to four-days before it started – i.e. had the first day been washed out – I believe this would be the case. It's certainly how they do it in First Class cricket: I was commentating a three-day game between Northants and the touring Australians in 2015 where the follow-on was reduced to 100 after day one was washed out. However, not once the game begins.
10:32
"Hi Adam!" Morning, Sam Rhodes. "Pleasure to be reading your work, and I'm a big fan of The Final Word." Why, thank you! "Given states of flux invite aimless crystal ball-gazing, I'm seeing a future where the West Indies are skittled at around 11.15 tomorrow for 271. Obviously they've avoided the follow on, but there's still time to take ten more wickets if England bowl well. How much do you (and the broader OBO parish) think England would want to set them in order to keep the Wisden trophy alive? Would we see an instant declaration, or perhaps a quickfire fifty from Stokes and Buttler? Normally I'd expect England to take the draw, but with the series dead with any result other than an England win, we might see some quite tantalising aggression."
I like your speculation – I like it a lot. In that scenario, sending Buttler/Stokes out with a mandate to go wild for an hour to put the chase out of reach but leave 60-odd overs, well, it would keep things interesting! And would be good for Jos.
10:29
On that theme, our first message of the day is a frustrated one, from @Katie_Allen: "It's INFURIATING that they aren't playing already – they're all there, there's no spectators or public transport to consider, they can just roll out of bed and out to the pitch."
The boring answer is that they can't modify the playing conditions after they have been agreed before the Test/series – or, indeed the World Test Championship. You might have seen my story the other day about front-foot no-balls going to the TV umpire for ICC events. Well, this is an ICC event, part of the WTC. However, they already agreed to the conditions for this cycle so the status quo prevails for now.
You broader point about playing times, though, will surely form a bigger part of the conversation into the future. It's clear fans want more flexibility on days like this.
10:23
Session times. So, as I said below, 98 overs can be bowled today. It's one of those quirks that if it rains during a day, the scheduled closed can be pushed to 7pm before the 30 extra minutes. However, when they are making up time from earlier, only half an hour is available before the extra half an hour that takes us to the 7pm.
First session: 1100-1300
Second session: 1340 – 1555
Third session: 1615 – 1830
Make sense? Good.
09:56
Welcome to day four!

Adam Collins
A slow but large first innings, loads of rain, the fact that a follow-on is now required in order to give it a chance of getting exciting on day five, this Test Match has a distinct olde worlde feel at this stage. I know that isn't everyone's jam – I see that some fans are ready to banish Dom Sibley because he didn't predict the Saturday washout (or something like that) – but I'm quite excited about the next two days.
For England, the focus couldn't be sharper: they have to skittle the Windies for under 270. Mostly due to the advice of medical staff, it is rare for a side to be invited to follow-on in this modern era. To get ahead of one element of this debate, that has very little to do with VVS Laxman; a myth, debunked by Geoff Lemon during the 2015 Ashes. Even so, the aggressive option has long since been standard practice.
If the hosts can clear that hurdle, then this really does open up. Provided the skies stay clear, 196 overs can be bowled over the next two days with extra time added and so on. And, for obvious reasons, don't expect Joe Root's side to drag their heels out there either, so they should actually get them in. That's plenty of time.
Alternatively, if the West Indies can get beyond 269, they will have just about completed the primary mission of their trip: retaining the Wisden Trophy. When you consider all the hoops they jumped through to get into the country, let alone take the field, that would be quite the triumph – especially with Darren Bravo and Shimron Hetmyer – two of their first-choice top six – not making the trip because of their quite legitimate Covid concerns. Jason Holder will relish this challenge.
So, keep the faith. Despite what the card looks like, this game and series remain in a happy state of flux. Get involved across the first half of the day by dropping me a line at the usual place, or hitting me with a hot take on twitter. Good morning!
Alcohol maven. Incurable pop culture specialist. Communicator. Gamer. Certified explorer.