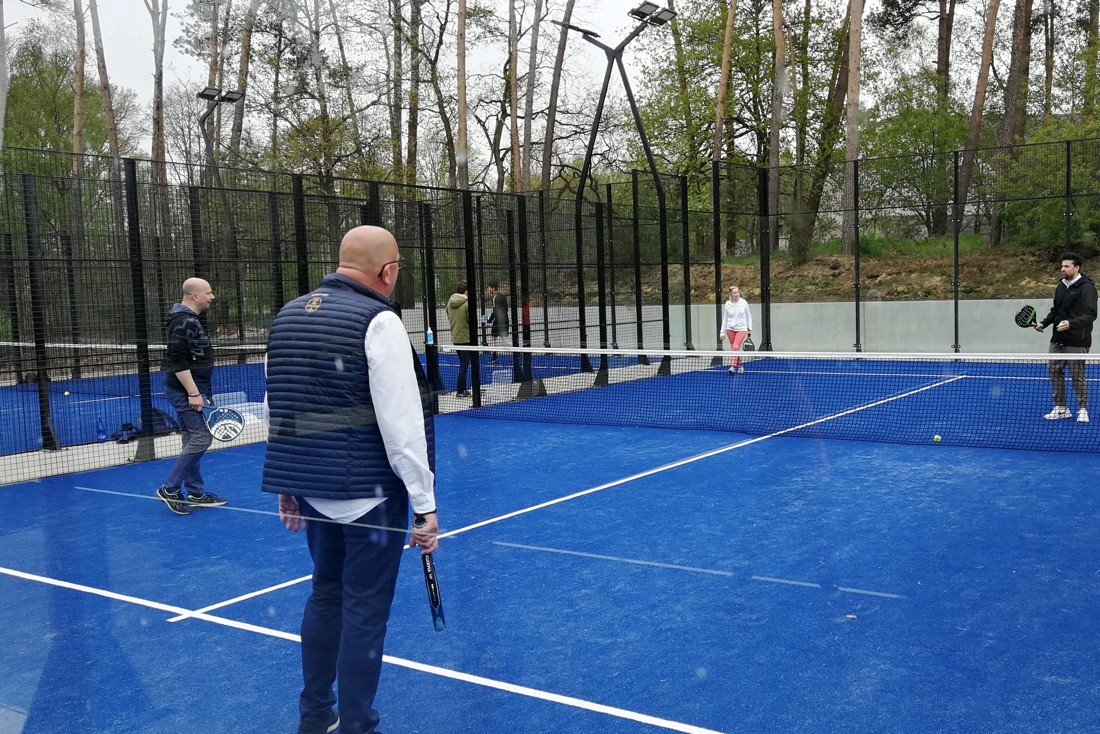 Mayor Vera Selis and aldermen Bart Juliams (left) and Tom Korstjens (front) are tutored by Nick Stirks of Den Bruel Tennis Club in Gael.
Photo: Hans Oten
Yellow –
Tennis Club Den Bruel in Geel-Bel has played in four new paddle areas this week. Gayle also succumbed to the trendy ball sport, as the club gained 220 paddlers in a week.
Mayor Vera Selis and aldermen Bart Juliems and Tom Korstjens (all N-VA), together with Nick Stirks of Giles Tennis Club (GTC) Den Bruel, try the recognizable paddle cage with a blue background on Saturday morning. Neither of the three city officials has any experience with the new game, so they must explain the rules of the game as they progress. So there is an unusual mix of paddle tennis and squash. But they've got a taste of it, as they keep on knocking long after the inevitable opening moment.
Gtc Den Bruul has carefully considered the move of the pedals. Several additional interventions were involved in the construction of the four sites. "Actually, we're sitting here next to Bell's peers. Our outdoor tennis courts are often submerged in water. We've built new paddle fields on two of those old tennis courts. But to ensure good drainage we have to The grounds had to be raised. About 250 tons of sand went in. The sites are laid out with permeable concrete," said chairman Georges Geerts and board member Bert Adriaens.
It is this layout that makes it possible to practice the new sport even in the rainy season. "We opened on 1 May and although it rained a lot last week, people were always playing here," says the club's Steven Curvers. "Should the paddle really be successful, we still have enough room to make two additional fields."
Due to additional interventions, the investment reached 200,000 euros, but thanks to new members and additional sponsorships, the financial effort seems to have certainly paid off.
Alcohol maven. Incurable pop culture specialist. Communicator. Gamer. Certified explorer.