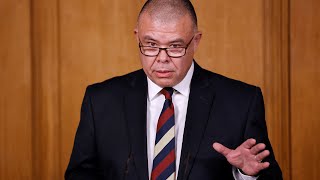 Vaccines are tough to get at home care because it must be kept close to -103F (-75C) and it comes in large batches of 975 shots that cannot be broken according to quality control rules.
Further confusion ensued Thursday night, as the NHS reported that the Medicines and Health Care Product Regulatory Agency (MHRA) could not carry the vaccine for home care until it was allowed to split the batches.
However, Scotland said it had resolved the issue of partition and would start sending small batches to take care of the house from 14 December.
The MHRA told the Telegraph that Scotland was right and that there were already approval measures to break the batch. NHS England, however, insisted that they must wait for full MHRO approval.
Scottish Health Secretary Jean Freeman told the Scottish Parliament: 'After detailed discussions led by our Chief Drug Officer, we have now confirmed on the basis of sustainability information that the Pfizer vaccine can be carried in an unpublished state for 12 hours and neutral storage for up to five days. .
"While I am convinced that under certain conditions we can pack in small packs, both make this vaccine more usable for care home residents and our senior citizens with minimal waste.
"So in reality, we can take this vaccine to them or go near them. And we will start this exercise from December 14. "
Care Homes said Thursday night that workers and residents are still in the "dark" about whether to be vaccinated and that their staff was asked to be allowed to be vaccinated at the hospital.
Independent Age's John Palmer said: "We believe that care homes must be as safe as possible, and that care home staff should be vaccinated if the local hospital is the only option available.
"If it is impossible to vaccinate elderly people in care homes at the moment, we should still vaccinate workers because they could be vectors of the virus."
Care England has also called for priority social care workers for adults, even if residents have to wait.
NHS providers (membership organizations of the NHS Hospital, Mental Health, Community and Ambulance Services) said the first response would be given on Tuesday and said they would work with the next day care home to "increase the number of care homes" ".
Hospitals will be asked to identify "as many as 60 patients they can vaccinate as much as possible."
Mr Hopson said: "If there is a dose of the vaccine left, hospitals will vaccinate staff based on the prescribed risk / already booked."
NHS providers said supplies were only for December and January.
The vaccine must be given in two doses so half of the supply must be put back so that everyone can be vaccinated a second time after three weeks, which means only 400,000 people can be vaccinated at an early stage.
However, the number of residents and staff in the care home exceeds this number.