Boris Johnson is facing demands from Labor to explain his proposal to use the military to assist police in the new coronavirus lockdown rules.
At the PM's question, he confronted Sir Cair Starr just hours after his TV broadcast where he A severe crackdown warning If people keep breaking the rules.
Live coverage of the latest coronavirus news and updates
And before the PMQ, Labor's shadow Home Secretary Nick Thomas-Symonds wrote a letter to Home Secretary Preity Patel, seeking an answer to Mr Johnson's announcement about the use of force.
New coronavirus rule in England:
Office workers should work from home again if they can
From Thursday, all pubs, bars and restaurants should only offer table services, and should close at 10 p.m.
All retailers, taxi users, and hospitality service users must wear face masks – a fine of at least 200.
Weddings can only accommodate 15 people, while funerals can host 30 people
The "rule of six" has been extended to indoor sports teams
In his dramatic TV address to the nation, the Prime Minister said: "We will put more police on the streets and use the army for backfill if necessary."
And earlier, in his Commons statement, he told lawmakers that there would be more police presence on our streets "and to release police where there are options for military assistance."
An official spokesman for the prime minister later said: "This will involve the military in carrying out certain responsibilities, such as the role of the office and protecting protected sites, so that police officers can be effective in responding to the virus."
"It's not about giving the military any extra powers, or replacing the police in their enforcement role, and they won't impose fines. It's about releasing more police officers."
Mr. Thomas-Symonds, a shadow home secretary and Starmar associate, wrote a letter to Ms. Patel asking for an explanation of what the military would do, whether they would face the public, and how much it would cost for their role.
He wrote, "The military may be needed to support policing activities, which shows the tremendous pressure that has been put on policing as a result of the thousands of officers lost under this government."
"This is the latest set Covid Arrangements should not have come as a surprise, so it is important to ensure proper planning.
"In my discussions with senior individuals in the field of policing, I have been concerned that this significant announcement has not been adequately discussed."
Foreign Secretary Dominic RAB hit out at Labor and called the party "terrible."
Speaking to Kay Barley, he reiterated that the troops would "backfill" some special roles and not take to the streets.
On the possibility of a second national lockdown, Mr Rabab said, "We cannot rule it out," but stressed that "every effort should be made to avoid what we want to do."
"We've always said we've got a wealth of measures to take to the arsenal. I don't think we can guess what else can be done," he said.
"But the reality is they will be more conspiratorial or we could end up in a national lockdown. That's what we want to avoid."
Mr. Johnson comes after an animated and occasionally enthusiastic TV address appeals to the public to obey the rules or face stricter lockdown rules.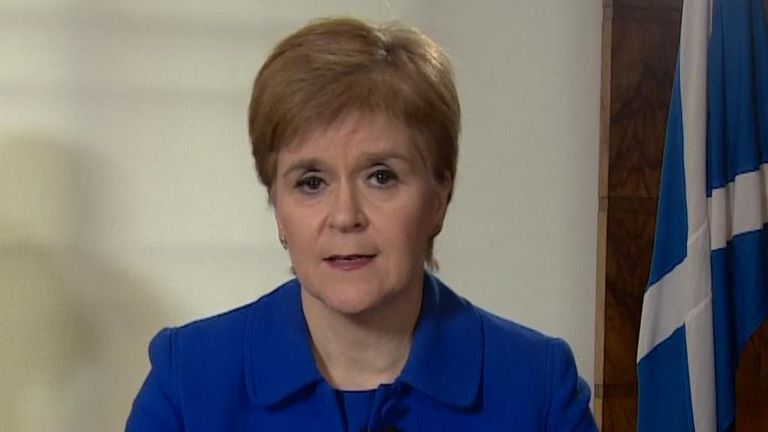 "We have never had a collective destiny in our history and our collective health depends so much on our personal behavior," he said.
"Now is the time for all of us to have a sense of discipline, determination and integration that will carry us.
"I am deeply, spiritually reluctant to impose any of these or to violate anyone's freedom, but if we do not take action, the risk is that we will have to take drastic action later, when death has already arisen and we have a huge case pressure." There was an infection. "
In Scotland, however, Prime Minister Nicola Sturgeon told his TV broadcast viewers that his government in Hollywood was already far ahead of Mr Johnson's government in Westminster.
"From tomorrow we are all told not to go to each other's homes because we know that often this way the virus spreads very easily from one family to another," he said.
Organizer. Zombie aficionado. Wannabe reader. Passionate writer. Twitter lover. Music scholar. Web expert.