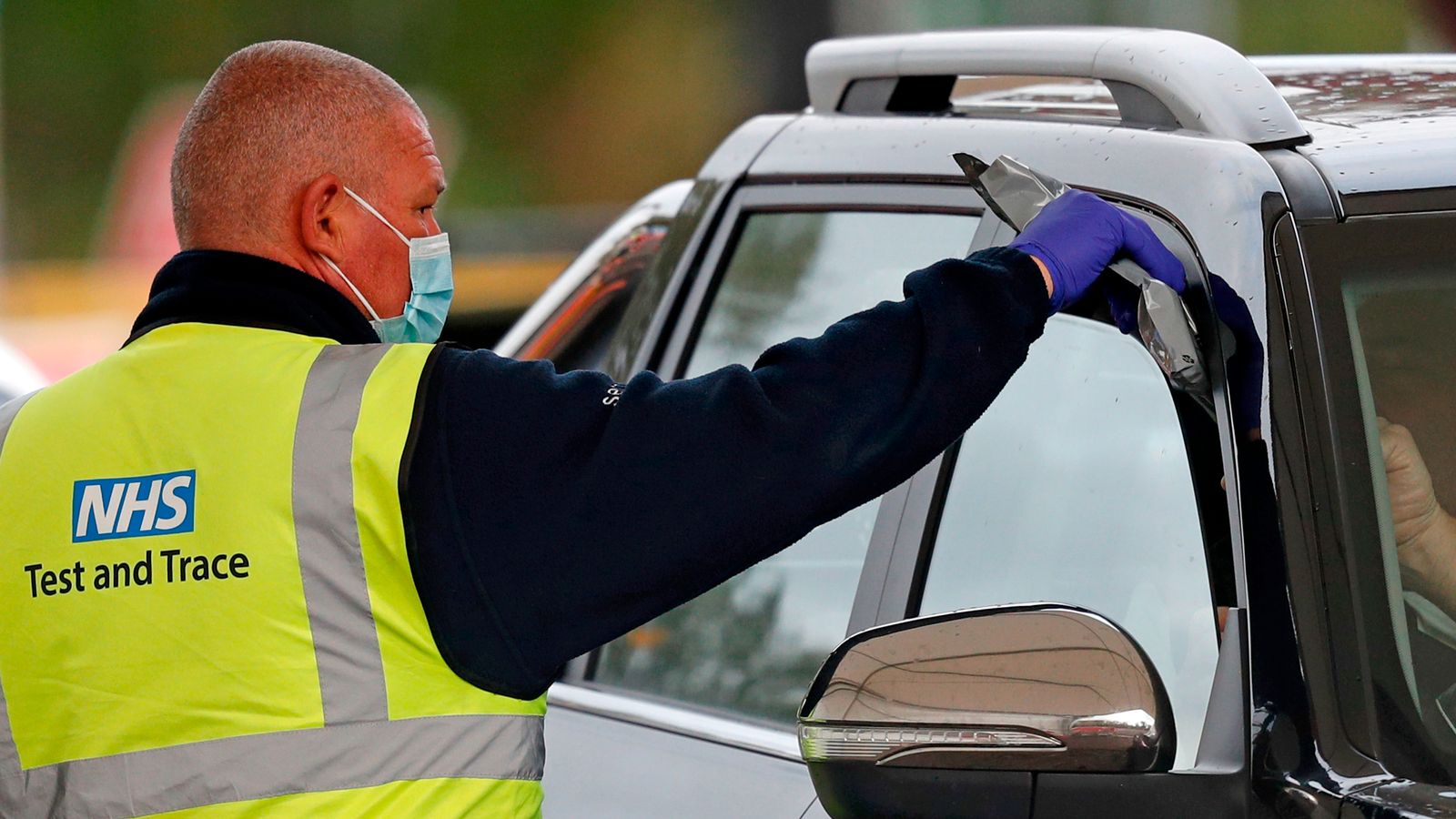 In the week ended October 29, only 59.9% of people in close contact with people tested positive for coronavirus by the NHS test and trace, statistics show.
This is the second lowest weekly percentage of the scheme so far – down from 600% in seven days.
During the same period, 137,180 people tested positive for it Coronavirus In England, which rose 8% in the previous week.
Where cases were handled by local health teams in England, 9.9% of communications were able to become self-isolated that week, while cases conducted online or in call centers saw only 56.5%.
This number covered the same week where there were thousands of people Given the wrong date For self-isolation by test and trace after software error.
Only 26.4% of people tested in England on a regional, local or mobile site received their results within 24 hours – a slight increase from the previous week's 22.6%.
Prime Minister Boris Johnson had earlier promised that all personal examinations would be returned within a 24-hour period by the end of June.
Speaking in the House of Commons on June 3, he pledged to end the month without "difficulties in postal examination or irresistible problems like this."
During the PM's question, Mr. Johnson admitted that there was a problem with the service, but he was proud that it was up and running so quickly.
Wednesday, U.S. Another 492 reports Coronavirus-related deaths, 219,177 positive tests, as well as the highest daily ever since May 19.
On Thursday, England was put on lockdown – shutting down non-essential businesses, pubs, restaurants and gyms – as the government sought to curb the rise in coronavirus infections.
Analysis: 'It's not good – but growing cases make it difficult'
Roland Manthorpe, technology correspondent
Tests and trace figures from the last week of October already confirm our suspicions: the case has escalated, with contact seekers struggling to cope.
59.9% overall for reaching contacts is not the lowest number for tests and traces, only: three weeks ago, this record was set at 59.6%. Absolute numbers are high, so it's a bit unfair to compare percentages over a few weeks, but it's still clearly missing a high proportion of people. It's not good.
It's easy to blame the test and the trace, which certainly made a lot of mistakes. (Just this week I revealed that it gave more than, 000,000 people the wrong date for self-separation.) Yet the real culprit is the growing number of positive cases.
From October 22 to October 28, contact searchers were asked to reach 327,203, up 16% from the previous week. No system in the world will be able to handle such numbers on a regular basis.
International comparisons carry this very clearly. Their numbers have not diminished; As they were under pressure, they experienced the kind of embarrassing error they had become accustomed to using in England.
Did you know that Irish Communication Tracers recently asked 2,000 people to do their own tracing? Or did Germany "lose" test data for a few days after an error?
There are obviously inadequacies in the test and trace system but it is not completely bad or its struggles are not uniquely unusual either. It's been a month now. The opportunity needs to be seized
Organizer. Zombie aficionado. Wannabe reader. Passionate writer. Twitter lover. Music scholar. Web expert.