21:27
82 min: Cairney slides in on a dozing Pack, a fine tackle that sets Kamara off down the left. Kamara returns the ball to Cairney, who hesitates fatally. A real chance to secure the first-leg win is spurned.
21:25
81 min: Knockaert is replaced by Kamara as Fulham make their first change of the evening.
21:24
80 min: Vaulks launches another throw into the box from the left. A half-cleared ball falls to Bacuna, who tries the spectacular from 25 yards. Nope.
21:22
78 min: Kebano sashays past Bacuna down the left and is hauled back. Yellow card, and a free kick just to the side of the Cardiff box. Reed hoicks a hopeless shot-cum-cross high over the crowded box and out for a goal kick. What a waste.
21:21
76 min: Bennett, clearly still a bit animated, bowls Decordova-Reid over in short order. Knockaert swings the resulting free kick straight down Smithies' throat.
21:20
75 min: Onomah and Bennett tangle down the Fulham right. It briefly threatens to boil over, though Bennett's the only one who looks a little bit intense when the referee gets involved. Almost total indifference from Onomah.
21:18
73 min: Vaulks sends a quick throw-in into the mixer from the left. Tomlin swivels and shoots from a tight angle. Rodak and Hector combine to block and hook clear. Better already from Cardiff.
21:16
72 min: Fulham won't be taking that tactical switcheroo lightly. No team's substitutes have scored more goals than Cardiff's this season. Their collective tally is 19; West Brom and Millwall are next on the list with a mere 14.
21:14
70 min: The game restarts, Cardiff having made a triple substitution that refreshes their entire front line. Mendez-Laing, Hoilett and Glatzel are replaced by Murphy, Vaulks and Ward.
21:12
68 min: Kebano whips one towards the top left, but it's always sailing wide and was covered by Smithies anyway. And that's time for isotonic beverages.
21:12
67 min: Morrison's loose pass from the back is jumped on by Decordova-Reid, who is unceremoniously barged to the floor by Ralls. A free kick 25 yards out, just to the left of centre.
21:10
66 min: Morrison clanks a header clear. But Fulham took their sweet time over those two corners, and the clock is their friend right now.
21:09
65 min: Fulham hit it long and win another corner, this time out on the right. And from this one …
21:08
64 min: Fulham triangulate in a very pretty style down the inside-left channel, Reed, Cairney and Decordova-Reid all involved. They force a corner, from which …
21:06
62 min: It'd also have beaten Cardiff at their game, unafraid as they are of sending it long when required. They haven't got that side of things together at all this evening.
21:05
60 min: A long Ream pass down the middle. Onomah rises highest to cushion the ball down for Decordova-Reid, who from 25 yards sends a first-time screamer inches over the crossbar. That was caught so sweetly, and had it been a couple of inches lower, it'd have nestled into the top right, Smithies beaten all ends up. That would have been a picture-book goal.
21:03
58 min: Fulham are in complete control at the minute, looking very comfortable and assured. Cardiff may need to shake things up a wee bit, or this tie could soon run away from them.
21:02
56 min: Knockaert tries to score one of those long-range dippers Matthew Le Tissier used to specialise in during the mid-90s. He tries to send the ball arcing over Smithies from 30 yards, but it's not close enough to the top-right corner and easy pickings for Smithies.
21:00
55 min: Fulham have only lost six points from winning positions all season. It's a record that has only been equalled by the champions Leeds. Cardiff are in a little bother here.
20:59
54 min: The ref's not really interested in this, either: Bacuna goes sliding in, studs up, on Bryan. There didn't seem much need for it, and Bryan's taken a sore one, but it's just a free kick. Bacuna is fortunate to escape a booking there.
20:57
53 min: Knockaert gives Bennett a slap on the Adam's apple as the pair tussle down the Fulham right. Bennett goes down in pain but neither ref nor linesman are interested.
20:56
51 min: Fulham have won five and drawn one of their previous six games without Mitrovic this season. Onomah's genius will make it six from seven as things stand. Serious problems for Cardiff now, given Fulham's fine home record.
20:55
GOAL! Cardiff City 0-1 Fulham (Onomah 49)
This is sensational! Kebano dribbles down the left and crosses. It's headed clear. Reed intercepts and lays off to Onomah, his back to goal, to the left of the D. Onomah spins Pack with ease, then slaloms, Maradona-style, between Morrison and Nelson and sidefoots into the bottom left having given Smithies the eyes! What an outrageously good goal.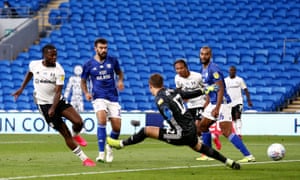 Updated

20:52
48 min: Mendez-Laing backs himself in a footrace with Bryan down the right … and loses it. He's not been able to get into the game this evening at all.
Updated

20:49
It's the second half! Cardiff get the ball rolling again. No changes.
20:37
Half-time entertainment. Simon Burnton bravely rakes over the ashes of Watford's relegation to the Championship. This one's hot off the press; we're so good to you.
20:34
HALF TIME: Cardiff City 0-0 Fulham
Nothing comes of the resulting free kick. Fulham come again, and Cairney sends a curler towards the top left. It's beaten Smithies but shaves the outside of the post. And that's the end of the first quarter of this semi-final tie. It's not been a bad match – it's been reasonably open and both teams have gone close – but it's not quite taken off yet. Still, that's no reason to give up on us. No flipping!
20:30
45 min: And here comes the first yellow card of the evening, awarded when Hoilett slides across Christie and nicks him to the ground. It's a foul for sure, but there was no aggression in the challenge and he was hardly out of control. But here we are.
20:29
44 min: Glatzel brings a long pass down near the Fulham box, but is penalised for sticking an arm across Ream. Now it's Fulham's turn to get a decision from an overly fussy ref.
20:28
42 min: Knockaert and Christie combine well down the right. A diagonal ball is scooped into the box for Knockaert to chase. He brings it down with his chest, but there's a bit of shoulder in there too, and the referee decides it's enough to award a free kick for handball. A bit generous to Cardiff, who were nearly prised open there.
20:24
38 min: More space for Kenabo out on the left. Kebano swings it deep. Onomah, racing in at great speed and with great purpose from the right, connects with the dropping ball. But his volley is bravely blocked and turned round the post by Smithies.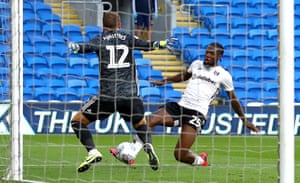 Updated

Alcohol maven. Incurable pop culture specialist. Communicator. Gamer. Certified explorer.