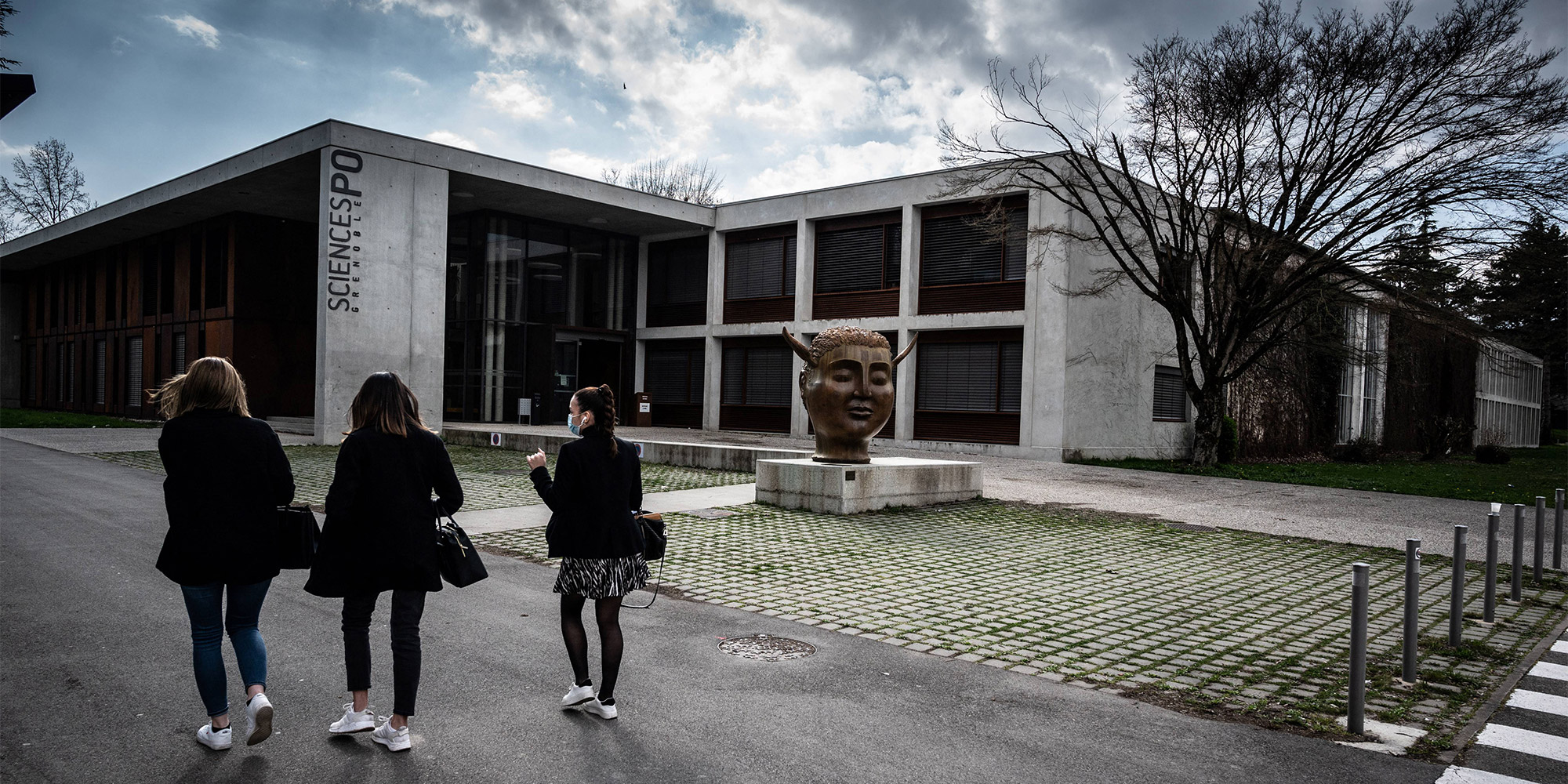 Revised on December 25, 2021 at 10:00 pm, December 25, 2021 at 10:52 pm
Since mid-December, the Institute for Political Studies (IEP) in Grenoble has been rocked by a controversy following the suspension of a professor whom some have condemned as a result of a "vocist" drift. In a forum, alumni demand reform. Here is his text: "In recent months, Grenoble's Institute for Political Studies (IEP) has been the subject of an alarming drift, becoming an instrument of an internal ideological battle, nothing to do with the university, supplied by some teacher-researchers and student.
We, students and alumni of IEPs, from all social, political and professional backgrounds; All Republicans, we strongly condemn this situation and its consequences for the school from which we graduated.
,

It cannot be tolerated that teachers are threatened and now suspended there for discussing certain topics.

,
Without trying to fuel the controversy that undermines the name and image of the IEP, we wish to reaffirm the republican and universal principles, the fruits of our history, enshrined in our Constitution and the essential respect for the guarantors of being together. The IEP should remain a place where all possibilities meet. It cannot be tolerated that teachers are threatened and now suspended there for discussing certain topics.
It is unacceptable that conceptual designs, raised and nurtured by student activists, can exercise free rein in a public-funded higher education establishment.
It is also unacceptable that these designs result in a danger to individuals who are doomed to grieve in public and are seriously at risk because of this exposure. How to endure it, months after the tragedy of Conflans-Sainte-Honorin, in which Samuel Petty lost his life?
,

If collective organization allows such abuse, it is because it must be deeply reformed.

,
Finally, it is unacceptable that the few students elected to representative bodies use their mandate to openly wage their ideological struggle when they are expected to speak on behalf of all their peers.
If collective organization allows such abuse, it is because it must be deeply reformed.
The importance of a balance between freedom of expression, the need for debate, sensitivity, these principles must be respected and demanded in an institution like Science Po, which, for the purpose of its teaching, is at the heart of the question. Political in its broadest sense.
Only on this condition, youth of all walks of life, of all origins, like us, like those before them, will be able to enroll in a university course where they will find their place. Register regardless of their opinion; Register to be able to argue with respect and tolerance; Register to be enriched by your differences as they build their spirit and ability to act.
It is the only condition to have a strict respect for these general principles that students will be able to find themselves in a common place.
At the same time, we officially call on the Minister of Higher Education, Research and Innovation, as well as the establishment's management and decision-making bodies, to take all measures to guarantee this necessary balance.
In the absence of resolute action, the future of the school is in question, vulnerable to the risk of flight of potential future students, to practice the values ​​of excellence and critical thinking in the face of this spectacle. promotes.
First 40 signatories, in alphabetical order of first names
Adele Capievic, Business Manager
Alexis Capaccio, Business Executive
Amaury Baradon, French teacher in Japan
Antoine Landrodi, private sector employee
Barthélemy Piche, Administrator of the European Commission
Céline Pina, journalist and columnist
Christophe Gaudin, Lecturer
Claire Filiator, lawyer
Corentin Le Blohic de Boisnef, Indirect Buyer
Cyril Pernett, Public Finance Inspector
Didier Verlet, Financial Advisor
Emmanuel Ducroix, journalist
Eneko Hiriart, Company Director
François Dib, Administrative Manager
Gabriel Charbonnier, Deputy Consul
Homayun Falakshahi, Financial Analyst
Igal Schnoor, Risk Manager
Jean Du Chafot, Parliamentary Assistant
Jerome Barron, Regional Officer
Jules Amonard, Financial Analyst
Julian Combet, Senior Treasurer Financing Specialist
Julian Tahmisian, Communications Consultant
Louis-Marie Bess de Burke, political advisor
Lukas Jakubovi, political journalist, deputy editor
Matthew Vigier, a Social Security organization executive
Maxim Primate, chief of staff in an inter-municipality
Nicolas Bamez, Entrepreneur
Nicolas Ferrire, chief of staff in an inter-municipality
Olivier Azpitarte, Journalist-Director
Olivier Courde, Financial Manager
Olivier Massin, Professor of Philosophy
Pierre Pavie, retired
Pierre Pullain, Business Manager
Rafael Chabaud, Sales Manager
Rafael Mechelani, Designer
Remi Falzone, Private Executive
Romain Giglio, Client Manager
Romain Millet, Regional Administrative Officer
Sebastian Brilly, Commercial Director
Silvestre Neuve, Business Engineer
Analyst. Amateur problem solver. Wannabe internet expert. Coffee geek. Tv guru. Award-winning communicator. Food nerd.