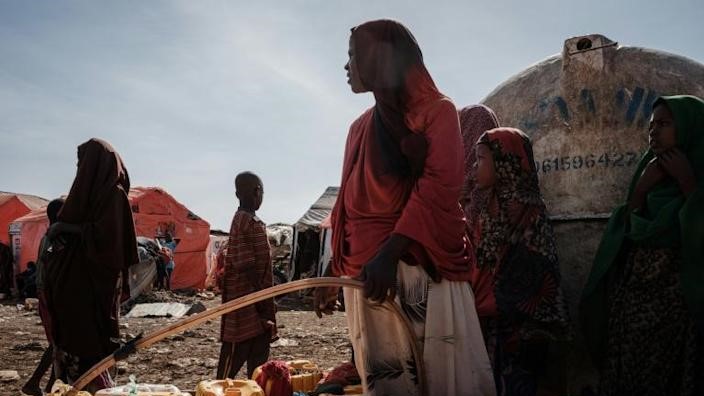 These areas, where the population mainly lives from livestock and agriculture, have received less rainfall in the last three rainy seasons since the end of 2020, apart from locust invasions that devastated crops between 2019 and 2021.
"The Horn of Africa represents 4% of the world's population, but 20% of the population in conditions of food insecurity," said Michael Dunford, director of the World Food Program (WFP) for East Africa on February 11.
According to the United Nations, 5.7 million people in southern and southeastern Ethiopia need food aid, including half a million children and mothers living with malnutrition.
In eastern and northern Kenya, where the president declared a state of national disaster in September, 2.8 million people are in need of help.
In Somalia, the number of people classified as critically hungry could fall from 4.3 million to 4.6 million by May, if no immediate action is taken. Officials declared a humanitarian emergency in November.
In this country, "malnutrition has reached crisis levels", recently Viktor Chinyama, a spokesman for UNICEF in Somalia, cautioned, calling for "Act Now": "If we wait for the situation to worsen or declare famine If you do, it may be too late".
we are close to disaster
In 2017, early humanitarian mobilization averted famine in Somalia, in contrast to 2011 when 260,000 people – half of whom were children under the age of six – died of hunger or appetite-related disorders.
Currently, only 2.3% of the UN appeal to raise $1.46 billion (1.23 billion euros) to meet needs in Somalia in 2022 has been filled.
"There is a very short window to act (…) We are really on the verge of disaster," said Rein Paulsen, FAO's director of emergencies and resilience, last week.
"We have (…) until the middle of this year, until June – a very narrow window – to intensify immediate action and avoid a worst-case scenario," he said.
In addition to direct fatalities, water scarcity and lack of pastures are also sources of conflict, especially among herders.
Livestock – an essential means of subsistence in the region – are dying in large numbers. In Kenya, no less than 1.4 million cattle have died, according to the National Drought Management Authority (NDMA).
Wildlife is also threatened in this country famous for its reserves and natural parks.
Many cases of wild animals (giraffe, antelope…) dying due to lack of water and food have been recorded.
Internet geek. Wannabe bacon enthusiast. Web trailblazer. Music maven. Entrepreneur. Pop culture fan.